By designing and building its own piling rigs, and being able to tailor any equipment to meet its clients' needs, Martello Piling has earnt a commanding reputation for being an innovator and game changer
Piling on the pounds
By designing and building its own piling rigs, and being able to tailor any equipment to meet its clients' needs, Martello Piling has earnt a commanding reputation for being an innovator and game changer
Established in 2002, Martello devised a way of offering a revolutionary new piling system that would enable the construction of large diameter piling in restricted access and low headroom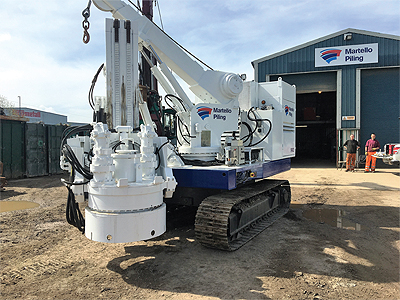 conditions. Since then, the company has gained over 15 years of experience in the UK piling and foundation industry, and shown itself to be committed to the development of creative solutions and innovative new techniques.
"Over our short history, we have really forged a reputation for ourselves as being real innovators in our field," begins Martello Piling's Contract Director, James Harrison. "Though organic growth was gradual at first, it was through the design and building of our own patented piling rigs that could offer something very different to traditional tripod systems that we were able to set Martello Piling apart from our peers and give ourselves a competitive edge. It has also meant that we have been able to help make significant changes to the ground engineering industry in the UK."
A turning point for the company came in 2011, when it took the decision to become a tier 1 subcontractor to major Joint Venture enterprises. Previously Martello had worked under the umbrella of other large ground engineering or piling contractors, handling the design and build elements, however it was the decision to step out of the shadows of these players that helped establish it as a viable, recognised brand in its own right.
Today, Martello offers a raft of specialist services, including restricted and unrestricted access piling, CFA piling, Marine piling, secant walls, contiguous pile walls, rig lifts, pile load testing, plunge column frames and concrete coring. "In recent times, we have found ourselves getting increasingly involved with our client's engineering teams and potential delivery partners to help develop solutions for complex ground engineering problems," James continues. "This has coincided with the company moving into London's commercial and high-end residential markets, focusing on areas such as the construction of big basement structures."
Unique solutions
As it reaches the half way point of 2018, the first six months of the year have been very strong and James suspects that this could result in Martello having its best year in terms of turnover to date. "Our pipeline of work looks very healthy and we are talking to lots of different consultants and contractors about tendering for projects over the next six months," he says. "These are promising times and that really does come down to the people we employ and the quality products that we deliver.
"Collectively, we continue to maintain a 'let's do this in a different, better way' mentality when it comes to innovation and we show no signs of slowing down when it comes to bringing unique solutions to market. Just recently, for instance, we developed a rig that is capable of delivering a 1.5 metre diameter pile in a way that no other player in the market can do without using equipment and resources three times the size of our own. These are the kinds of developments that we are passionate about introducing more as we grow as a business."
Enhanced resources
In 2017, Martello Piling's successes were further rewarded when the company became owned by Franki Foundations UK, a subsidiary of BESIX Group, following Franki Foundations' acquisition of the wider Martello Group. The acquisition has opened up numerous new opportunities for the company, both in the UK and overseas, by strengthening its expertise. "As a business, I do not think we could have hoped to have been acquired by a better parent company that suits what Martello is all about," James enthuses. "Franki Foundations has made its name by delivering some of Europe's most challenging ground engineering schemes. It is gradually becoming more prevalent in the UK market and that means that we now have greater resources that we can call upon, as opposed to having to rely upon the external hire market for certain schemes.
"As far as our respective cultures go, they love what we do as a company and the innovation we bring to the industry, and this has allowed Martello to successfully tender and complete four
projects in Europe over the last 12 months alone, with several more in the pipeline. Perhaps most importantly of all, we are proud to have been able to maintain our own identity following our acquisition. Rather than lose any of the traits that got us to where we are today, Franki Foundations and the BESIX Group have encouraged us to build on these, while also making Martello feel completely like it is part of a wider family."
Today, Martello can be found applying its expertise to a number of impressive projects. These include the 22 Bishopsgate project, one of the largest buildings currently going up in London, and the Mayfair Park Residences development. The former involved the upgrade of the foundations of an existing partially built structure, and saw the company undertaking the piling works for the new core from within the existing basement. This allowed for the existing scheme to be demolished at the same time that the piling and groundworks were being undertaken, resulting in big cost savings.
Integrated approach
The Mayfair Park Residence project, meanwhile, involved a complex top down construction of a triple basement structure, requiring a perimeter secant wall and plunge columns to assist the scheme for the wall support, and to provide support for the upper works. An added element was that the existing façade of the building needed to be retained. Using a Delmag RH 28 piling rig, as well as a little bit of Martello innovation, the company was able to install the wall piles, 1.8 metre diameter bearing piles and plunge columns, proving once again that an integrated approach can be the answer to a challenging problem.
Martello's strategy to firmly establish itself within London's commercial market is clearly progressing at pace, with the company currently undertaking its largest ever project, and several other schemes being prepared for tender. "We definitely find ourselves in a good place and we want to build on this by working with our clients more in the coming months," James states. "We have aspirations to cement our position among the premier ground engineering contractors in the UK, and we want to do this not only via the turnover we achieve, but through the quality of work that we complete."
Martello Piling
Services: Ground engineering and piling