Since its inception in 1978, privately run family business Martin Grant Homes has developed a strong reputation as one of the major house building firms in the South of England thanks to its ability to create premium specification homes in prime locations
Home made
Since its inception in 1978, privately run family business Martin Grant Homes has developed a strong reputation as one of the major house building firms in the South of England thanks to its ability to create premium specification homes in prime locations
Upon founding Martin Grant Homes nearly 40 years ago, Martin Grant focused on making the firm a leading developer in the South East by maintaining strong family ethics and close working relationships with his staff. Dedicated to not just building houses but building homes, Martin and his team set a standard for delivering meticulously planned and constructed properties alongside lasting connections with both those that built them and the customers who live in them. Today the company is still under the leadership of a Grant family member, who ensures the great work and exceptional standards of Martin Grant continues through the provision of sustainable homes that ensure customers expectations for lifestyle, opportunities and safety are fully met.
"Martin Grant Homes (MGH) predominantly operates in the South East of England from its head office location in Abinger Hammer, Surrey. The company prides itself on its strong family beliefs
and close involvement with the operations team and external supply chain. Developments, past and present, extend from Chichester on the South Coast to Northampton in the Midlands and from Newbury in the West to Chelmsford in the East. With our well-appointed apartments and starter homes in the home counties we capture the first-time buyer market; we also create executive family homes in and around the London commuter belt," begins Chris Hamilton, managing director at Martin Grant Homes.
"As a premium housing brand we plan our homes to meet client expectation. We spend a lot of time reviewing the interior design and specification for each development schemes to ensure our homes are appointed to the customers' needs, taking full consideration of quality, fashion trends, functionality and practicality, sustainability and security." Boasting a broad portfolio of projects that reflect the needs of its clients, MGH is proud to combine well thought out designs with classic touches, which results in extraordinary homes. However, this is only one segment of MGH's strategy for success; the long process actually starts with the Strategic Land team identifying and acquiring suitable land to develop from theplanning phase to construction, development and beyond. The small team strives to deliver a personal, tailor-made service of superior quality to landowners, which thus gives them confidence to put their sites in the hands of a known and trusted experts that are available at all stages of development.
Meeting market needs As the government continues to find solutions to the UK housing crisis, which will not only provide new homes but will also boost the economy, MGH, with its solid record of building homes in popular developments that are attractive, high quality and spacious, is fully capable of meeting this need in the market. "MGH are currently involved in two major housing development schemes, one in Aylesbury, Buckinghamshire and one in Biggleswade, Bedfordshire. These are both significant housing schemes and carry with them huge contributions to the local community including primary and secondary education schools, train stations, major trunk road and distributor road improvements, community centres, commercial centres, district parks and open spaces and employment areas," confirms Chris.
Located on the outskirts of Aylesbury, MGH is a member of the Berryfields MDA Consortium and over the course of the development will be creating in excess of 500. new homes. Just one hour away from London by train, within the 181-acre area of leafy parkland MGH is delivering a mix of two, three, four and five bedroom high-specification homes that are in close proximity to three schools and a gym. There are also recreation areas nearby, with cycleways, bridleways and footpaths. Known as Berryfields, the new community incorporates local independent shops and services and is at the foot of the Chiltern Hills, an idyllic beauty spot with a number of country pubs and grand country houses.
The best specifictions Meanwhile, Biggleswade's new Penrose Park community, which forms part of the new King's Reach development, boasts a collection of elegantly presented two, three, four and five bedroom family homes. Offering the very best specifications, the homes have perfectly planned kitchens that are complemented with stainless steel appliances, while the carefully presented bathrooms and ensuites offer a sophisticated feel. Strategically located within close proximity to three schools and a gym as well as recreation areas, Penrose Park is also within 35 minutes of Kings Cross, London, for commuters.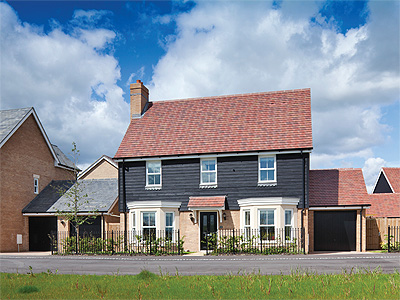 Sensitive to the fact that new housing developments can be a controversial issue for communities, MGH is committed to working with local people and local community groups as well as councils and local planning authorities to ensure that the development of any new housing area is beneficial for all involved. For example, houses will be created with optimum care to ensure they are energy efficient and incorporate environmental performance schemes such as BRE EcoHomes and the 'Code for Sustainable Homes'; furthermore, homes will be created in a way that protects, preserves and enhances the features of the natural site through close working relationships with organisations such as the Environment Agency and Natural England as well as local wildlife groups.
In fact, the company has worked on particularly sensitive development areas with great success, as Chris notes: "For these kinds of projects we have been required to place particular emphasis on local features because of local conservation restrictions. The designs have been out-sourced to architects that have local connections to ensure that the development briefs are adhered to in order to create a development that blends in with the surroundings."
As either the owner or controller of land that is capable of providing 10,000 potential homes over the next ten to 15 years, the financially strong MGH is in a coveted position to meet the demand for homes in the UK, as Chris concludes: "The MGH land bank affords the business a fantastic opportunity over the next five years. If the market stays consistent over the period with modest inflationary growth then the business is superbly placed to expand from the current base of a £75 million annual turnover on the delivery of 150 new homes to £150 million from 350 new homes.
"The long term investment in strategic land over several decades has started to materialise with substantial planning gains in recent times providing MGH with sizable sites in excellent locations. Sites such as these will allow the company to organically expand its development portfolio in areas where sites are difficult to find and secure. This places the company at a significant advantage over its peer group of similar developers."
Martin Grant Homes
Services: House builder