Matpro Machinery and CRJ Services
Operating by the 'Unity makes strength' creed, Matpro Machinery and CRJ Services officially came together in late 2016 to form one of UK's largest materials processing solutions organisations
A match made in heaven
Operating by the 'Unity makes strength' creed, Matpro Machinery and CRJ Services officially came together in late 2016 to form one of UK's largest materials processing solutions organisations
Both recognised as reliable operators in the materials processing industry, Matpro Machinery & CRJ Services joined forces in December 2016, so they could benefit from each other's competences and establish an enhanced service for the greater good of the sector. Speaking with Construction & Civil Engineering is Matpro & CRJ Director, Ben McQuaid, who discusses the history of the two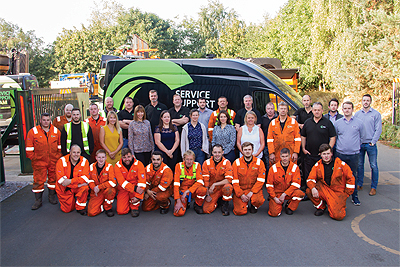 businesses, the collaboration's early highlights, as well as its vision for the future. "CRJ is the older company. It was formed in 1999, initially getting involved with the Cheshire East Council green waste contract. As it began hiring out its machines to various local contractors, the company realised that this could be an area of growth, so it concentrated on developing within this market. Today, what started with just one high-speed Doppstadt shredder has grown to a fleet of over 85 units, including slow and high-speed shredders, mobile picking stations, and a range of mobile separators, which are normally hired out to waste r cycling companies, local authorities, and recycling centres."
To support the seamless operation of its machines, CRJ boasts an impressive parts stock holding, valued at £1.2 million, which is held within its Cheshire headquarters. The company employs four mobile engineers who travel to clients' sites to provide maintenance and service, as well as 14 in-house engineers that keep the business' equipment in top form at all times. They also run their own logistic division in house, to transport machines throughout the UK and Ireland. The administrative duties to manage this infrastructure are undertaken by a spare parts manager, two service managers, two transport & logistics managers respectively. "Keeping our fleet fresh is a no-brainer. We are constantly looking to upgrade our machinery with the latest pieces of equipment and even now, we are in the process of buying four new machines," Ben notes.
"When Matpro was founded only four years ago, in 2014, we had the ambition to distribute new and used materials processing equipment and we enjoyed immediate success with our activities," he states proudly. "At first, we were selling solely into Scotland and North East England, but, guided by one of our major suppliers – Haas – and following the subsequent sales growth and formally merging with CRJ at the end of 2016, we were enabled to expand our service offering to all of the UK and Ireland. The merging of Matpro and CRJ has strengthened Matpro's proposition, by gaining access to CRJ's well-developed infrastructure, in terms of machinery, personnel, expertise, and aftersales service."
Nearly two years on, the Matpro-CRJ partnership is already bearing fruit, as the companies are currently engaged with their largest project to date, both as a single entity and individual businesses. "We recently won an order for a large stationary wood recycling plant in the Midlands, valued at approximately 1.5 million euros," Ben reports. "It is a substantial scheme, which requires a great degree of commitment in every respect, so we can install the plant by Spring 2019. The project attests to the mutual benefits the two organisations see from working together. We have raised our game in a way that has allowed us to win business we would have struggled to acquire otherwise. This is due to the strong aftersales offering we can now present," he comments, adding that the company has also recently broken into the Irish market, selling its first machine there.
Rob Symons, Director of CRJ Services, agrees that aftersales is crucial to the business' success: "For me, it's not just about the hire and sale of machinery – I believe it's the comprehensive aftersales service and support we are able to offer our customers that keep them coming back time and time again," he said. "Our team of mobile engineers and site based engineers are the best in the business, and they help set us apart from our competition."
Diverse offering
As the pair continues to gain momentum, Matpro and CRJ have agreed to zoom in on the construction and demolition sectors, focusing their efforts on growing within that arena. "Our fleet contains machines that can deal well with demolition material. For example, our mobile picking stations are particularly suitable for such processing, and we have experienced considerable demand from the construction industry," Ben explains. "Companies within this industry require a lot of on-site processing, so we have to ensure that the machines they need are delivered to the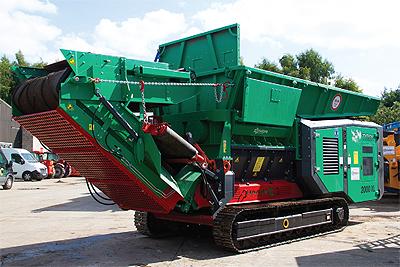 area they are working in. Together with this, we offer to shred the recyclables that are pulled out, which adds further value to our proposition. Put shortly, our fleet complements the construction and demolition market ideally, hence our interest in it.
"We aim to maintain this diversity in our offering across both businesses. The idea is to provide versatile machines that are not specific to one market only, but can serve a wider range of industries and materials," he reasons. "As it stands now, we are well-covered and confident that we have developed a rich product portfolio, which is allowing us to concentrate on today's fast growing sectors."
Fresh fleet
On the eve of its 20th anniversary, CRJ has reached the status of UK's largest waste recycling equipment hire provider, but Ben assures us that the company is not complacent and will maintain its sharp attention, in order to retain this position. "We understand what we have to do to stay on the top. Keeping a fresh fleet and delivering exceptional aftersales service are paramount to our future success, so we are trying to scrutinise every single aspect that shapes us as a business and adapt accordingly.
"It has been a very long journey over the last 20 years, but with that comes a lot of experience and knowledge. By this I mean not just product competence, but wider industry understanding and awareness of what turns customer requirements will take. Without a doubt, we wish to continue learning and improving," Ben visualises the company's future development, placing it in the context of its hitherto growth. "As to Matpro, the business will be only five years old next year, but we have grown very progressively, which provides us with a solid platform for our upcoming activities. Only two years ago, we were distributing solely Scotland and the North East, and today, we have a footprint in the whole of the UK, as well as in Ireland. Our desire is to remain a force to be reckoned with in the materials processing and equipment supply industry. To do that, we have to continuously improve the synergies between Matpro and CRJ and operate as one flexible unit ready to respond to all of our clients' needs."
"As a team, we are proud of what we have achieved in the near 20 years we have been operating," Rob added. "To see our fleet of machines grow, along with our customer base has been very rewarding. We look forward to continuing our passion and drive to make the next 20 years as successful, if not more."
Matpro Machinery & CRJ Services
Services: Mobile waste recycling equipment hire and sales