McCrory Engineering demonstrates how a flexible approach to innovation and quality service can be a winning formula in the UK construction industry
Made to fit
McCrory Engineering demonstrates how a flexible approach to innovation and quality service can be a winning formula in the UK construction industry
Based in Northern Ireland, McCrory Engineering has spent the last three decades growing from a small engineering firm into one of the UK's leading manufacturers of bespoke and modular concrete batching machinery. With 72 people directly employed, the company has established for itself a reputation for delivering unique and high quality solutions across the UK and into export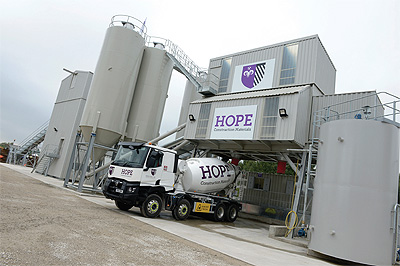 markets throughout Europe, the Middle East and Australia.
"Nothing we sell is off the shelf – we work to the requirements of potential customers," begins McCrory's Sales Manager, Alan Stewart. "We sit down with the client and work with them to understand their exact requirements in terms of capacity and footprint and we design a bespoke solution that meets those needs. We are able to think outside the box and come up with a solution that would allow a batching plant to occupy a space. We can build anything from 20 cubic metres an hour up to 140 cubic metres an hour, and back all our sales up with a two-year warranty and a service inspection every three months, which is totally unique in this sector."
Indeed, engineering remains absolutely central to McCrory with most of its profits reinvested into developing a state-ofthe- art factory complete with plasma cutting, shot blasting and 3D design capabilities. Where possible the firm aims to bring as much as it can in-house, including its own transport fleet, but also relies on strong partnerships with key quality suppliers such as TEKA, BHS and Pemat mixers and Practicon and Command Alkon control systems.
Such is this reputation that in the UK, which represents McCrory's biggest market, the firm can count many of the major players as its customers. Aggregate Industries, Acheson and Glover, Easycrete, Hillhouse Quarry, Cleveland Concrete, Jones Brothers, John Gunn and Sons, New Milton Sand and Ballast, Langan Group, Tarmac, Marshalls/ Premier Mortars, QME, Rackham House Floors, Leiths of Scotland, Mick George Concrete, Patersons Quarries and Hanson, amongst others, are all making use of McCrory's specialist expertise, with some continuously adding to their fleets.
"We have supplied a couple of plants to Hope Construction, who were particularly impressed with our work ethic," Alan outlines as an example of McCrory's work. "If we say we will deliver at a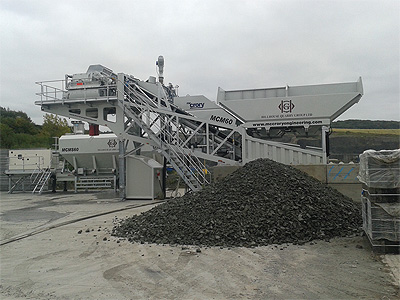 certain time, we will be there at that time, our guys work solidly and we aim to be in and out of a site within two weeks."
However, it is not just its ability to develop bespoke solutions that work around the customers' space requirements that sets McCrory apart in the market, but also its approach to innovating completely unique products. The past few years have seen the Northern Irish company redefine its position in the market with the development of its mobile batching solution. "A few years ago we started talking with Laing O'Rourke about runway expansion projects at Heathrow Airport and they were looking for a concrete plant that could be moved every night," explains Alan. "In the years since we have designed and developed a totally self-contained application, that doesn't need a crane to be put together and that can start producing within a matter of hours."
The mobile solution is currently available in two configurations: 40 cubic metres an hour and 60 cubic metres an hour, but Alan notes that due to a customer request McCrory is presently developing a 100 cubic metres an hour solution, as well as incorporating larger capacity bins. "There are lots of applications where this mobility can be a major advantage, with remote wind farm construction sites and small contracts currently being a big market," he notes. "Companies don't have to wait around for mixing lorries to turn up, instead they can have all the aggregates delivered in the evening ready for full day's production, helping those providing small contracts to deliver a much more effective service to their customers." service to their customers."
For Alan, the development of markets for mobile batching plants is the future for McCrory's. With aspirations to engage distribution agreements with partners in Europe, the Middle East and Australia, he is confident that the company can be manufacturing 12 plants a year, helping to maintain a strong workflow between the design and manufacture of bespoke solutions.
With McCrory set to hit sales of £8 million in 2016 and £10 million in the following year, the future for the business looks bright. Market conditions are favourable with continued investment and future activity in the UK's housing and infrastructure markets looking particualry strong. Alan does share a note of concern surrounding the uncertain conditions running up to the EU referendum and its subsequent outcome, but ultimately remains positive thanks to the company's strong reputation both within the UK and abroad. "We have a very strong outlook for the next five years despite some competition entering the market," he says. "To capitalise on this, everything we do is aimed towards growing our position and becoming the foremost manufacturer of bespoke and mobile batching plants in the UK."
McCrory Engineering
Services: Designs and manufactures world class bespoke and mobile concrete batching plants