MD of Merit, Tony Wells, shares his vision for the future of construction
Always everything
This year, Merit is celebrating not only its 20th anniversary, but a landmark moment in an incredibly turbulent period of success. It additionally marks two decades of operation under the current Managing Director, Tony Wells, who has manoeuvred the company from a difficult position, back in 2002, to its industry leading standpoint in offsite construction today. A true success story.

Before Tony's acquisition, Merit was a process pipe fitting company that had been trading since the mid-90s. He explains how he was unaware, when he arrived in the UK, that it was heading for insolvency in the following quarter: "I was living in the US, and you can only do so much in terms of due diligence. We did a quick crash course in insolvency practice, and I fired a third of the workforce after two weeks. I then instigated a number of changes to carry us through and obtained a large contract in Germany, for a semi-conductor hook up. Within five months, we had more people at Merit than before the restructuring."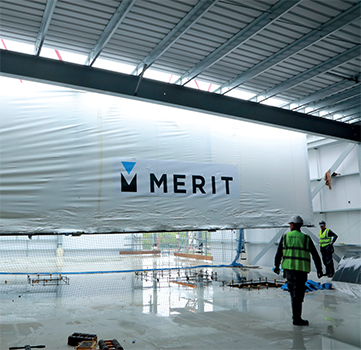 Coming from a background of working alongside the likes of IBM, Motorola, and Siemens, on projects around the globe, Tony had his sights set on far brighter prospects for Merit. "The idea was to come up with an optimised design for minimised construction costing: maximising usable space and the overall productivity of the facility," he says. "We repurposed the business around construction and the self-delivery of process pipework, and then we went after some larger contracts – we won Halley IV Research Station in 2006." Tony describes this initial project as a "baptism," however, with only its initial 120,000-square-foot factory, Merit stepped up to the challenge and gained a great deal of knowledge in the process.
From its base in Northumberland, Merit provides its clientele with an intelligence-driven solution to construction, through a combination of its own unique platform design and offsite project delivery. It offers improvements in all elements of design, mechanical and electrical installation and building methodologies – whilst working towards its zero-carbon emissions initiative. Merit breaks its production process down into four steps: design, manufacture, build and validation.
"I am a vertically integrated design guy, I have been since I worked at British Steel where we commissioned all of our own designs," Tony says, which is perhaps why Merit places such great importance on its primary design step. Merit creates a BIM model that is optimised specifically for its own offsite manufacturing platform designs, which in turn improves the overall productivity and reduces the time required for project completion. "We are a design company and that is the key. What we have done is create our own design platform so that we can manufacture ourselves to maximise productivity, with the driving force to be able to construct a building three years faster than anyone else."
Through Tony's thirst for innovation and well executed re-investments of capital, Merit's manufacturing now takes place in its state-of-the-art, 270,000 square-foot-factory, and has a second facility under development. Utilising an advanced 4D BIM modelling technology, Merit has its own specialised approach to manufacturing, and constructs everything from vaccine and healthcare facilities through to cleanrooms and laboratories. Tony believes that: "Britain should be manufacturing high-technology products. We shouldn't be a partial assembler or an importer – if you want to be a growing developed economy then you innovate and invest in R&D and automation to deliver high productivity growth."
Given the nature of Merit's approach to building, Tony doesn't necessarily class what it does as 'traditional construction'. "We don't do a lot of construction per se. We are manufacturing and assembling, but how we deliver it is different. 'Traditional' construction is becoming a minority part of what we are doing." Again, every step is focused on increased productivity, allowing Merit to hit its target of sending each of its pre-assembled modules into manufacture early for every project.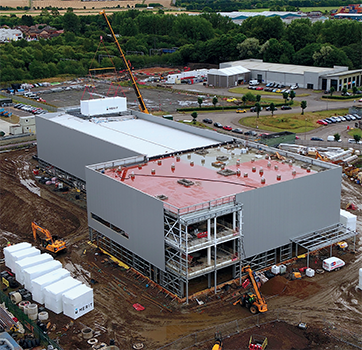 Validation is the final step in the Merit production process, and the business is fully competent in certifying to Good Manufacturing Practice (GMP), Medicines and Healthcare Products Regulatory Agency (MHRA) and US Food and Drug Administration (FDA) standards, among others. Its wealth of experience has fed into its standardised design platforms, saving both time and cost in ensuring that the final product will be certification ready. To date, Merit has worked alongside the likes of UBS, Autolus, Piramal, GlaxoSmithKline, Rolls Royce, the Royal Albert Hall, Harrods, and the NHS.
"We are fiercely made in Britain and don't outsource any processes overseas. We can't offsite manufacture other people's products due to their differing form of design," Tony states, with reference to the self-reliant nature of the business. Merit's fully integrated approach to operations, providing a full turnkey service, saw it evade the supply chain issues faced by most contactors during the pandemic. "Of course, nobody wants to profit from the misery of others," he sympathises. "But, without the option to travel, people had to use zoom calls. This transformation wouldn't have happened without enforced isolation, and this transition helped us tremendously."
The business' rapid growth has seen it go from strength-to-strength, whether measured by its constant innovation and self-development or its order book for the coming year already at over £150 million. This, combined with its previous two years, has it set to hit £250 million in turnover in the next couple of years.
Tony believes that the opposite of the UK's fragmented approach to construction is where businesses stand to flourish in terms of profitability and productivity. "The industry has created its own dead end of development in terms of fragmentation, it's about as far removed from classical management and productivity implementation as you can get," he concludes. The future, it would seem, lies in providing everything.
www.merit.co.uk