Mecalac CEUK is moving forward
From housebuilding and highways, to agriculture and landscaping, Mecalac CEUK's equipment is used by construction professionals worldwide, providing the perfect solution for every application
Whether it be through its comprehensive range of rental-tough equipment or first-to-market technologies, the Coventry based business of Mecalac CEUK (Mecalac) has never once stopped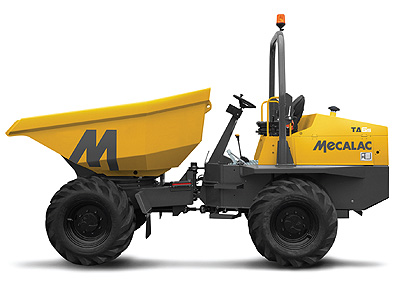 innovating. Working with esteemed hire companies and owner operators alike to deliver real-world results, Mecalac is a leading designer and manufacturer of compact construction equipment, employing a 300- strong workforce dedicated to setting the global standards for innovation, performance and quality.
"At Mecalac, we never stand still," states Regional Business Manager, Mark Royse. "We have a clear goal, which is to lead the global compact equipment market, and we are committed to achieving this. Through a comprehensive strategy of investment and expansion we continue to set the global standard for innovation, performance and quality. Alongside regular new product launches and state-of-the-art technology developments, longterm investment in research and development keeps us front-of-mind with construction professionals worldwide."
Streamline efficiencies
The secret to Mecalac's success doesn't just come down to innovation, however, with the company understanding the importance of listening to its customers, understanding their pressures and working in collaboration to deliver added value. "Whether it's a new technology to streamline efficiencies, a revised design to improve operator comfort, or a next generation engine solution to meet stringent on-site regulation, we stay ahead of the game to delight our customers," Mark adds.
Mecalac prides itself on delivering product solutions that enhance the operator experience and set the standards in compact plant equipment. As part of its drive to develop new and innovative solutions it has recently launched several new products and technologies, including the TLB870 backhoe loader, site dumper Hazard Detection and a stop/start control system.
New products
Designed with efficiency and productivity firmly in mind, the TLB870 delivers powerful performance to suit the needs of today's discerning construction professional. Fitted with either a 70Kw Tier 3 Perkins engine or 55Kw Deutz alternative, the unit provides class-leading excavator performance in both standard and extendable dipper configurations. Ideally suited for either rental houses or owneroperators, intelligent hydraulics is delivered via a unique in-loader valve, together with a tandem gear pump to provide efficiency and control gains. Both pumps unload at low pressure, when not required, to reduce hydraulic power consumption, improve fuel efficiency and increase tractive effort.
For its Hazard Detectionsolution, the company has worked in partnership with Vision Technologies to launch this new, factory-fitted option across its site dumper portfolio. A cutting-edge collision avoidance system, the technology will further improve site safety for operators around the world. Using radio-frequency energy at long wavelengths to bounce off remote objects, Hazard Detection works in much the same way as parking sensors on a car, identifying unseen obstacles and alerting the driver via a screen on the dashboard and proximity warning alarms. Capable of operating regardless of dust and dirt coverage, the system is perfectly suited to the tough environment often encountered on site, and is available in either fully-fitted or 'radar ready' (pre-wired, plug and play) configurations.
As for Mecalac's new stop/ start control system, this has been designed to improve on-site safety, minimise fuel consumption and increase service intervals by automatically starting and stopping the engine in predetermined conditions. Tested duty cycles carried out by the company have shown hundreds of pounds of fuel savings per year can be made and that it can help extend service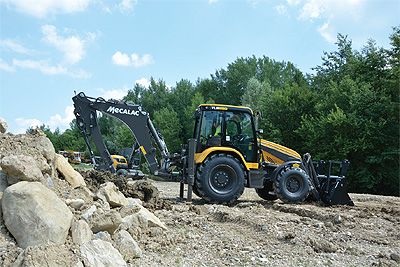 intervals by 24 weeks, based on a typical 500- hour maintenance schedule.
Telematics solution
True to its promise to never stand still, Mecalac also now finds itself introducing a new telematics solution to the marketplace. "Capture, our innovative telematics solution developed in close association with Trakm8, is now available as a factoryfitted option on all site dumpers from three tonne payloads and up," Mark explains. "Enabling fleet managers and hire firms to monitor asset location, distance travelled and hours operated each day, the state-of-the-art technology supports efficient fleet management, while also acting as a deterrent against plant theft. Based on our own history and experience, we realise that by understanding and analysing driver behaviour it is possible to identify areas in which to improve safety processes, operator efficiencies and fuel economies."
Acquisition trail
In addition to its sterling work in bringing new products to market, 2017 has also showcased how targeted acquisitions and partnerships play an essential role in ensuring Mecalac's continued prosperity. In February 2017, the company completedthe acquisition of Terex CEUK, the Coventry-based compact construction business of Terex Corporation, which makes and sells backhoe loaders, site dumpers and compact compaction rollers. Paul Macpherson, Sales and Marketing Director, commented: "The acquisition of Terex CEUK came at a time when the business was keen to diversify, responding to the demands of the global construction market. The move provides a wider equipment portfolio and enhances access to regions such as Eastern Europe, central Africa, the Middle East, Australia, and North and South America."
Earlier this year, the company also announced a partnership with global finance company DLL. "Operating as Mecalac Financial Solutions, this joint venture business will offer customers a range of flexible and innovative lease and purchase options," Paul continues. "This includes fair market value leases, seasonal payment structures and customised project finance terms, all with options to include service and insurance, giving customers access to the cutting-edge equipment they require without any capital outlay. The service will also allow customers to acquire Mecalac equipment according to the financial needs of their business."
Plans for 2018
Looking ahead at what the next 12 months may hold for the company, Paul promises that Mecalac will definitely be a manufacturer to watch in 2018. "Our focus is simple, and that is to continue to delight customers with new and improved additions to our market-leading compact equipment portfolio, lead the way in product innovation, improve global accessibility to the Mecalac range and focus on entering exciting new markets."
Considering the year that the company has had in 2017, it is hard to doubt that all of the above will be achieved, and expanded upon further, in the months to come.
Mecalac CEUK
www.mecalac.com
Services: Innovative compact construction equipment for urban construction sites