Thanks to its continued innovation, which led to the launch of a new cabbed site dumper, Mecalac has succeeded in attracting new customers over the past 12 months
Bright present, promising future
Thanks to its continued innovation, which led to the launch of a new cabbed site dumper, Mecalac has succeeded in attracting new customers over the past 12 months
In the year since Mecalac last made an appearance in our magazine, the compact construction equipment specialist has been focused primarily on developing its new MDX cabbed site dumper, which was launched at the Intermat exhibition earlier in 2018. "The design brief that we defined for this product stipulated that we wanted it to be safe, comfortable, easy to operate and maintain,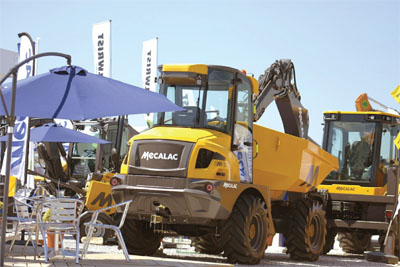 but most of all, to be best-in-class. Having built this machine, we can proudly state that we ticked all the boxes," begins Mecalac's Head of Engineering, Satpal Sokhi.
"On approaching the machine, the access system is safe and intuitive, resembling walking up a staircase. The integrated cab is comfortable and equipped with optional air conditioning, radio fitment and a suspension seat. We made sure that the machine was packed full of safety features that prevent the operator from performing certain actions during operation – all of them designed to keep them safe at all times. In addition, the dumper also incorporates a cast backend counterweight and gull-wingstyle doors to ensure ease of access during maintenance," Satpal reviews the vehicle's key attributes.
Award win
The addition of cabbed site dumpers to its construction plant range was closely related to Mecalac's acquisition of Coventry-based Terex Construction Equipment UK, completed 18 months ago. "As it stands, every product in the Mecalac Coventry portfolio is undergoing some form of development – be it legislative engine changes, the incorporation of new features, or a complete facelift. We are really proud of what we have achieved with this side of the business in just 18 months, and a testament to our hard work was the recent award we received for Export at the 2018 Coventry Telegraph Business Awards.
"Together with MDX, we have also launched Shield – a safety pack with operator software for improved safety and telematics checks. One of its features includes an auto handbrake test that can be performed before the start of the shift, to confirm that the handbrake is functioning correctly. It also enables remote adjustment of the machine parameters, so, for example, a site manager could limit the travel speed of the vehicle on a particular site through a Bluetooth-enabled device, like a smartphone or a tablet. Some of the other Shield properties worth mentioning are Stop/Start Control and auto shut off, start and seatbelt interlocks, and a speed limiter on raised skip, to name a few," explains Satpal.
"We managed to significantly grow our market share over the past year, largely due to winning new business with some major UK and international accounts, as well as with some larger regional UK customers," Satpal continues. "There is a lot going on in the business and the engineering and design teams have been kept extremely busy as of late. We are getting ready to release a number of new products and updates in the coming months, some of which will be first showcased at Bauma 2019, in April. Our goal is to continue promoting the Mecalac brand and educating the market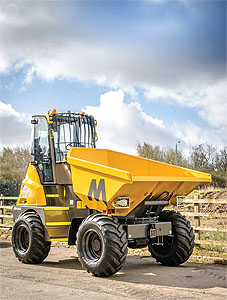 about who we are. Bauma in Munich is just one of the events we will attend next year, where people will be able to see the strength of our portfolio. In the UK, we will also exhibit at the Executive Hire Show and Plantworx," he outlines some of Mecalac's intentions for the future.
2019 prospects
The beginning of 2019 will see the company take over production of a range of compact wheel loaders, currently being manufactured by Pichon, after Mecalac completed the acquisition of the French company in July. The range of six wheel loaders will complement Mecalac's existing range manufactured by its German-based plant Mecalac Baumaschinen, and will be distributed under the Mecalac brand through the group's worldwide dealer network. With this addition, the company will become one of the largest suppliers of compact wheel loaders in the market.
As the year approaches its end, Mecalac is clearly finding itself in a strong position, now dealing with unprecedented levels of demand. "Despite the slow start of 2018 due to the adverse weather conditions in Q1, demand has returned and we even had to increase our production capacity in Q4 to serve our customers' needs," Satpal points out. "Both Mecalac and our dealers are enthusiastic about our 2019 prospects and we have put in place some challenging growth plans. Following the launch of our cabbed dumper range, it will also be interesting to see how quickly the market shifts away from the traditional ROPS dumpers, which we have been manufacturing for 65 years.
"If we look a bit further ahead in time, we would like to continue to increase our UK market share, but also see sustained growth in the export of our site dumpers and backhoe loaders. The two ranges are performing really well this year and we expect to carry this momentum into 2019 and beyond. On top of that, we already have a lot of new products planned, as we continually scan the market for further development opportunities," he concludes.
Mecalac
Services: Design and manufacture of innovative compact construction equipment