Mediterranean Building Materials
Obsessed with adding value, Mediterranean Building Materials (MBM) is one of the most esteemed construction suppliers in the Middle East.
Exceptional every time
Obsessed with adding value, Mediterranean Building Materials (MBM) is one of the most esteemed construction suppliers in the Middle East. Courtesy of its prescience in understanding market conditions, the company has enjoyed remarkable growth in recent years
With a reference list of over 300 completed projects per year across the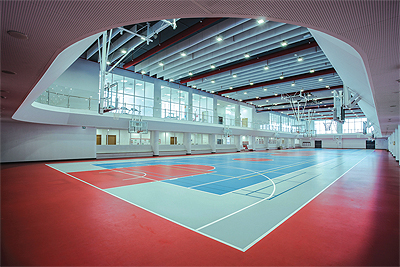 entire Middle East region, it is no wonder that Mediterranean Building Materials (MBM) has built an impeccable reputation over the nearly three decades of its operation. The specialty supplier of construction products was founded in 1992 to fill a gap in the market, which then lacked in value-added engineering products. COO, Elie Khawaja, explains: "At that time, most suppliers in the region had focused on supplying commodities and off-the-shelf items. We, on the other hand, decided to set up a consultancy-type supplier model, in which we would offer solutions to existing projects through our range of products."
Initially, MBM was made up of two divisions – Infrastructure and Architecture, which, to this day, remain a mainstay for the company. The former includes products and solutions for bridges and highways, such as crash-tested parapet rails and expansion joints, while the latter covers the public buildings sector, offering seating systems, partitioning systems, flooring systems, HPL fabrications, and other niche specialties.
"Over the past two years, we have also created two new stand-alone divisions, namely our Sports & Leisure and Structural departments," Elie divulges. "On the Sports & Leisure side, we target applications for sports surfaces such as rubber flooring, acrylic flooring, and EPDM flooring. Conversely, the Structural division deals with vibration control and movement control for large horizontal and vertical projects, providing products like tuned mass dampers, expansion joints, and bearing pads. In addition, we have set up a new sub-division, by having our partitions products managed as stand-alone products in lieu of being part of the Architectural division."
The list of major projects MBM has been involved in is virtually endless, but there are nevertheless several programmes that stand out for their social significance. Applications that are used by millions of people include MBM's waiting area seats from its Partner Zoeftig at the Dubai Metro and the Dubai International Airport. Other mega projects include the Dubai World Trade Centre and the Dubai Arena. Outside of its home country, MBM has also played a role in the building of the Al Bayt Stadium in Qatar – one of the venues for the 2022 FIFA World Cup; as well as the Princess Noura University in Saudi Arabia, the American University of Middle East in Kuwait, and the North Manama Causeway in Bahrain.
Interesting scheme
For Elie, however, the project that truly reflects the full extent of MBM's core capabilities is the upgrade of the above-ground parking of the Sheikh Khalifa Energy Complex in Abu Dhabi. "We fulfilled our commitment to the client in mid-2018, but the origin of the project dates back to 2013," he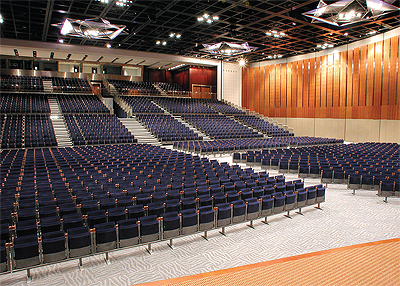 comments. "Following an accident that led to a car falling off the sixth floor of the parking structure, the Abu Dhabi National Oil Company (ADNOC) invited us to visit the facility and give our recommendations on what a suitable upgrade would constitute. Then, we did an extensive survey and prepared a presentation with clear measures as to what can be done to avoid similar accidents in the future. A lengthy vetting process and a public tendering process followed, but, finally, we were awarded the contract to provide consultancy services related to choosing adequate safety solutions, assessing and verifying the integrity of the parking structure, adding 2800 linear meters of crash-tested barriers to the periphery of the structure, and dismantling the existing ramp barriers and replacing them with 575 linear meters of crash-tested barriers.
"This project was particularly interesting for us for multiple reasons. We were involved with the end user from the very first day, which gave us the ability to provide input on what is needed. It is an excellent example of how we create value as an organisation. Secondly, it was a challenging project, in terms of procurement and installation, because the facility was an existing and operational one. Most special of all, though, is the fact that it was a one of a kind scheme for the Middle East as nothing like that had been done in the region before."
Keeping off the beaten path has helped MBM stave off the challenges posed by the general slowdown of public projects in the construction industry in the past couple of years. "Our approach to the downturn was dramatically different to the actions our competitors took," Elie points out. "While others were downsizing, we were adding products and recruiting people. We decided to build on our product portfolio with more complementary items and services that we could leverage on relatively quickly. In a market where we kept hearing of businesses closing and major layoffs taking place, our turnover increased by about 15 per cent.
"How we did that? We gambled and it paid off," he smiles. "Our industry is built on credit that trickles down from the end user to the main contractor, and all the way down to the subcontractors and suppliers. In a world of constant defaults, we guessed right that our competitors would become very strict in their payment terms, so we became even more stringent in ours, which helped us to reverse the credit cycle to our favour and achieve significantly better payment terms than what we would have normally agreed to in the past."
Products & processes
Discussing the main reasons behind MBM's growth, Elie recognises the people who work for the company as the biggest contributor and emphasises the importance of strengthening his workforce on a regular basis: "We operate in a business filled with niches and the only way to grow is by hiring the brightest talent. We are proud of doing just that and we are convinced that our Product Managers, Directors, sales personnel, and back office support staff are among the best in their respective fields.
"Other two development areas for us have been our products and processes. We have recently done an overhaul of our portfolio, removing some of the items that were not being especially sought-after. Instead, we have added new products to our core offering. Processes-wise, we are currently implementing a new CRM and ERP system, and we anticipate the combination of all these aspects to bring us lots of benefits we can reap in 2019," he enthuses.
Also this year, MBM is planning on launching its operations in Lebanon and Kuwait, closely collaborating with its local sister companies. "By all means, expanding our geographical footprint forms a sizable part of our long-term growth vision. Other than the markets we are currently active in, our next two target geographies will probably be in the Central Asian/Caucus region (in countries like Kazakhstan and Azerbaijan), as well as certain developing African markets, including Ivory Coast, Ethiopia, and Kenya," Elie reveals.
Growth vision
Divisional growth will also be pursued, as the company intends to establish new divisions. "I would expect that these would include specialty construction chemicals, structural repair and construction works, and environmental products. Needless to say, the divisional and geographic growth will be interconnected, depending on which divisions have a better value proposition in each geography."
At the end of our conversation, Elie remembers to share his gratitude to everyone working at or with MBM for their commitment and reliability. "I would like to thank the company's founder and current CEO, Mr Paul Khawaja, for his constant drive; all our staff members for treating MBM as if it was their own business; and our suppliers for acting more like partners than anything else. It is a pleasure working with all these people and I believe that together, we will build MBM's prosperous future."
Mediterranean Building Materials (MBM)
Services: Production, supply, and installation of specialised construction-related products