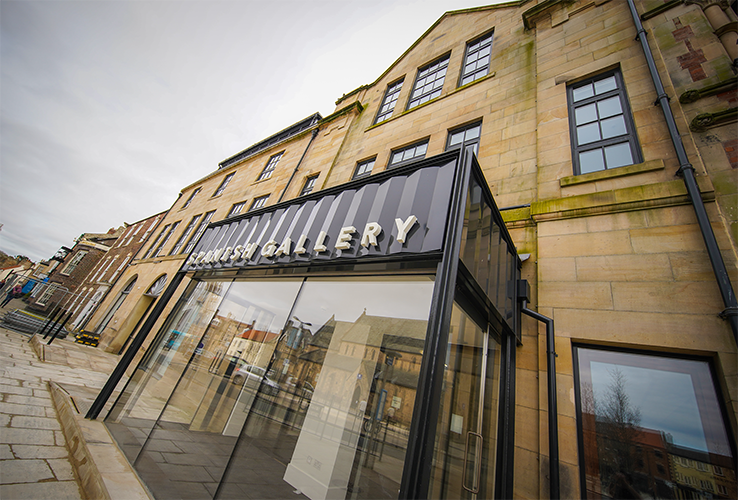 Built to last
On its 20th anniversary, Meldrum Group celebrates success as it reaches the Investment in People Gold Standard, and predicts a £50 million turnover for 2022
The story of the Meldrum Group (Meldrum) is the story of its people. Since being founded by Dave Meldrum in 2001, the company has diversified into five different Operating Companies covering activities as diverse as the construction of synagogues to rapid water courses to the restoration and extension of a 900-year-old castle. As a building solutions group, Meldrum is built on a foundation of mutual respect, honesty and investment in its people. With numerous long-term customer relationships and architecturally unique projects under its belt, the company enters its 21st year as a prosperous collective that continues to put people first.
"With the exception of one relatively small acquisition, the company has been grown purely organically," says Group Chief Executive Officer, Dave Meldrum. "In 2001, myself and a couple of other guys bought a transit van and started up Meldrum. I had just finished my masters, and
was literally just looking for a way to pay the mortgage. The company has grown from there.
"The three guys I started with in the van are actually still employed by us 20 years later, which is brilliant, I love that. All three of them found their place within the business. We have got one works manager, one site supervisor and a health and safety manager; the health and safety manager is now in his early 70s, but he has shown no desire to retire, which is fine by me!" he adds.
The last few years have been crucial in the development of Meldrum, as the company has undergone a complete restructuring and rebranding. "I am a civil engineer by birth and so we have always been strong on that front, but the core of the business had always been construction, until about three years ago, when we decided to move the business to a group structure," Dave explains.
"The restructuring has been really good for the business, and we now have five companies all operating under the Meldrum Group umbrella. The entire group covers such a wide range of services that we are able to offer our clients a fully integrated service; from planning and designing, to the civil engineering and construction of their project. Our facilities management company can then take care of their finished building with a planned and reactive maintenance support service. "
The Meldrum Group is a prime example of how diversification can protect a business, as Dave confirms: "One of the best things about our group structure is that we have the five businesses feeding off each other. If there is a downturn on one side, we can move staff into other areas with higher demand; a lot of our guys are multidisciplined, with experience in different areas, so that works well.
"When faced with challenging times, such as a recession, our group structure provides us with the flexibility to ensure we are able to protect our people and our business. Covid-19 really highlighted our dexterity in that area. Our robust business continuity plans combined with our people and the culture we have at Meldrum allows us to manage unprecedented events such as Covid, very well."
Being able to confidently and expertly offer a range of services has helped Meldrum to complete some of its most ambitious and unique projects. "One really large milestone for the business was winning the Auckland Castle project in 2017. Our work there has just been commended by the Constructing Excellence North East Awards," Dave reveals. "It was the largest contract we had ever won at the time. We initially tendered on an £11 million order, which grew and doubled in size. Whilst being a very technically demanding project, it proved to be a catalyst to help propel the business to the next level.
"That project really put us on the map, due to the complexity, all of our vast technical experience from each facet of the business was required to ensure the project was a success," he goes on.
Epitomizing Meldrum's true range of capabilities is another one of its spotlight projects, Pinkston Rapid Waters. "We delivered a rapid water course for this site, which was being used for the Commonwealth Games in Glasgow a number of years ago.
"That project was delivered with a patented design, and as a result we are now in conversation with people in Dublin and Belfast about delivering similar schemes. Our ability to deliver unique and bespoke civil engineering projects such as this, opens up doors to an eclectic range of diverse civil engineering projects.
"Certainly, looking at the projects we have delivered in recent years exemplifies our ability to deliver in a wide range of industries whether that be Galleries and Castles in the leisure and tourism sector to veterinary and hospital work in the medical sector," Dave details.
The company's attention to detail, and experienced team of dedicated professionals, has helped foster lifelong relationships with some of its biggest clients, as Dave observes: "We get a huge amount of repeat business, and we have some really loyal clients. I think if it weren't for the efforts that go into our client liaison, we would be a completely different business today; that's another thing to be really proud of. At the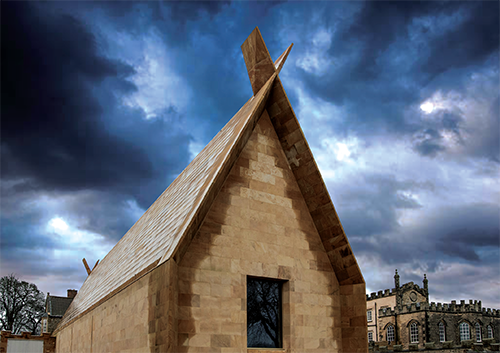 beginning of every project, we appoint a Director Liaison to ensure the client is engaged at all stages of their project.
"A huge amount of effort goes into keeping our clients happy and giving them good after-sales service; they are the reason we set up the facilities business, and it has been a fantastic selling point for the group in terms of the way we look after customers once we have handed the project over."
Whilst making sure to look after its customers, the Meldrum Group also ensures the wellbeing and continued development of its staff. "What I have tried to do is build something that feels like a family business. By putting in a large amount of effort when it comes to training and looking after staff, I think I have achieved what I set out to do," affirms Dave.
"Lots of my employees have never worked anywhere else, and next year we will be taking on our 170th apprentice; that's something I'm proud of, because if staff turnover is low then it means people are happy with us and our working environment. It all helps work towards that family feel.
"In addition, we have sponsored nearly 40 different people through degrees and masters' programs. As a result of that investment, we have a lot of people who have been here a long time, ever since they left education," he adds.
One long-term member of the Meldrum family is Cheryl James, the company's recently appointed Group HR & Marketing Director. "Cheryl is someone we have invested in and trained ourselves. She joined the business as an Executive Assistant, and she has grown with the business, taken her CIPD Level 7 in Human Resources Management, and now moved on to achieve further marketing qualifications. She is a huge asset, and I love that she has been home grown, so to speak," enthuses Dave.
It is clear that Dave's investment in Meldrum's people has secured a bright future for the company with the business achieving Investors in People Gold Standard in September 2021. He concludes: "In the long-term, I would love to see the business continue to support young professionals on all different fronts. Some of our employees are joining us from a very young age, and others will come to us with more developed skills, but we will keep on investing in everyone who is a part of the Meldrum Group.
"I would also like to see this business evolving and growing, in the next five years or so, where it can run without me. The plan is to have those young professionals that we have developed, invested in and identified as 'Future Leaders' being able to take the business forward to the next era, which for me would be the perfect legacy. I want to see the business successfully handed over to a bunch of young people, who are really capable of taking it to another level," he concludes.
Meldrum Group
https://meldrumcs.com/
Services: Construction, Building Services, Civil Engineering, Fabrication, Facilities and Plant & Transport