The last few years have allowed Menzi Muck to grow globally with its mobile excavators, while the company's relocation to a new facility in mid-2019 promises the development of more advanced capabilities
Digging deep
The last few years have allowed Menzi Muck to grow globally with its mobile excavators, while the company's relocation to a new facility in mid-2019 promises the development of more advanced capabilities
The international expansion achieved by Menzi Muck over the last four years, can be regarded as proof that the Swiss manufacturer of mobile excavators knows how to deliver on its promises. It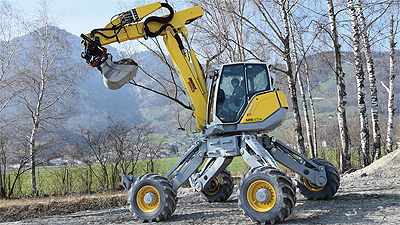 was in October 2015 that the company shared with us its ambition to see the business start supplying new geographical areas, including Scandinavia, East Asia, and North America. Following a period of intensive development, we are pleased to reveal that Menzi Muck's endeavours have met with considerable success.
"We have founded our own sales and service subsidiary in Scandinavia. This decision brought many new customers and the demand throughout Scandinavia is huge. Machines also have continuously been delivered to East Asia, especially to Indonesia and Japan. It is also incredibly encouraging to see that the demand from US customers on the East Coast is huge at the moment and we are currently working to set up the market on the West Coast, too," a spokesperson from the company commented.
Speaking of the general business conditions Menzi Muck has had to operate in, the company admitted that the market has been overheated, particularly in the supply sector, leading to long delivery times and price increases. "In addition, new levels of Clean Air Ordinance have been introduced, which has forced us to initiate new developments and increase our costs. Nevertheless, the various export markets continue to place lots of orders with us, so we are happy with our performance."
There is a multitude of areas where Menzi Muck's excavators are used. From construction and special civil engineering to track building in the railway sector, municipal services, forestry, and landscape gardening, the company's trademark mobile spider excavator and its variations have established themselves as a sought-after solution for a number of projects. When asked if any of the market segments are showing greater demand than others, the spokesperson explained that interest in one field or another varies greatly, depending on the country.
"If we take Germany, for example, we have been serving the forestry sector a lot in recent years, due to its need to clear storm-damaged timber up after a series of storms has hit the country recently. At the same time, many federal states are investing considerably in railway projects, which is another area of growth for us right now."
Innovative launches
The past four years have also been a period of energetic product development at Menzi Muck. In fact, the business regards the launch of the M220 walking excavator and of the first model of the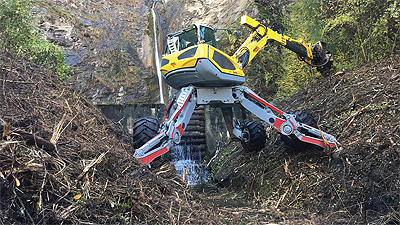 business' new generation X (the M545x) as the most important highlights during this time. In April 2019, the latter was presented at the world's largest trade fair for the construction industry – the triennial Bauma show in Munich.
"Throughout the development process, we paid special attention to ensuring greater stability and reliability of the excavators from the generation X range. Our products possess several features that make them superior to the excavators made by our competitors, giving us a distinct advantage in the marketplace. These go along the lines of higher speed, better maneuverability and fording depth, as well as a significantly improved slope capability.
"For sure, excavator manufacturing does not lag behind when it comes to the move towards vehicle electrification that we see in the automotive industry, as a whole. Trends like this and the automation and networking of the machines are guaranteed to be examined by both us and our competitors. Watch this space for updates in the near future!"
Exciting new facility
With ever-increasing production volumes and a clear desire for continuous improvement of the capabilities of each of its vehicles, in mid-May this year, Menzi Muck took the strategic decision to relocate its headquarters from Kriessern to Rüthi SG. "We want to renew and optimise our production methods, but our previous facility did not offer enough space for all the ideas we have. It was an important step that will prepare us for the future, as we can now benefit from a larger production area, improved material flow, and the introduction of a cycle assembly."
Moving to the new site is expected to help Menzi Muck reduce its production costs, as well, this being one of the main goals for the company in the immediate future. "We are constructing a Swiss quality product. And we are doing everything to hold and improve this standard. In conclusion, I would say we are very excited about the next few years, as we are about to release the M535x and M525x models on the generation X range in 2020 and then continue to work towards making Menzi Muck a recognisable brand worldwide. Ultimately, we are willing to remain a strong partner for our customers and keeping a high retention rate will be key for meeting our objectives."
Menzi Muck
Services: Manufacture of walking spider excavators