As a division of the A-Belco Group (the branding for the holdings group), MEP Solutions leads the market in the development of prefabricated mechanical and electrical modules
The right solution
As a division of the A-Belco Group (the branding for the holdings group), MEP Solutions leads the market in the development of prefabricated mechanical and electrical modules
Established in 2002, MEP Solutions has successfully carved out an enviable position as an innovative market leader in engineering modularisation and is widely regarded as a specialist in integrated prefabricated solutions. Through the design and manufacture of insulated and pressure tested prefabricated multi-service modules (M&E), the company has applied its resource saving concept to various building projects including hospitals, laboratories, schools, hotels, and office developments (working in new build and refurbishments), and the company offers a complete build solution with technical support from conception to completion.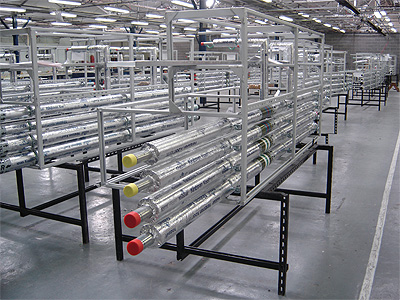 As a division of the A-Belco Group, MEP's Northumberland-based manufacturing facility in the UK applies the latest prefabrication design and innovation expertise in producing highquality mechanical, and electrical modules, for both new build and refurbishment projects. The company provides expert technical and tendering support to clients and operates the latest AutoCAD software, which works in synergy with its bespoke modularisation software developed inhouse. MEP's advanced software, which is not available on the market, offers a complete, efficient and more accurate solution to space evaluation with a higher degree of cost certainty and quality. It produces a more accurate cost projection and offers fully dimensional layout drawings that assist in site co-ordination.
By calculating all manufacturing, pricing, resource and procurement data, MEP can achieve accuracy in the modularisation zone and its software system designs all pipework and electrical components, allowing them to be installed on a support structure frame in its factory and then delivered to the site in modules, allowing for quicker installation with fewer site logistics. This innovative alternative to conventional methods addresses the major skills shortage in the construction industry, and modularisation coupled with off-site manufacture is emerging as the most effective way to operate. Prefabrication also reduces the risk of delay to a project and avoids the incidence of unexpected expenditure on-site. Health and safety becomes easier to manage due to fewer deliveries and dropping compete prefabricated plant rooms into position on-site reduces the number of skilled operatives required there.
Since last featuring in Construction Today Europe in 2004, MEP has experienced significant growth in new areas such as healthcare, education and commercial offices. It has continuously improved its services, products and software offering additional services such as fan coil units, drainage and ductwork as well as winning significant industry recognition. The innovative nature of its products has attracted a number of prestigious awards that confirm the company's ever-growing status as a leader in off-site building services and prefabrication. At the National Business Awards 2006 MEP achieved a Highly Commended Status in the Best Use of Technology in Business category and at the renowned Building Services Awards, MEP won Innovation of the Year in 2005.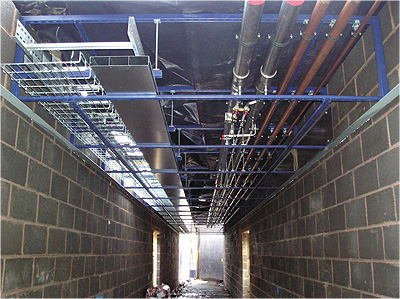 MEP's range of fully insulated mechanical and electrical modules support heating flow and return, chilled water flow and return, condensate drain and electrical containment, along with a range of domestic services for the building services and related industries in the UK. Its modules are engineered, produced and tested under factorycontrolled conditions using the latest systems and materials at MEP's facility at Ashington. The advantages of modularisation are far reaching and this modular prefabrication strategy continually benefits businesses. Those which utilise MEPs services are relishing major savings in on-site labour and a reduction in the length of construction projects. The agenda for off-site manufacture is driven by a need to improve efficiency, quality, safety, supply chain integration, project programmes, and profitability. As a result, the off-site manufacture of building services modules represents the lowest risk method of delivery and installation of services to the construction site.
MEP's modern method was appreciated by British Sky Broadcasting in 2005 when the company succeeded in halving the installation time for BSkyB's new office development in Brentford using modules constructed off-site. Prefabrication proved to be the most effective way to guarantee factory quality construction and MEP supplied 250 modules at a rate of 15 to 20 per week.
MEP's prefabricated services modules also saved one week per floor in installation time in the refit of three floors of 10 Exchange Square in the City of London. The refitted floors of the 15,200 m sq headquarters complex were developed by British Land and air conditioning for each floor is supplied by 67 bespoke twopipe, chassis-type fan-coil units with electric heater batteries and connected to existing chilled-water risers. MEP delivered its modules 'out of hours' at weekly intervals to ease site logistics and each floor was fully fitted with modules by six operatives in just three days. A further week was required to connect all 201 modules to the Alupex piping and fan-coil units.
MEP's future looks secure as the construction industry continues to observe the benefits of prefabrication with regards to quality, time and cost. Its innovative software enables competent off-site manufacture, allowing businesses to operate more efficiently and meet the everincreasing pressure on the construction industry to reduce installation times.