ith a market leading position already established, M&E module manufacturer MEP Solutions continues to develop in line with a growing market
A neat package
With a market leading position already established, M&E module manufacturer MEP Solutions continues to develop in line with a growing market
First formed in 2002 and now a part of the A-Belco group of companies, MEP Solutions has grown to become a market leader in modular mechanical and electrical service engineering, as well as a specialist in integrated prefabricated solutions to the construction and building services industries. As one of the largest independent companies in the sector, MEP has become renowned as an innovator through the design and manufacture of insulated and pressure tested prefabricated multi-service modules, including, but not limited to, pipework, ductwork, medical gases and all electrical services. Over the years the company's expertise has been applied to a range of significant projects up and down the UK including commercial and retail developments, hospitals, educational sites, hotels, and residential buildings.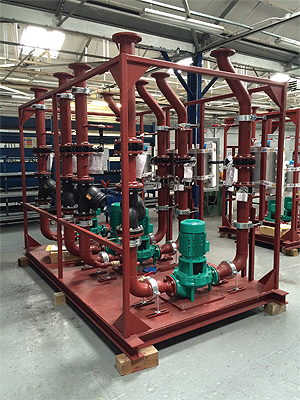 "The main advantages of the modular format over traditional builds are numerous," begins Commercial Director, Lee Brennan explaining the solution's unique offering to the market. "It leads to a reduction in capital costs, construction time, defect numbers, waste, on-site storage, site logistics and health and safety issues, and combines this with enhanced quality, productivity, predictability and profit benefits. At MEP we are able to deliver these advantages to projects through the use of highly skilled engineers, working closely with the design engineers of the main M&E contractors to maximise the services fitted within the modular arrangements and also our skilled manufacturing team who are able to translate this vision into reality."
It is this manufacturing excellence that really sets MEP apart in the market. It's long standing expertise in the sector has rewarded it with a wealth of knowledge and experience which enables it to offer best practice by continually implementing proven technologies and innovations throughout all aspects of its business. Such a breadth of knowledge means that MEP offers a complete, flexible and practical solution from conception through to completion. This is supported by a state-of-the-art facility perfectly suited to offering this level of technical complexity.
"Our manufacturing facility applies the latest prefabrication design and innovation expertise in the production of our high quality, mechanical and electrical modules whilst our engineering function provides expert technical and tendering support to our clients by utilising 2D and 3D drawing co-ordination support," Lee continues. "We also operate the latest industry design software packages, which work in synergy with the patented bespoke modularisation software developed in house."
Demonstrating the applicability of such a solution to the market, MEP has recently completed the delivery of 43 riser modules, the heaviest of which was over 8000 kilograms to a project in Shoreditch, London. "These modules created an immense challenge not only for the client, but also for the MEP team and our entire supply chain," Lee outlines. "The challenge in designing the structural steel modules was a new venture for our engineering team but they produced a stunning concept which allowed the structural modules to be self-supporting whilst also coordinating all services within. This solution allowed our client to assemble, on site, two floors of service modules in two nights – a huge time saving compared to traditional on-site fabrication."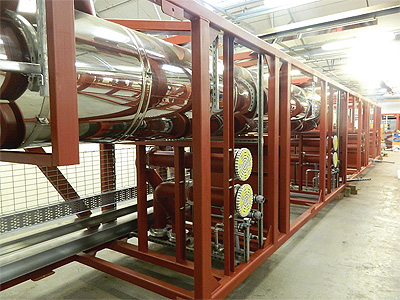 In addition to this, the company will soon be completing a prestigious new hospital project in Edinburgh, and has a number of major projects throughout London and the rest of the UK coming up. In view of this, the market conditions for MEP look very positive, with Lee explaining that over the last 18 months there has been an upturn in the market with a number of big projects coming to market, due to start in the coming financial year. "Whilst this upturn is great news it also raises a number of challenges," he says. "The greatest of these facing MEP is in developing how best to assist and guide both our current and potential clients to better understand how to fully embrace the modular prefabrication format. However, this challenge also creates our greatest opportunity for growth as more and more clients utilise this exciting new technology."
With the market picking up and demand for MEP's services increasing, the decision was recently taken within the business to undergo an organisational restructure. Part of this included the addition of both a Commercial Director and a BIM Director to strengthen and support the existing management team. "There have also been a number of project specific managers put in place to support the increase in workload," Lee notes. "These new appointments will allow key members of the team to focus fully on their roles and offer better assistance to clients, ultimately resulting in a greater capability for growth."
With this growth in mind the future for MEP Solutions is equally focused, as it continues to strive for excellence within its chosen projects, to offer a greater service to existing and potential clients, and to continue strengthening its engineering, fabrication and management teams. "We will also be focusing on driving forward our modular vision to the market place to ensure that the benefits of prefabrication are better understood and the concept more readily accepted," concludes Lee. "The longer term strategic vision is to develop and grow alongside our chosen business partners. We will also be looking to invest in new technologies and innovations, which will allow us to compete within new business streams and in turn, offer our clients more flexibility within their projects.
"Ultimately, we look forward to continuing this journey of development together with both our clients and supply chain partners whose assistance and support throughout the years have been invaluable."
MEP Solutions
Services: A leading provider of modular mechanical and electrical services