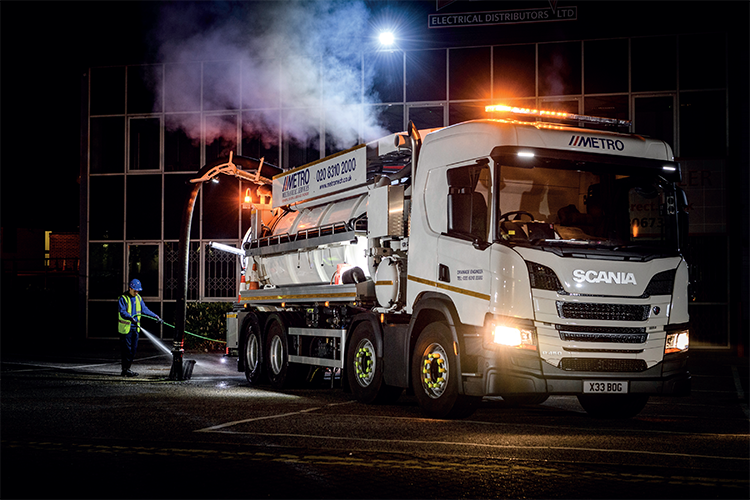 Drainage done differently
Metro Mechanical's methodical approach to drainage sets it apart as an industry leader
For over 30 years, Metro Mechanical has been the go-to specialist contractor for many blue-chip businesses across the UK. Having grown into a company of over 130 people, Metro Mechanical now has offices in London and Greater Manchester, as well as depots throughout the southwest, northeast and midlands.
The company has always been driven by a desire to prevent disaster above all else, as Managing Director, Nico Gaisman, describes: "Although we have evolved a lot as a business over the years, what drives us today is a very similar mentality to the one that has powered us in the past.
We have a real determination to solve problems where other contractors may have failed; we also have technical expertise and a desire to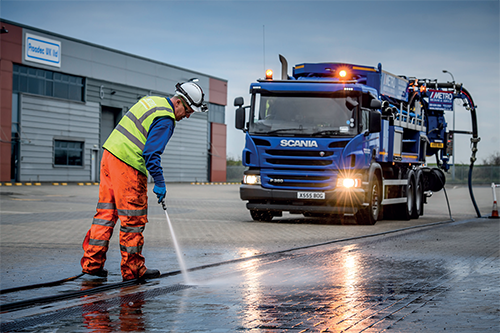 invest in people, so that we can continue to deliver a really good service."
Metro Mechanical offers a wide range of services, including grease management, CCTV support, and surveying, on top of 24/7 reactive coverage for clients. "Our focus is on providing very rigorous, maintenance-led solutions," says Nico. "We work with pretty much all of the leading managing agents in some capacity; for example, Savills and JLL, as well as the large Facility Management (FM) companies.
"We maintain many retail parks and industrial estates around the UK, as well as landmark office buildings in central London, very well known department stores and centres, care homes, and fast food franchises," he adds.
With such a breadth of both end-markets and disciplines, Metro Mechanical has built itself a reputation for providing comprehensive maintenance solutions: "In some ways our product is like an insurance premium; we are investing upfront to mitigate the risks of catastrophic flooding, damage or environmental liability," elaborates Nico.
It is Metro Mechanical's unique surveying technique that has made it an industry leader in terms of transparency and data processing. As Nico explains: "The business really started to grow in the 1990s and 2000s, and that was a result of taking a methodical approach to surveying. Because we are dealing with big clients, and sites that need to be maintained properly, we decided to send survey teams to lift every manhole on site, take detailed photos, and make high quality reports, at our own cost.
"That not only gives the FM an idea of the condition of the site, but it also allows us to go back and create a detailed draining plan. We now have two CAD technicians working full-time in-house, who create very unique draining plans. This means that when it comes to maintenance, our engineers can walk onto a site and know exactly how it works, as well as how it should be cleaned. This became a bit of a turning point for the business, and we really led the industry when it came to taking this kind of approach. In fact, we still do that, and it is continuously improved upon."
Metro Mechanical's forward-thinking approach also means it has been able to introduce new technologies to the drainage and maintenance sector. "We have recently made a six-figure investment into technology and systems," Nico announces. "In addition, because we feel like a big driver for our clients is information, data reporting and compliance, we have put in place a very high spec IT system, which ensures the efficiency of our service.
"Excitingly, there have been a bunch of field innovations around technology that we are pushing. The drainage sector has some unique challenges and has been slow to adopt Internet-of-Things technology, but Metro Mechanical have found some really good partners to detect blockages and issues. This technology means that if you are dealing with a critical environment, you can get a warning and call an engineer to site, before something starts to go wrong."
Metro Mechanical continues to invest in the technology that has bought it success. "We have just been phenomenally busy which is a great position to be in. As a result, we have been able to purchase three new jet-vac tankers," Nico enthuses. "These pieces of equipment are the flagships of our fleet, and they can cost several hundred thousand pounds, but we are experiencing a level of growth that justifies our investment."
The recent growth of Metro Mechanical is even more impressive in the face of a global pandemic. Tom Garty, who is Director of Operations at Metro Mechanical, is frank about the challenges and opportunities posed by Covid-19: "We saw a lot of our clients closing their doors, obviously offices were shutting down and hospitality was changing how it operated; as a result, we did see an impact in the first few months of the pandemic."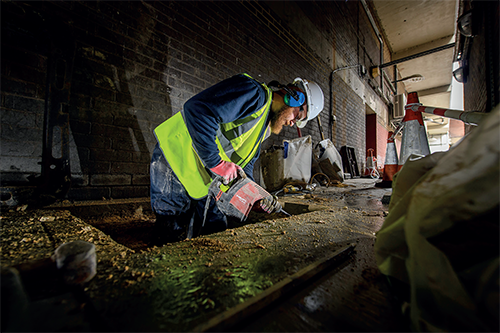 However, despite many buildings being closed, Tom and his frontline teams remained key workers through the depths of lockdown. "Particularly because underused pipes will get this really dry, hard build-up of scale, many buildings continued maintenance; otherwise, when they then came to restart their systems, they could have had pipes bursting and all sorts of issues. Really, I think because of that experience, we didn't see that much of a dip from 2020," Tom explains.
The people behind Metro Mechanical were also a major contributing factor to its success throughout the last year. "The team of people we have is very unified and we have a great culture," asserts Nico. "We have a lower employee turnover than the rest of the industry, with people in our company who have been with us for ten-plus years," he adds.
The Metro Mechanical company culture is backed by a determination to safeguard the needs and interests of clients, and prevent unexpected problems. "In instances where we have been to a site a couple of times over the space of a few months to carry out reactive maintenance, we send the manager free of charge to investigate the site, and try to see if there is an underlying issue that hasn't been picked up yet. We can be really proactive and that is something we are really excited about," elaborates Nico.
It's clear that the resilience and pragmatism of Metro Mechanical has won it a loyal and satisfied client base. "It is our mission to take as much stress off FM's as possible, in this one discipline that we focus on," Nico affirms. "We aim to do what matters to them, which is ensuring that their buildings are kept up to scratch.
"Throughout the pandemic, our clients have shown their faith in us as their suppliers, and we want to continue to reciprocate that by supporting them. They are obviously incredibly busy, and the challenge is to maintain our very high standards of service while things get busier and expand," he continues.
Backed by years of innovation in technology and data processing, long-standing industry connections, and an innovative, unified company culture, the future of Metro Mechanical is certainly promising. "We are hiring for a whole bunch of positions, and we have won some new accounts, so we are really feeling positive," reveals Nico, as he ruminates on the company's next steps.
"The amazing thing about Metro Mechanical is that we have never been particularly deliberate about organic growth. A lot of our draw comes through reputation, word of mouth, and people moving around the industry," he adds.
The company also aims to maintain its ethical and sustainable practices, as Nico outlines: "We have made a big push to capitalize on our current success, and organize a structure for developing the business, because there is so much opportunity in the market. There are also several important initiatives the quality, health, safety and environment side of things that we want to push. We have become Real Living Wage accredited, and have a plan to be carbon neutral by 2030, so we are making some strides in terms of our corporate social responsibility."
Metro Mechanical has provided a vital service to its many valued clients since the 1980s, and the success it sees now is the direct result of providing reliable service and building invaluable relationships with its clients. As Nico concludes: "A lot of our clients have been with us for over a decade – these are deep and important relationships. In the future, we will carry on ensuring that we are doing everything we can to maintain our core services, whilst continuing to innovate and develop to remain at the forefront of our industry."
Metro Mechanical
https://metromech.co.uk/
Services: Drainage, CCTV, surveying, pumps and grease management