Mezzanine International Ltd
As part of the MiTek® family of companies, Mezzanine International forms an integral part of the first global mezzanine flooring and construction firm, delivering a consistent standard of structure to project sites worldwide
Going global
As part of the MiTek® family of companies, Mezzanine International forms an integral part of the first global mezzanine flooring and construction firm, delivering a consistent standard of structure to project sites worldwide
When Mezzanine International, the UK's number one mezzanine supplier, last graced the pages of Construction & Civil Engineering it was the final few weeks of 2017. At that time, a number of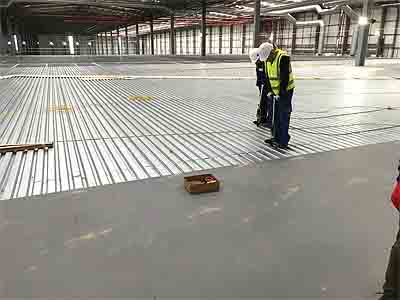 important topics were discussed with Managing Director Scott Chambers, and at the top of the list was its acquisition by the US-investment company, MiTek®, a move that has since taken the business to a whole new level with an ability to offer structural steelwork solutions to customers on a global scale.
When the time came to speak again with Scott, this time in April 2019, the subsequent effects of the aforementioned acquisition was a theme that immediately reared its head. "The purchase of Mezzanine International by MiTek® has had a massively positive, deep-lying impact on business," he begins. "It has allowed us to take a much stronger global view of our activities, and by taking our existing design and manufacturing capabilities in Europe, and working with Cubic Designs – MiTek's® North American mezzanine flooring supplier – we can focus on delivering high-quality customised mezzanine systems to leading organisations in a range of fields, from construction and distribution to manufacturing and retail."
Mezzanine International's own success over the years, as Scott goes on to detail, has been in large part down to what he calls 'customer facing innovation'. "When it comes to innovation and R&D, a lot of companies can be guilty of using these terms as buzz words, but we genuinely live for it," he proclaims. "We thrive on developing an understanding of our customers' future challenges, and crafting solutions to cater for their long-term needs and growth. This has led to a situation where, in the last year alone, around half of our total turnover has been directly connected to products that were devised in our own R&D centre.
"MiTek®, for its part, is also well aware that innovation and intellectual property is paramount to our success, which is why they continue to back us up strongly with capital investment in the centre. This has led to the installing of a dedicated R&D co-ordination team, whose tasks include overseeing all ongoing R&D projects, identifying potential new solutions, and testing products, often in conjunction with our customers."
Just prior to our last conversation with Scott, Mezzanine International was also celebrating the launch of its innovative, future-proofed, steel Mezzanine7® decking system. Seven-times stronger than standard steel mezzanine structures (as certified by the Steel Construction Institute), Mezzanine7®, is the only product of its kind in the UK – if not Europe – that enables customers to truly future proof their facilities. It does so by offering greater point load capacity, point loads for technological upgrades, reduced frequency deflection and vibration, and reduced electrostatic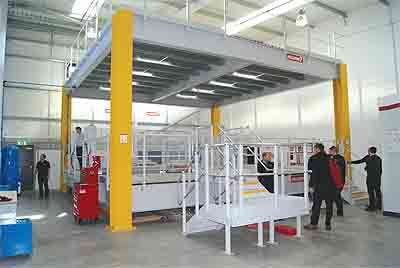 dispersion.
By providing customers with the opportunity to change the loads accommodated by the mezzanine without changing the structure itself in any way, Mezzanine7® creates the degree of flexibility that is proving invaluable to those businesses that are embracing the booming world of ecommerce or are adopting greater levels of automation. "When you talk to most customers today, such as the large ecommerce players, their supply chains and logistics operations are changing almost monthly, and as such they need solutions that are as adaptable and future-proof as possible," Scott continues. "With things like robotics transforming the way warehouses operate, the only thing businesses can be certain of is that more change will inevitably follow, and that is the complex challenge that Mezzanine7® and all of its strengths is helping to overcome."
Turning to the issue of how Mezzanine International itself will be approaching the next 12-to-18 months, the conversation picks up again on the theme of global expansion. "We are dealing with a customer base today that is, itself, thinking globally and therefore the products, services and innovations you offer need to be able to be supplied around the world," Scott states. "In recent years, we have gained a strong presence in the United States and Europe, and we will be working on our plans for other key regions such as Asia and Australia in the months ahead, taking advantage of the significant resources available to us through MiTek®."
Here in the UK, despite the uncertainty created by the issue of Brexit, there is still evidence that opportunities exist, with Mezzanine International having secured several multi-million pound contracts with European companies looking to shore up their supply networks into the UK. When coupled with the companies forthcoming plans for strengthening its brand across Europe and beyond, it is not so surprising to hear Scott declare that, for Mezzanine International, the world is a great place at the moment!
Mezzanine International Ltd
Services: Mezzanine construction specialists