Mezzanine International Ltd
Mezzanine International Group specialises in the construction of mezzanine platforms for sectors including retail, construction and e-commerce & logistics
Platform for success
Mezzanine International Group specialises in the construction of mezzanine platforms for sectors including retail, construction and e-commerce & logistics
Mezzanine International Ltd was established in 1991 by John Porter, Keith Loveday and Richard Ventin. Specialising in the design and installation of mezzanine flooring and related accessories and ancillary products, over the years the business has grown to deliver complex multi-tier steelwork platforms in Europe, including in 2005, its first structure for robots. In 2007, the company developed a proprietary, net-based commercial management system. In 2017, the London Stock Exchange (LSE) Group recognised Mezzanine International as one of the '1000 Companies to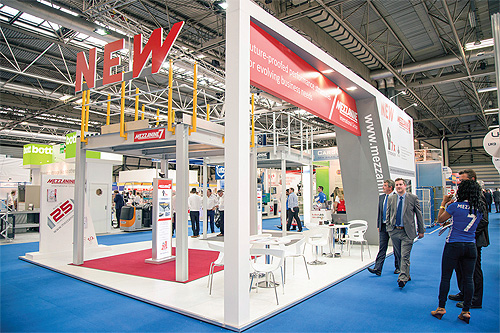 Inspire Britain' for its growth.
The mezzanine systems the company delivers can be used for a number of different functions. With a third of its business coming from the construction industry, specifically for large-scale warehouse development projects, Mezzanine International has become adept at using advanced design engineering technology to enable its customers to maximise operational space and drive efficiency as global e-commerce takes off. As well as the expansion of office and storage space, mezzanines can be used within industrial manufacturing and retail environments. Two prominent examples are the McDonald's bakery in the Northwest of England, and the Next flagship store in the Southeast.
A growing concern
Last year the company doubled its turnover and further cemented its position as a prominent player in the industry when it was acquired by MiTek®. MiTek® is part of Berkshire Hathaway, the third largest company in the world, and is led by legendary American businessman, Warren Buffett.
As MD Scott Chambers explains this investment was crucial for Mezzanine International to continue evolving in line with its skills, knowledge and aspirations: "Thanks to the innovations we brought in, we were able to double our growth in Europe. However there comes a point when, in order to grow further, you need to adapt and change the company structure. To meet our long-term goals MiTek® is our perfect partner. They understand the business and we understand our market." As well as this, the company has partnered with US-based mezzanine supply firm, Cubic Designs, a sister company within the MiTek® family of businesses. This adds an additional level of expertise to call upon.
As part of Mezzanine International's plans to reach new markets, the company has opened Mezzanine GmbH in Germany, and Scott has strong beliefs as to why this move was necessary: "It wasn't just about Brexit. We undertook a lot of market research in the area and to succeed in mainland Europe we needed to have a German company," he points out. Scott does however have some practical concerns about Brexit: "Right now if I give a quote to a client in Italy, I can ask in pounds or Euros, and decide whether or not to take a hit on the currency. In 18 months, the possibility of tariffs due to Brexit could add anything from zero to say 300 per cent on top, and that uncertainty is not good for our business. That message doesn't get heard much, but I feel that people are not being honest about this."
As Scott sees it, there is the possibility of a UK trading zone outside Europe. Therefore, businesses will have to adapt in order to deal with these issues. He wants to emphasise that it is not just about preparing for the worst, Scott is keen to emphasise the positive benefits for the company in the long term: "This isn't a ruse, the GmbH office is run by us for our customers in Germany, and it is how we can solve this particular problem over the next three to four years," he insists. The process doesn't stop there as Mezzanine looks to further expand in the next few years: "We aim to be a pan-European mezzanine systems supplier and we have the products that we know we can sell there. So, as the business develops we will be looking to have a presence in France, Spain, Italy and Eastern Europe."
Innovation
Innovation is a word that Scott is keen to stress when describing the organisation's work – and a big part of that has been the launch of Mezzanine7®, a system so-called because it provides seven times the strength and capacity of the previous standard models. This is a development that Scott is very proud of: "Businesses and their technologies and requirements can change in as little as six or 12 months, and we have created something that can work for over 20 years, because customers can't have a platform that is out-of-date within the space of a year. That is why we have made this mezzanine system to be stronger, more flexible and adaptable than the standard," he beams enthusiastically.
This long-term vision is not just exclusive to the products: "Half of our people weren't with us two years ago, rather we have been bringing in new talent throughout the business and progressing team members, even up to Board-level. We believe in putting people first – everyone asks where you will be in ten years' time, and it's important to think carefully about that, hence our investment in training and development," he explains.
As stated before, this is all part of the company's efforts to continue to develop, both in terms of growing market presence and improving the quality of the products it offers. Scott has an insight into how Mezzanine International will achieve this: "We will be launching a new product in February/March 2018, and we are looking to quadruple our workforce in Germany. All our team members are central to our ability to reach our targets – you can't just ask people to do more and more, you have to give them space to deliver new solutions for our customers. That is how we'll achieve market growth and innovation!" he exclaims, showing us that Mezzanine International does indeed have a platform for success to build on.
Mezzanine International Ltd
Services: Mezzanine construction specialists