A brick manufacturer like no other, Michelmersh offers a diverse range of products across its seven brands, while striving to keep sustainability at the heart of its operations
Britain's brick specialists
A brick manufacturer like no other, Michelmersh offers a diverse range of products across its seven brands, while striving to keep sustainability at the heart of its operations
By representing seven of the most widely-recognised premium brands across the UK and Europe, Michelmersh Brick Holdings PLC (Michelmersh) has become a veritable powerhouse in the field of brick manufacturing. The likes of Blockleys, Carlton, Charnwood, Freshfield Lane, Hathern Terra Cotta, Michelmersh, and, since this year, Floren.be, complement each other's offering so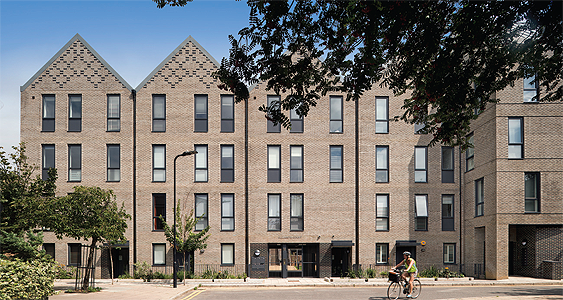 perfectly that it is no wonder that Michelmersh's slogan is Britain's Brick Specialists. Whether it is handmade and machine-made bricks, clay pavers, or traditional hand-pressed architectural terra cotta and faience, the manufacturer has mastered its craft in a way that allows it to create bespoke products that stand out for their singular shapes and intricate details.
The sheer breadth of Michelmersh's range has enabled the company to spread itself across many sectors. While doing a lot of work for quality regional housebuilders in the residential field, its handmade products are often used in prestigious projects for schools and hospitals in some of the UK's biggest cities. Notably, not long ago, Michelmersh supplied bricks for the ongoing Wembley Park development, having also taken part in prestigious redevelopment projects such as Battersea power station, St. Pancras, ITV Studios and Network Rail.
"We are often regarded as a company that can help architects alongside the design process, both from a technical perspective and by developing a bespoke product for their specific design, and this close collaboration from the specifying stage all the way through to completion, is one of Michelmersh's biggest strengths," comments Sarah Le Gresley, Head of Marketing. "We have also been an industry leader in the use of Building Information Modelling (BIM) data for the last seven years. Back in 2012, we became the UK's first brick manufacturer to offer BIM files to provide not just architects, but also contractors with data-rich information to make their life a million times easier. Over time, our competitors had followed suit and since 2016, it has been a Government requirement that a minimum of Level 2 is to be implemented on all public sector works."
Brand reputation
In Sarah's view, the construction industry has rediscovered the benefits of masonry as of late and the 'Brick Renaissance', as she calls it, has led to each of Michelmersh's brands currently being involved in a number of major projects simultaneously. "We have secured a lot of contracts with housebuilders where we are producing millions of bricks through the Blockleys, Michelmersh, and Carlton brands. Hathern Terra Cotta, too, has also just been specified for a very interesting project, which will keep the division busy for a few years as they deliver elaborate, hand-crafted pieces to the client.
"Earlier in 2019, we made our first European acquisition when we purchased Belgium-based Floren, whose specialism lies in the production of bespoke wirecut bricks," Sarah continues. "The techniques applied by Floren, with regards to surface, texture, and colour, are a welcome addition to our premium centric portfolio, and this motivated us to proceed with the acquisition, because we knew it would give us the ability to offer something very special to our customers here, in Britain as well as in Belgium. The brand had already gained an impeccable reputation for its work on multiple large-scale projects across Europe, mainly in the Benelux area and Germany, and Floren.be products have now started to prove their value in London and the South East where they have been used for very large housing estates, educational institutions, and even churches."
For the Group to maintain the high levels of efficiency in its processes, the company runs a continuous investment programme where it never ceases to look for ways to optimise its performance.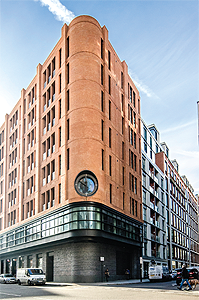 Year on year, every part of the business receives a financial injection, with support for the streamlining of the production process underpinned by investment in H&S and staff. "We always keep an eye on our processes, making sure that they are as efficient as possible. Lately, we implemented new H&S procedures, which saw us move to Level 5 (Diamond) in RoSPA's Quality Safety Audit system. Having recently joined the business, the board imparts a very clear and strategic direction with a focused strategy and strong core values," Sarah remarks.
"What unites all of these efforts, however, is our incredibly strong environmental awareness. We evaluate everything we do, in order to make our operations more sustainable," she adds. "Far from just reducing the amount of plastic packaging that we use, our initiatives have involved the installation of solar panels for energy generation, as well as the adoption of rainwater harvesting technologies. Even more importantly, we encourage the re-introduction of habitats and wildlife to our former quarry sites, to allow nature reserves, lakes, and natural spaces to flourish. Many birds and other animal species have now returned to these habitats, which indicates that our actions are yielding positive results.
"We have a lot of ideas in the pipeline and we will continue to invest in their realisation," Sarah goes on. "It is not that we do one project at a time and when a scheme is completed we never return to it. On the contrary, there are always five or even ten different projects in motion, in which we seek sustainability and we constantly review their development, trying to find new ways to increase our efficiencies."
Benefits of brick
She also makes the case that the very use of bricks as the material of choice for building schemes is an example of sustainability-driven thinking. "A high number of architects are now finding their way back to masonry, because bricks are a product that screams out longevity. The clay brick is one of the oldest and most used building materials in the history of mankind and we can say with conviction that brick buildings last for centuries. When people engage in a conversation about sustainability, they often neglect this fact, still favouring materials like glass or wood. The truth is that even if some buildings are made of materials that are said to be more environmentally-friendly, they have to be rebuilt after 40 or 50 years. What is more, these materials require more sophisticated treatment and a greater level of maintenance. We should not forget, either, that brick is a non-combustible material, which is yet another advantage it possesses over its peers. Michelmersh manufactures products with fantastic technical performance, including compressive strength and thermal characteristics, whilst adhering to the highest quality standards. We're therefore at the forefront of framing and supporting industry wide initiatives to promote best practices and standards. There are lots of benefits to opting for masonry, but the wider public has to be educated on these."
Given the variety of projects Michelmersh is being involved in at the moment, Sarah sees the coming years as time for the business to play an important part in the delivery of new housing stock, while still taking a variety of measures that will ensure its prosperous future through the many facets of the economic climate in the construction Industry. She wraps up: "We have always taken a very careful approach to our future plans. Over the years, we have demonstrated that we can invest wisely in every aspect of our business, in order to operate at the top of our capabilities. We will continue to do that, keep on our toes, and reinvent ourselves, so that our proposition remains relevant to the market."
Michelmersh
Services: Bricks and pavers production