Milbank Concrete Products
Milbank Concrete Products is a family owned business widely recognised as one of the UK's leading suppliers of high quality precast concrete products
All star cast
Milbank Concrete Products is a family owned business widely recognised as one of the UK's leading suppliers of high quality precast concrete products
A trading history of more than 60 years has seen Milbank Concrete Products build an enviable reputation as one of the UK's leading manufacturers of high quality precast concrete products. The business, which provides a broad range of precast concrete solutions to the construction industry and also offers design and technical support and delivery and installation services, is widely known for its quality, high levels of service and its unique approach to relationships with its clients.
"Our success is in large attributed to us 'going the extra mile' and this is a value that we really work hard to achieve and promote at all levels within the business. For example, as we've expanded our team in recent months our aim is to instil this idea in our new staff members. We think it's really important to develop this idea as a cultural notion so that we pre-empt our clients' requirements wherever possible and always 'help our customers achieve success'," says Andy Mayne, managing director of Milbank.
"Today we are recognised as one of the UK's leading manufacturers of high quality precast concrete products and from our seven acre site in North Essex we design, manufacture and install a wide range of precast and prestressed concrete solutions," he continues. "We're a family owned business with a staff of over 160 people, and we are currently seeing an unprecedented demand for our services, primarily as a consequence of the current boom in the construction industry, but also because of our hard won reputation for quality and reliability."
In accordance with such a reputation, Milbank's products are the first choice for a number of sectors. For example, while the majority of its output is destined for the construction industry the business has a diverse range of clients, and thus projects. "House builders form the bulk of our client base, and these range from the very largest national builders through to self-builders building their own homes or extensions. We're seeing a resurgence of commercial property development as the economy strengthens and it's a market that we are well placed to service. In addition infrastructure projects are gaining impetus, with us working on projects for rail, power and environmental clients, and we are also seeing a growth in sporting facility projects such as terracing for stadiums."
The business provides a broad spectrum of products in its portfolio, which is bolstered by the knowledge and innovative spirit of its design and technical support team. Of course, while designed for a number of applications the products bring with them some key advantages thanks to their precast nature. For example, precast components are manufactured off-site in an enclosed, controlled casting environment that ensures consistent quality and avoids potential delays, precast floors and stairs allow immediate site access and finishing access following installation, the process is quicker than in-situ mould construction and pouring and products can be delivered to site when needed eradicating the need for on-site storage, and it has excellent longevity and sound reduction qualities.
"In terms of products there are two main strands to our growth strategy in 2015, the first of which is our WarmFloor solution, which is a thermally insulated floor used to construct ground floors," Andy highlights. "It's a concept that is really gaining momentum because builders are looking to save construction costs and buyers are wanting lower heating costs. WarmFloor delivers both lower costs and higher levels of insulation so we're seeing increased uptake and gearing for expansion. We've also increased capacity in our precast stair production facility and our aim is to increase volume at the same time as delivering a higher quality product. We've recently invested in a number of new steel moulds to replace our older timber moulds, meaning that we can offer a much higher standard of finish (Type B) on our standard stairs."
As well as standard stairs, Milbank has added spiral staircases to its portfolio, as Andy explains. "The growth of our curved and spiral stair production continues and it looks likely that we will soon need to increase our capacity with a new mould to complement our current system. To our knowledge our existing Construx stair mould is unique in the UK and we have gained considerable expertise over the last two years in the design and production of these complex units.
"The main attraction for our customers is that our curved stairs offer a level of solidity and quality that is unequalled by any other material," he continues. "This is particularly important to the owners of prestige properties, which often feature swept and curved stairs in their designs that make use of generous spaces offered in large houses. Conversely, the same stair technology allows us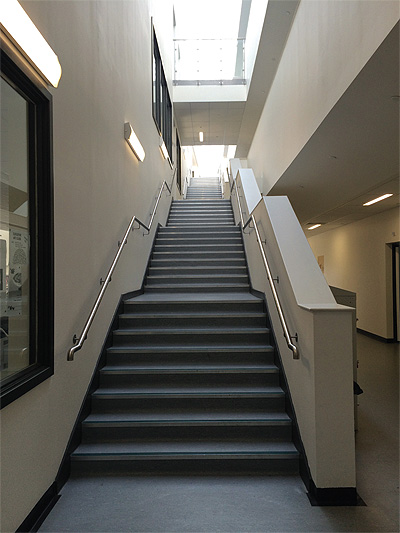 to build one piece 'winder' stairs, which make the most of restricted spaces and work very well in town house construction. For example, we recently secured a contract to produce 40+ winder stairs in a prestigious West London development with the first stairs due to be delivered in Spring this year. Spiral stairs are surprisingly economical when compared to an in-situ solution, so they add significant value for money and appeal to the moderately priced house also."
In regard to investing in new moulds the company is expecting delivery of a new adjustable steel mould from the continent which, when installed, will greatly expand its production capabilities. It will enable the business to offer some of its more complex stair designs, which are currently manufactured using timber moulds, in a steel mould. "The upshot of this," says Andy, "is that we will be able to respond more quickly to orders and deliver a first class finish. It means that we can also incorporate customised stair recesses and nosing, which is something that our clients have been repeatedly requesting."
Although Milbank manufactures its products in its own facilities, the delivery and installation phase of a project presents numerous challenges. For this reason the business has its own dedicated delivery and installation teams that travel to the site. "Safely installing any precast concrete unit takes great skill, which is why we have 11 directly employed teams who are responsible for installing our products," Andy comments. "The experience of these individuals often makes the difference to the success of an installation and they are often required to think on their feet to overcome unexpected challenges in a safe and professional manner. They work alongside our installers and with our clients to co-ordinate the logistics required, and by reacting quickly to changing circumstances they often save the day by overcoming unforeseen obstacles. We actually regularly receive positive feedback from clients who have been impressed by their resourcefulness and willingness to help."
Naturally, with the inherent dangers of installation health and safety is of paramount concern for Milbank. One of the main dangers on construction sites is falls from heights, and as Andy explains, it is a danger that Milbank takes very seriously. "We provide our Passive Fall Arrest System, which is deployed during our installations. We own and operate the system ourselves and it is part of the complete service we provide to clients. Essentially it consists of giant air bags that are inflated below the work area and is designed to prevent injury in the unlikely event of a fall. In conjunction we also have a unique gantry system designed in-house and tested externally for unloading our products to ensure our teams are safe in all operations."
As the construction industry steadily recovers from years of uncertainty, there remains reason to be confident for the coming years for Milbank. As Andy concludes, the business will continue to develop and invest in order to maintain its leading position in the market. "The outlook for 2015 is certainly encouraging, and we're seeing an uplift in the level of inbound enquiries and the strong finish to 2014 has given us the confidence to make significant investment in new infrastructure and capacity. The future for Milbank is very much about us building steadily on our core strengths. We are programming substantial upgrades to our production facilities over the next year, which will deliver greater capacity and efficiency. We're also making a significant investment in technology with the roll out of a new company wide IT operating system that will join up all our departments from sales to invoice along with delivering highly detailed project costing. Lastly, our new website went live at the beginning of this year, offering more up-to-date content and functionality, and the reaction so far has been extremely positive."
Milbank Concrete Products
Products: Precast concrete products