For all your building essentials
A true one-stop shop builders' merchant, MKM Building Supplies stocks everything the trade and public need for their project, from bricks and blocks, to landscaping, plasterboard, insulation, plumbing, heating, bathrooms and kitchens
As David Kilburn, Chairman & Co-Founder stated when he spoke to Construction & Civil Engineering in December 2020, in many ways, the MKM Building Supplies (MKM) of 2020 was almost unrecognisable from its first branch, which opened in Hull in 1995. At that time, there was a small team of five people working from rental premises, which had been secured for less than a year to get the business off the ground. David recalls: "Ironically, the premises belonged to an MKM competitor William Wilson. We signed up for nine months but were still there 18 months later, at the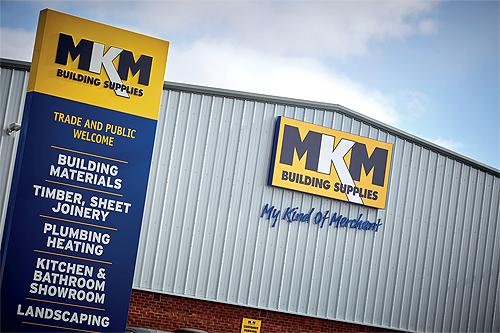 time we were just glad not to be chucked out!"
He looked back to when the business was just starting out and recalled that some of the most demanding times in business have also been the most enjoyable. "Some of our best times were in the early days – negotiating manufacturing deals, securing credit with the banks and often coming up against brick walls, whilst driving a couple of old bangers to collect building materials and grafting to sell," he commented.
Interesting strategies
As we stand today in the early days of 2021, MKM employs over 1700 people and last year recorded sales of over £470 million. It now stands as the UK's largest independent builders' merchant, and a visit to its comprehensive website – www.mkmbs.co.uk – gives an overview of the extremely extensive product portfolio on offer by the company. Whether a customer is a small DIYer looking for a roll of electrical tape, or a large builder wanting blocks, bricks and mortar, MKM has the stock to meet their needs, combined with valuable advice on areas as diverse as flooring and ovens!
Being able to supply what the customer wants is clearly a huge attraction to MKM's branches, but it has also set itself apart from the competition through some interesting strategies. One particular concept that stands out is the priority the business places on location. MKM was built on the concept that skilled, local people who understand the needs of local customers should serve the local trade. Thanks to this philosophy, each of its branches is able to utilise the home-grown knowledge and expertise of its staff to provide great service to every customer, as well as build relationships that give them a true understanding of individual client needs. The patrons who regularly use the services of MKM appreciate this aspect of its services, with David noting that it results in excellent levels of repeat business. "We are extremely lucky to have such a loyal band of customers, who range from builders, plumbers and joiners to national house builders," he said. "We have developed strong relationships over the years, with many customers becoming firm friends."
Positive atmosphere
It has also differentiated its offer through a unique business model, which is centred on branch directors owning an equity stake in their business, with an opportunity to share in profits. David believes empowering people and supporting their entrepreneurial spirit has been a key driver of growth, but added an important note about the working ethos at MKM. "Our mantra, which we instil in all of our teams, is to have fun at work. Working hard, but having fun is very much the MKM culture.
"Our culture is at the heart of everything we do, as we really want our teams to enjoy coming to work every day. We spend a lot of our waking life at work so we might as well love what we do. Furthermore, the positive atmosphere in our branches rubs off on the customers, which keeps them coming back day after day. Due to our business model the branches are run semi-autonomously and they each have their own unique culture specific to the geographical region they are in or the personalities of the team members."
New branches
The locale of each store obviously plays a very significant role in their overall success as part of the group, and adding new sites is a major part of MKM's future agenda – in 2020 MKM opened its 79th branch and plans to be operating 100 branches by 2021/2022 and lots more beyond. With seven stores opening in 2019, David was able to highlight the newest locations that MKM has
recently unveiled, all as part of its ambitious scheme to open a further 40 branches in the next two years. "We have an expansive growth programme but finding good properties in good locations can be a challenge and planning applications can be very slow, which frustrates progress," said David. Despite the challenges, 2020 saw four new sites unveiled, with one of the most recent in November, located in Scunthorpe.
MKM Scunthorpe is headed-up by two branch directors, Karl Wilmore and Kevin Danks, both from Scunthorpe and both with years of experience across all aspects of the industry and the trade. Karl noted the superb efforts that the MKM team put in, to ensure that this branch could open despite the difficult conditions at the time: "Our staff and customers' safety has been paramount in planning for our opening and I have been really impressed by how the whole team has pulled together to make the branch Covid secure and prepare for the launch," he confirmed.
In fact, Covid-19 has brought not only challenges, but also opportunities to MKM. During the first lockdown, the demand for garden products like decking, fencing, paving, and sleepers was unprecedented. With so much of the country at home, furloughed, with 'holiday money' to spend, but nowhere to go, their attention seemed to turn to their own homes. "This year has been like no other (for obvious reasons)," David detailed. "At the end of March, it felt like the world was going to end from a business point of view, April was a tough month, but then May, June and July brought new customers to our doors, some of whom may never have shopped in a builders' merchant before, and sales jumped to levels we would never have believed when the country first got locked down. So, while 2020 was extremely difficult from lots of angles, the business has performed fantastically well. Much of the success is thanks to our dedicated and hardworking staff and our customer base, many of who have navigated the Covid issues remarkably."
Recipe for success
Alongside its strategy for opening new branches, whatever adversity it faces, another key part of MKM's methodology is the strategic acquisition of suitable businesses. Most recently it added DTC Merchants and Brooke Ceramics to the organisation and David explained the key benefits of this approach to the business. "Acquisitions are very much part of our near-term plans, particularly given the positive early signs with DTC & Brooke," he said. "Both teams have integrated well into the MKM family."
DTC delivered a high-quality merchant network in the South West of Scotland to MKM, which helped expands its geographic coverage and David believes it will be a great asset to the Group. Brooke Ceramics was the UK's largest independent tile and bathroom store and gave MKM access to products and suppliers which it hasn't majored on previously. "We found a like-minded company in Brooke Ceramics, which places the customer at the heart of the business. The team at Brooke Ceramics is highly skilled, has superb product knowledge and a great distribution network, and is a natural extension for MKM, bringing the chance to incorporate an extensive tile choice into our nationwide network," David added.
Over the course of our conversation, David touched on several different areas of the business that he believes all combine together to create the foundation for the company's longevity. "The business model, the culture, the customers, the growth in the number of branches are all important, but ultimately the drive, determination and passion of all of our staff who continually amaze us with the results they produce are the key," he confirmed. "Our ultimate recipe for success, now fine-tuned over 25 years, has been giving customers what they want, employing and retaining the best staff, engaging people in profit generation activities and of course having fun at work – which we certainly do!"
MKM Building Supplies
www.mkmbs.co.uk
Services: Builders' merchant