Mobile Mini today is a market-leading solution provider of storage units and portable offices with worldwide fleet of over 213,000 units and a distribution network encompassing 135 locations in the USA, Canada and the UK
A tidy solution
Mobile Mini today is a market-leading solution provider of storage units and portable offices with worldwide fleet of over 213,000 units and a distribution network encompassing 135 locations in the USA, Canada and the UK
Today Mobile Mini UK maintains a fleet of over 32,000 units and a reliable network of 16 hire sites. As a world leading provider it empowers its team of dedicated employees to deliver high quality storage and accommodation products with exceptional service you can depend on from a trusted business partner.
The company's portfolio of portable office and accommodation units can be modified to provide both a workplace as well as additional space for storage. These can be used to create a productive office space from which managers are able to facilitate the day-to-day running of busy construction sites. Its other units have further functional applications around construction sites such as stack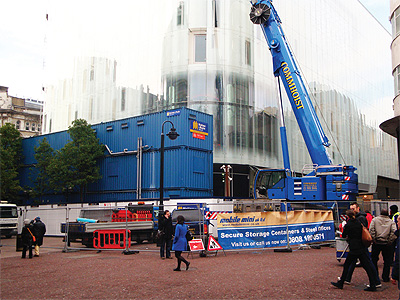 and link, canteen units, which are provided with all of the benefits of the office unit plus the additional advantage of a water heater, sink, cupboards and work surface. The addition of drying room, toilet and welfare units means that Mobile Mini is able to deliver a total on-site solution that covers the varied needs of construction projects and associated workforce.
Mobile Mini UK is established throughout Great Britain and services a base of 57,000 accounts. Within the construction industry, customers include Lakehouse, Miller Construction, Speedy Hire and HSS. Furthermore, the company reaches customers in diverse sectors including retail, medical, education, utilities, distributors, hotels and restaurants as well as households. With the customer at the heart of everything they do, they were the first to provide customers with an online ordering facility enabling them to place orders, receive quotes, request collections/deliveries at their own convenience. In addition, the company offers its National Accounts an in-house representative as well as an external representative to assist and facilitate its' partners needs as well as provide a one stop shop.
To monitor and improve customer service, Mobile Mini UK introduced the Net Promoter Score into the business in 2011, the first in the industry to do so. The customer satisfaction survey assures that the key elements of customer service from delivery/collection at agreed times to the cleanliness of the unit are monitored on a monthly basis and improvements made where required. At the end of the day, the company strives to deliver exceptional service so that its existing customers will recommend it to colleagues and friends.
To ensure that units are delivered to clients on time and in an efficient manner, the company relies on its network of bases, its own fleet of delivery vehicles and the support of trusted external logistics firms. Its core fleet, vehicles and facilities receive continual investment to improve and expand. The company initially committed £8 million for UK Capital Expenditures for 2014. To assure a quality service a pre-delivery inspection (PDI) is carried out before any product leaves the branch. "At Mobile Mini UK we pride ourselves on possessing the highest health and safety accolades within our industry," says managing director Ron Halchishak. "So when it comes to transportation and installation we leave nothing to chance. Even before the transit of the units takes place the delivery process is being carefully planned. All of our site installations are implemented in accordance with all current health and safety legislation and the relevant British safety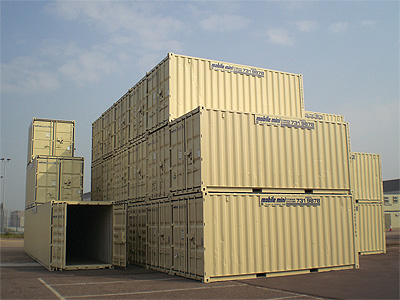 standards."
Safety is at the core of the Mobile Mini philosophy. "We are members of various health and safety organisations and contribute and co-operate significantly towards achieving improved standards and operating to best practice within the industry," says Ron.
One of the key tools employed by Mobile Mini UK is its 6S Lean Business Model. This represents six key points, which the company follows to ensure safe and efficient operation. These are defined as Sort, distinguish between what is needed and not needed and to remove the latter; Stabilize, enforce a place for everything and everything in its place; Shine, clean up the workplace and look for ways to keep it clean; Standardise, maintain and monitor adherence to the first three Ss; Sustain, follow the rules to keep the workplace 6S-right and Safety, eliminate hazards.
This high focus on health and safety coupled with the company's vast support network of bases has allowed Mobile Mini UK to respond to the recovery of the construction industry, while continuing to comply with the increasing demands of industry best practice.
"For the rest of 2014 our focus is on meeting the current strong demands whilst maintaining profitable growth and high levels of customer service," he continues. "Over the next three to five years our vision is to be the company of choice for employees, customers and share holders by recognising, rewarding and offering growth opportunities for talented employees at all levels of the company. We are dedicated to exceeding customer expectations by delivering high-quality storage accommodation products with exceptional service and also to creating shareholder value through sustainable profitable growth and returns exceeding our cost of capital."
Mobile Mini
Products: Storage units & Portable Offices