Mondi has become a leading source for converted packaging products on a global scale
An innovative approach
Mondi has become a leading source for converted packaging products on a global scale
With a turnover of approximately 6.3 billion euros in 2007, the Mondi Group is an international paper and packaging group with key operations and interests in Western Europe, emerging Europe, Russia and South Africa. Mondi has production operations in 35 countries and about 35,000 employees worldwide. The organisation's vision is straightforward – to be a leading business with the highest ethical standards, which delivers exceptional value to its customers, employees, communities and shareholders. This means the business is committed to meeting and exceeding its customers' requirements, whilst also providing a secure working environment, being a responsible employer and lastly achieving sustainable and profitable growth.
The Mondi Group is principally involved in the manufacture of packaging paper, converted packaging products, uncoated fine paper and speciality products and processes, including extrusion coating, release liner and consumer flexibles. To offer these products to its customers the Group has developed a number of specialist divisions, which include Bag Converting, Coating & Release and Consumer Flexibles.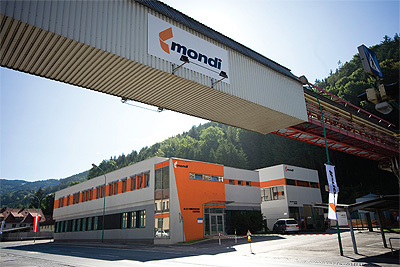 Jurgen Van der Donck, business solutions director for Mondi Technical Products comments: "Technical Products is part of the Mondi business unit Coating & Release, which is an innovative supplier of plastic and paper-based materials providing technologies, such as extrusion coating, laminating, siliconising and printing. Technical Products extrudes and laminates virtually any substrate, including, but not  limited to, paper, film, glass fibre mat, non-wovens, aluminium and carton board. We provide high quality, reliable barriers against grease, water, moisture and gas diffusion. These solutions can be used in the building, automotive and imaging industry, and also for special high-tech applications, such as protective clothing and hygiene.
"Our ability to offer a wide range of material combinations enables us to create products, which meet the specific requirements of our clients. With this in mind, our building products boast excellent barrier properties, fire retardancy, dimensional stability, thermo-reflection, breathability and sound insulation," he adds. "Take for example our new generation of insulation facings. These embossed and paper-free facings offer a unique combination of true water vapour and oxygen barrier with the highest level of flame retardancy and emissivity on the market. Equally we are in the process of introducing a complete range of roofing underlays."
Mondi Coating & Release consists of 13 plants, several dedicated global sales and services offices and a global research and development centre. As part of this extensive network, Technical Products can offer back-up plants for all its customers' needs and guarantees a reliable supply chain.
Jurgen continues: "Technical Products' main facility is Mondi Belcoat in Belgium, however together with the extrusion coatings plants in Rochester in the UK, Steti in the Czech Republic, Orebro in Sweden and Zeltweg in Austria, we are able to fulfil all our customers' needs with regards to barrier materials for the building, automotive and imaging industries. In short, and speaking for Technical Products, I can say that we are a fast and pro-active unit, which significantly benefits from a large network of sister plants."
As a company with an increasingly global reach, Technical Products aims to be the preferred partner to its customers, with whom the business seeks to build long-term and mutually rewarding relationships. The company works with them and earns their trust by delivering innovative solutions and a reliable service.
Jurgen comments: "As evidence of our commitment to our customers, in September we are organising our first conference – 'Building Tomorrow'. This will be a unique forum for top professionals who want to be one step ahead of changes in the building insulation industry. We will bring together experts from different domains and give the chance to have a glance at upcoming market challenges and opportunities."
In the current global economy, it is essential that Mondi continuously expands its market knowledge in order to meet its clients' needs. By further exploring new technological possibilities, environmental challenges, energy saving developments, fire resistance regulations and emerging markets, the company has a strong future ahead.
Jurgen concludes: "The main aim for the business over the next few years is to continue our growth oriented strategy and provide solutions, which focus on dedicated services, innovation, cost efficiency and high quality. The key to achieving this is always to remain one step ahead."
For the Mondi Group the first-class fulfillment of market and customer demands comes first. This commitment is present across all of the organisation's business units. Mondi Bag Converting is an international producer of industrial paper bags with 40 operations in 24 countries and produces approximately 3.6 billion bags a year. This business unit caters for the cement and building materials, chemicals, food and feed and seed industries. Mondi Bag Converting offers the complete product portfolio of industrial bags and supports its customers through a dense sales and service network. This structure provides local customer care and local market knowledge, as well as a centralised organisation, which is needed by multi-national clients.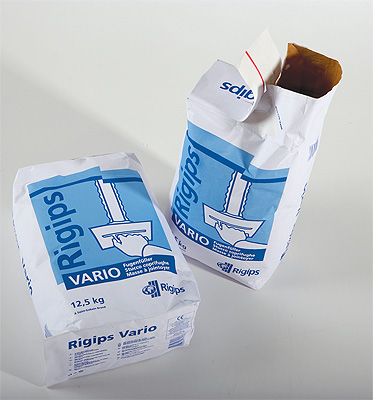 Always on the lookout for improved packaging solutions, Mondi Bag Converting generates intra-group synergies and shares in-house expertise with its packaging paper business and R&D centres. This leads to optimisation of material properties and performance in bag applications and the converting process. Through this approach, the business unit offers a broad product portfolio of industrial bags, including ultra-strong bags that are quickly fillable and highly air permeable bags with sophisticated closure techniques, such as hermetic sealing and vacuum sealing, as well as barrier liners.
An important addition to the business unit's product range is the new strong, stiff and porous one-ply bag concept. The ONE bag provides a significant reduction in weight and packaging volume compared to twoply alternatives. Developed in close cooperation with Mondi Kraft Paper, this concept was introduced in 2003 to meet market demands for different bag sizes and improved paper quality standards.
Since its launch, ONE has become a well-established product on the European market. Millions of ONE bags have been delivered to Mondi's customers, including some of the leading cement producers. The bags fulfill all their preconditions for smooth application and are in fact providing substantial cost benefits. In short, ONE assures optimal production flow and is a cost-efficient alternative. As a logical step forward Mondi launched in 2006 a one-ply solution with free film called ONEPlus. With the introduction of the ONEPlus the benefits of the one-ply concept also became available for fillers of moisture sensitive products.
Following in ONE's footsteps, with regards to cutting-edge developments, the Airstream Bag, recently launched by Mondi Bag Converting, is a newly developed valve bag with a unique deaeration system for high filling speeds and improved shelf life for powdery goods. Striving to assure utmost moisture protection, whilst improving de-aeration performance in packing bulk material, the business unit has developed this solution, which allows for quick de-aeration of the bag without perforating the PE barrier foil.
The business' innovative approach has earned itself the Austrian packaging Emballissimo award. This award was presented to Mondi Bags Austria in May 2008 and recognised the development of a new bag solution for the building market. Working with Rigips Austria, this solution allows a dosed intersperse of the filling material for mixing and processing the final compound by a special effusion opening of the bag.
The forward-thinking attitude of Mondi Bag Converting also extends into its service offering, and this can be seen through the development of its ebags. This 24-hour online ordering system is a multi-functional, high performance instrument for optimal execution of its clients' purchasing processes. Ebags allows customers worldwide to place orders online, track orders from production to delivery, retrieve statistics, as well as a view of the clients' entire purchasing history. Furthermore, as it is based on Enterprise Application Integration (EAI), all customers can use the service easily.
The development of new products and services within the Mondi Bag Converting business unit has recently taken another step forward. At the beginning of July, Mondi Frantschach in Austria inaugurated a Bag Application Centre (BAC) at the site of its R&D Innovation Centre. As a result, the already successful development work at this site now also covers packaging technology research. Using state-of-the-art analysis procedures, the BAC provides the foundation for targeted packaging optimisation.
When looking at the developments of the Mondi Group's Coating & Release Products and Bag Converting business units, there is one overriding theme of continued customer satisfaction. The Mondi Group has achieved this commitment throughout all of its divisions through the development of its 'Diamond for Growth' strategy. This strategy consists of five key drivers – operational excellence, cutting-edge products, people development, sustainable development and customer focus. Together these drivers ensure the organisation keeps the needs of its clients at the centre of its attention, which in turn allows Mondi to deliver a consistent stream of new cutting-edge products and value-added services.