Mondi is proud to use innovative solutions in all its operations to ensure the highest levels of customer satisfaction
The right package
Mondi is proud to use innovative solutions in all its operations to ensure the highest levels of customer satisfaction
Mondi is an integrated paper and packaging group founded in South Africa in 1967. In 2006 the business had revenues of 5.751 billion euros. Its key operations and interests are in Western Europe, emerging Europe and South Africa. Mondi is principally involved in the manufacture of packaging paper, converted packaging products (including corrugated packaging, bags and flexible packaging) and office paper.
Mondi is integrated across the paper and packaging production process, from the growing of wood for pulp production and the manufacture of pulp and paper, to the conversion of packaging papers into corrugated packaging and industrial bags. The group also has a growing flexibles business focused on the production of release liner, extrusion coating and consumer flexibles products. Mondi has production operations in 113 locations across 35 countries and approximately 33,000 employees.
POWERFUL IMPACT
With a proven track record in the development of highly innovative products and solutions, Mondi has a powerful, positive impact on the industries it supplies. Its employees are continuously working on solutions, which best protect and promote the customers' products. Furthermore, the company's 'Diamond for Growth strategy' combines the four success factors of the business – operational excellence, cutting-edge products, customer focus and human resources development. By keeping the needs of its customers at the centre of attention, Mondi is able to deliver a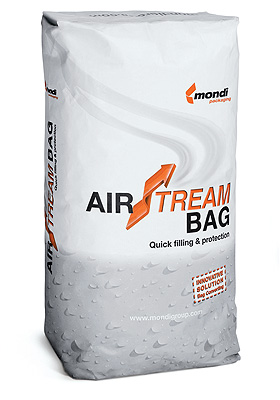 consistent stream of new cutting-edge products and valueadded services.
With this in mind, Mondi Bag Converting, a business unit of Mondi, has recently launched the Airstream Bag – a newly developed valve bag with a unique de-aeration system for high filling speeds and improved shelf life for powdery goods.
Having identified a gap in the market for ensuring moisture protection, whilst improving deaeration performance in packed bulk material, Mondi Bag Converting has developed a solution that allows for quick de-aeration of the bag without perforating the PE barrier foil. The valve bags are tailored to fine powder filling requirements and high-end filling lines. In addition, a unique de-aeration system significantly improves the airpermeability without affecting the moisture protection function. The air contained in the powdery product, and set free inside the bag during filling, is channeled and forms a stream of air, which is directed and effectively guided to a high-capacityoutlet in the form of a specially designed interrupted longitudinal seam. The air escapes quickly and the filling process is accelerated. As the barrier foil in this construction fully overlaps, no perforation is needed – the bag stays completely intact and moisture is effectively kept out.
Previously, fillers with highly hygroscopic materials had to accept lower filling speed to achieve the required moisture protection level with non-perforated foil. Now the Mondi Airstream Bag increases the de-aeration volume by up to 60 per cent compared to current standard bag constructions with a nonperforated barrier. The product therefore also supports a reduction of bag dimensions towards an optimised size for compact shape and cleaner bags.
The Airstream Bag is a patented and innovative solution, especially for those in the chemical and high-value building materials markets, where the bag is used for floor leveling compounds, rapid drying cementitious products, special tile adhesives and gypsum products, amongst many others.
The constant development of new products and services has always been a fundamental cornerstone of the business of Mondi. The Airstream Bag is just one example of how Mondi's innovative solutions are contributing greatly towards the success of its customers' businesses. This development is merely the latest in a line of breakthroughs that are helping the group progress towards its goal of being the world's best-performing paper and packaging business.