Having rebranded and invested £4 million in new equipment, MR Scaffolding Services has achieved rapid growth in the scaffolding market thanks to its ability to compete for bigger and more complex projects
Structured growth
Having rebranded and invested £4 million in new equipment, MR Scaffolding Services has achieved rapid growth in the scaffolding market thanks to its ability to compete for bigger and more complex projects
MR Scaffolding Services has developed a strong reputation in the market since it was established more than 40 years ago in 1974, and has gone on to become specialists when it comes to providing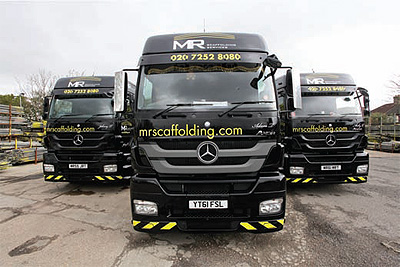 access solutions to the construction industry. Founded by Michael and John Trayfoot, this wellestablished, family business is today run by sons Matthew and John Jnr, alongside Contracts Director, Frank Pickford.
Adhering to best practice and safety principles, regulations and industry standards, the company's primary business is derived from providing access to buildings and facilities through the creation of scaffold structures that can be used for ongoing building works. Proud of the team it has developed over the years, the competent and experienced firm works both on and offsite to deliver services by sector. These include commercial fit out, transport, commercial new build, and advertising and specialist structures. Proactively working with each client, MR Scaffolding Services provides innovative ideas to maximise the customer's budget, while also delivering the best possible end result. To make this possible, the company stays at the forefront of technological developments and meets the latest NASC (National Access & Scaffolding Confederation) standard TG20:13.
Examples of MR Scaffolding Services 's services being put to use can be found throughout London and the South East, and take in all manner of undertakings, from small scale buildings right up to iconic structures like London's Hotel Russel. In instances where the customer in question is carrying out a building fit out, MR Scaffolding Services will provide the scaffold structures needed for complex work to be carried out safely, for example tasks that take place on the façade of the building in question or the changing of windows. Separately, the company also provides scaffold structures that allow for the raising of materials from ground level to the upper reaches of buildings, structures that create temporary stairwells on the inside of units, and mechanical components for complex 'birdcage' structures that provide access in and out of buildings where work is ongoing.
MR Scaffolding Services' expertise also extends to providing safe access routes for the general public. Each undertaking that calls upon the services of MR Scaffolding Services, or any like-minded company for that matter, must take into careful consideration the well-being of the public, particularly when work is being carried out in densely populated areas. The structures provided by the company allow for the public to navigate around and through the affected site in a safe manner. Working in this way has resulted in a reputation for excellence and glowing recommendations from customers including being awarded the prestigious City of London Considerate Contractors Gold Award.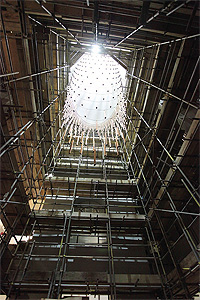 In addition to its core business of providing access, MR Scaffolding Services has various prestigious sites across London and the South East where it works with contractors and advertising agencies to create scaffold structures that can not only be used for ongoing building works, but also to incorporate advertising on the façade. Viewed as a good way for contractors to decrease project overheads and deliver an aesthetically pleasing façade for the surrounding community to enjoy, the company is proud to have been involved in the erection of Superman Man of Steel advertising on St Paul's Church in Hammersmith in recent years. This advert was visible from the A4 flyover and attracted positive attention and feedback.
To remain at the forefront of scaffolding services, MR Scaffolding Services has recently undergone a major rebrand and expansion phase. Over the last few years, as the company has undergone major internal changes, and has seen rapid growth and doubled in size. This is due to the collective vision of the current directors on how a company can grow and be successful in a competitive market as well as major new contracts, an increase in highly trained staff and a booming construction market.
Indeed, as the company has grown, so too has the size of the contracts it is competing for as more customers benefit from its specialist expertise in commercial fit-out services. Furthermore, because it is able to deliver the appropriate design and planning solution, as well as passenger and goods hoists, beam hoists, scaffolding staircases and temporary roofs, MR Scaffolding Services has the flexibility and knowledge to be able to respond to a variety of requests from customers.
To give MR Scaffolding Services a stronger foothold in the growing construction market, the company has not only rebranded with a new vehicle livery and company logo to appear more modern, but have also purchased a new fleet of trucks and other vehicles. These vehicles are named after John and Matt's parents and other family members as a symbol of MR Scaffolding Services's continuity as a family firm.
With two years of major change behind it, MR Scaffolding Services is wholly prepared to take on the challenges of the construction industry as it not only benefits from a fresh look, increased staff numbers and a brand-new fleet, but also from the four decades of tradition that has shaped it into a well-reputed and trusted scaffolding service provider.
MR Scaffolding Services
Services: Speciality fit out, transport and commercial new build scaffolding service