Offering an unparalleled range of services, MSL Engineering Ltd. has made a name for itself in the Irish construction sector with its ability to smoothly deliver high-profile projects in numerous industries
Standard bearers
Offering an unparalleled range of services, MSL Engineering Ltd. has made a name for itself in the Irish construction sector with its ability to smoothly deliver high-profile projects in numerous industries
Celebrating its 40th anniversary in 2019, MSL Engineering Ltd. (MSL) is a vivid example of how, when a company is fully committed to achieving the highest standards in workmanship, safety,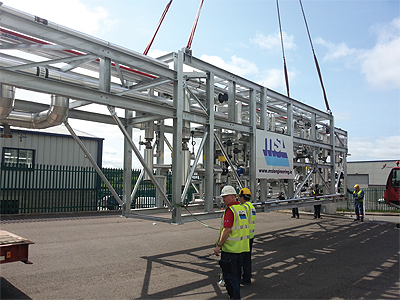 quality, and reliability, it can excel in its respective industry in such a way that it becomes the reference point for its peers. The Irish mechanical engineering contractor specialises in the fabrication and installation of process, utility, and high-purity pipework, platforms and steelwork; and equipment installation across a number of industry sectors. These include pharmaceutical, biopharma, chemical, oil and gas, power generation and utilities, food and beverage, data centres, transport infrastructure, medical devices, process drainage, and fire protection.
"Through one-off construction projects, maintenance, and term-service contracts, we can also provide modular fabrication and assemblies, manage multi-discipline subcontractors as part of our projects, and use BIM and 3D modelling processes," MSL's Managing Director, Brian McGrath, elaborates on the company's capabilities. "This broad range of services, coupled with our ability to deliver quality projects on-time every time, has made us an integral link in our clients' supply chain. We view the high esteem, in which they regard us, as vital to our ongoing success."
In order to deliver this level of service quality, however, MSL needs to ensure that it has a skilled workforce at its disposal in the first place. "Indeed," Brian affirms, "we have an excellent mix of young, talented engineering professionals and experienced, proven achievers that drive the company forward."
Stimulating its staff has, consequently, been among the top priorities on MSL's agenda. The company conducts its Training Needs Analysis review at a senior management level periodically, so that it can identify any skill gaps or shortages that may exist in any role in the business. Then, MSL develops a training plan for its people to bridge these gaps.
"By doing this, we are able to maximise performance from personnel and encourage their development," Brian points out. "What is more, promotional opportunities are appointed internally wherever possible. On occasion, this can mean identifying skills gaps or shortages in a potential internal candidate and addressing these through the implementation of a training plan."
Together with investing in staff development, MSL has also directed substantial financial resources to the creation of a dedicated BIM/Design department within the company, as well as to the purchase of a new development site adjacent to its location. Brian details: "We are now capable of producing our own isometric fabrication drawings, as opposed to depending on the client to issue them. Another significant investment of ours was the acquisition of the new facility that will extend our modular and high-purity capabilities to meet growing market demands."
Pharma projects
Earlier on, we listed the industries served by MSL and even at first glance, one can conclude that some of these are inherently hazardous. This being said, the contractor has for a long time taken an uncompromising standing on safety, which has resulted in two million hours without a single lost-time accident over the past five years. For its efforts, the company was awarded the National Irish Safety Organisation (NISO) Higher Distinction Award in October 2018.
The last few years have seen the steady growth in two particular sectors MSL operates within – namely, pharmaceutical and life sciences. Owing to their traditional resistance to global economic turbulence, these two industries have gone from strength to strength in Ireland and the initiation of new projects have allowed MSL to compete for and win new business in the area.
"I would single out two projects for Dublin-based pharmaceutical clients that challenged us to a degree that led us to employ the full extent of our capabilities," says MSL's Projects Director, Dave Ronan. "We executed both of them concurrently from mid-2016 to mid-2017 and their combined value was 30 million euros. It was during their implementation that we deployed our BIM/Design department for the first time and its presence was an important aspect of our winning bid for the projects. The department was then quickly put to the test with the workload for both programmes,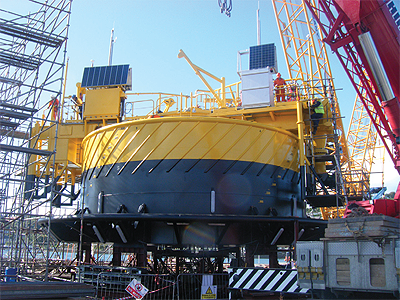 but, much to our delight, it rose to the challenge successfully."
In the first project – for a new biopharmaceutical manufacturing facility for Mallinckrodt Pharmaceuticals – MSL was first awarded the main mechanical contract for the new production building, but upon its successful completion, it was also entrusted with the construction work for an admin building and an R&D building.
"A total of 1500 isometrics were drawn from the client-issued 3D model. These were logged, priority-sequenced, engineered, fabricated, NDE-approved, and transported to site over a 40-week fabrication period," Dave explains. "The workshop element consisted of fabrication of carbon steel, stainless steel, and high-purity pipe and tube ranging in sizes from 15mm to 200mm diameter. The fabrication consisted of approximately 25,000 weld inches.
"The production building scope of work also included ten pipe rack modules. MSL designed and 3D-modelled the steelwork and pipework for these using BIM software prior to producing fabrication drawings, fabricating, assembling and shipping to site for installation by our site team," he continues. "Finally, the on-site mechanical scope of the site works included the installation of the ten pipe rack modules, in addition to the installation, supporting, testing and commissioning of carbon steel, stainless steel, high-purity, copper and plastic pipework, HVAC duct work and associated equipment, new process, and clean room equipment. The craneage, scaffold access, NDE, painting, insulation, and passivation associated with the piping and equipment were also part of MSL's scope."
As regards the second contract for the central utilities building (CUB) at a new facility for Alexion Pharmaceuticals, the work delivered by MSL was similar in nature to that of the previously-discussed project. The isometric fabrication drawings produced were 1250, while the pipework ranged in sizes from 15mm to 350mm diameter, and the fabrication consisted of approximately 40,000 weld inches.
"In terms of the equipment installation, all 230 items were installed by MSL, including three 40-tonne boilers, cooling towers, chillers, compressors, vessels, tanks, exchangers, pumps, and vendor-supplied skids," Dave notes. "All craneage lift studies, method statements, and risk assessments for the lifts, and installation of the equipment were also completed by MSL."
Challenging scheme
By the end of this year, MSL is expected to complete another flagship project. It was late in 2018 that the company was awarded the Main Mechanical Package for Project Trinity BT in the AbbVie Ballytivnan facility in Sligo. The scope of the scheme includes the construction of a high containment conjugation, formulation, sterile fill, and lyophilisation facility for antibody drug conjugates (ADC), which is designed to handle highly-hazardous substances requiring nanogram containment levels.
Dave discusses the job: "The location of the new ADC suite is within the existing AbbVie Ballytivnan facility, which poses its own challenges in terms of managing health and safety and on-site co-ordination during construction. Thanks to our Safety Management System, though, we can meet these challenges head on.
"MSL's scope involves the supply, fabrication, installation, testing, and commissioning of 12,000 metres of utility and process pipework. This includes carbon steel, stainless steel, and high-purity pipework. We are also managing the craneage, scaffold, NDE, degrease and passivation, painting, and insulation scopes of work. Further, we co-ordinated the installation of the new cooling towers, waste collection vessels and numerous items of process and clean room equipment," he adds.
Plans for expansion
"We are strong believers in early engagement with the contractors and we have been involved in 3D model constructability reviews from the beginning of this project. As the scheme is due for completion later this year, MSL is already in the system handover phase. Utilising cloud-based software for progress reporting and QA/QC documentation generation and handover has enabled us to smoothly transition into this stage," Dave updates us on the progress of the project.
Aiming to grow its position in Ireland and expand into new markets, Brian McGrath, the Managing Director is also hoping that, in the future, MSL will capitalise on the success of the projects it has completed in Europe. He concludes: "Our overreaching priority is to maintain the standards laid down by the original founders 40 years ago. Hopefully, we will all still be around in 40 years' time and MSL will continue to grow and prosper."
MSL Engineering Ltd
Services: Mechanical engineering contractor