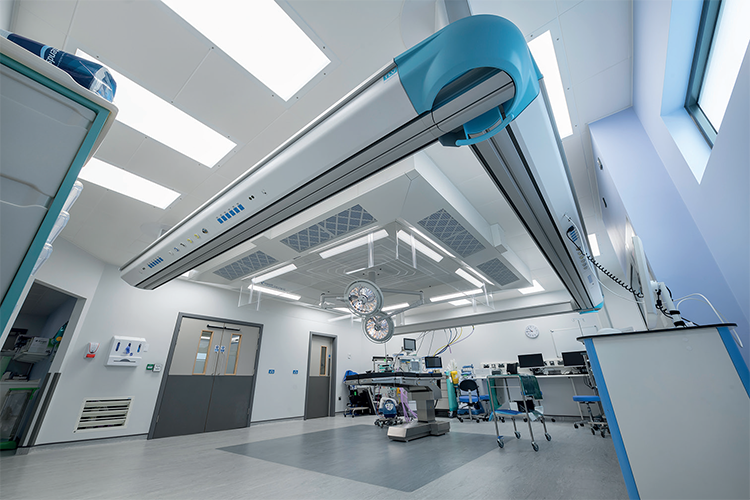 The writing's on the wall
MTX Contracts Ltd is making one message clear: MMC is the way forward. Through innovation and ambition, the company is determined to lead the construction industry with the highest quality of efficient and cost-effective building services
The roots of MTX date back to 1983, when the company specialized in the refurbishment and remodelling of operating theatres, and the construction of cold storage facilities. Less than two decades later, in 2002, it had grown to establish itself as the niche contractor of bespoke healthcare buildings. To achieve its sustained success, the company is particularly experienced in the utilisation of modern methods of construction (MMC) and is proud to be a passionate pioneer, as David Hartley, the Managing Director and Co-founder of MTX, shares with us. "We saw an opportunity to support a new demand in healthcare, and accordingly, we built our first modular operating theatre in Aberdeen, which was subsequently followed by another project in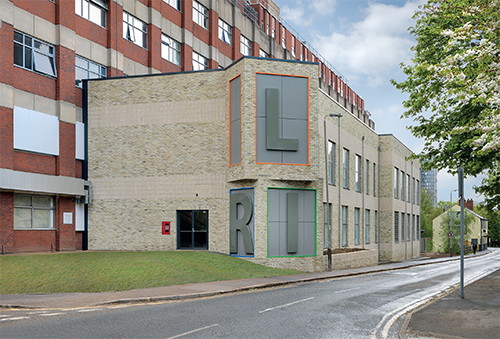 Leicester and a third in Aberystwyth, Northern Wales – the rest is history really. Since then, we've gone on to install nearly 1000 buildings across the country, not only operating theatres, but patient environments as well; intensive care units, emergency services, endoscopy, the list goes on," he says. David's career has followed in his father's footsteps as a building services engineer, after having studied the trade in college and completing his higher national diploma. This was followed by an apprenticeship with one of the UK's largest diesel engine manufacturers.
He then brought his expertise to the business and introduced the potential that MMC had to offer. "MMC is not only in reference to the actual building, we're also utilising other forms of MMC pre-manufactured mechanically electrical services, pre-manufactured lift shafts and cladding services for example, which all come under MMC. By adopting other elements of MMC, we're able to reduce the amount of disruption on site, which allows hospitals to focus on operations and treating patients," he shares.
But why the interest in healthcare services? According to David, healthcare buildings are one of the most onerous buildings in terms of service requirements, whereas schools for example, required fairly minimal work. "We've got to supply ventilation and good lighting obviously, but healthcare is a bit more of a challenge, particularly in operating theatres and intensive care units. But our history and knowledge really is the pinnacle of what can be achieved and equips us with the ability to provide optimum solutions," David expresses. Another advantage to implementing MMC practices within its operations is that MTX is able to level up on environmental conservation and support local economies to get the job done. "Our operations are consolidated in areas where up to 60 percent of the buildings are constructed away from hospital sites, which means we are able to minimise our travel. The other thing that we do is, once the building lands on-site, we utilise our supply chain, especially SMEs working within a 30-mile radius of the site to support local workforces," David says.
The ability to sustain these measures is owed to a novel model that the business has created for its infrastructure. "We have five Yorkshirebased manufacturers who will build to our specification, which means that on every single project, we are able to market test and our clients are presented with the best value and the best programme available," he shares. This, David adds, ensures that the business can maximise on other production facilities should one warehouse fill to capacity.
Additionally, the unique model has enabled the company to be appointed for the second time to the £1.6 billion NHS Shared Business Services Framework project. MTX has had the opportunity to work with the NHS Trust over the past two decades, putting it at the forefront of specialising in its sector and highlighting the full range of its MMC practices. "We're currently on site in Oxford, working on a £10 million project for them. We also completed the Norfolk and Norwich University Hospital ward development project, and now we're in Hereford and Kent just to name a few. I am very passionate about clients understanding that MMC is not a compromise on what is considered traditional building solutions; we are still providing concrete floors and cladding systems that are in keeping with the existing regulations, because, at the end of the day, these buildings require a 60-year lifespan, which means that the quality of the build has to be top-notch," he explains.
Staying on topic with MMC's capabilities, MTX is looking to continually push boundaries and provide a service that is greener, faster and supportive of the government's plans to cement MMC into the foundations of construction. "If you look at all government departments, particularly the NHS, they are mandating to adopt MMC and for the very reasons that we've discussed. Given that we're all adapting to the consequences of the Covid-19 crisis, I feel that MMC is the way forward, especially considering the lack of resources and skilled labour that have come about as a result of the pandemic. In addition to what we're already doing, we are also implementing apprenticeships that are going to help us on the recruitment side," David shares.
Further to the concerns brought on by Covid-19, the biggest struggle that the business has had to endure over the past 18 months is the instability of supply chains. However, had it not been for the resilient MTX team, David fears the business would not have been nearly as successful. "We battled to get hold of materials, but that was quickly corrected when certain suppliers were instructed from central government to continue with their activities and support organisations who were working on critical facilities. Another thing that I am incredibly proud of is that there was not a single person that we needed to furlough. Above every difficulty, we ensured that our employees were safe, happy and in constant communication with that was happening. There's a massive value that we place on looking after our team; so much so that we've been given the Investors of People Gold Accreditation and we're going for Platinum. A huge amount of work and preparation that goes into receiving these accolades, which is an impressive testament to our company culture. This is why, regardless of the difficulties, I will always put the well-being of our people at the forefront of our operations because they are the ones driving our success," he expresses.
Now, looking to the future, the journey ahead of the building services business is promising, despite the obstacles that may lay before it. With a few high-profile projects coming to a close, MTX is seeing through the remainder of 2021 with dexterity to take on bigger projects as it sets itself up for a ten percent increase in the coming years. "I don't want to tempt fate, but I cannot imagine a more challenging time to direct a business at the moment. On top of the pandemic, we are also beginning to experience the impact of Brexit and only now are we starting to see what the Brexit landscape could look like.
"Nevertheless, our key focus moving forward is always going to be to prioritise our clients. In order to do that, I want to ensure that we have a happy team, which means ensuring that we are strengthening our staff above to remain stable through any challenge that may come our way. Tying in with that, we are going to continually innovate our industry, which I believe is what will set us apart. With these factors, there is nothing we cannot achieve," he concludes.
MTX Contracts Ltd
www.mtxcontracts.co.uk
Services: Healthcare building service contractors