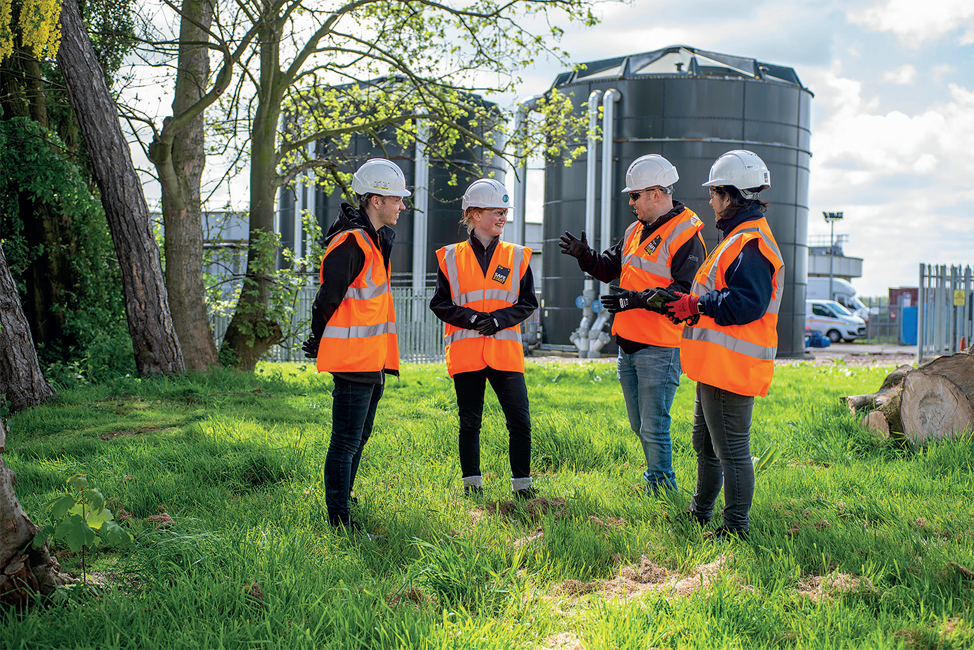 Uncharted waters
Two hundred years of exclusive service for the water industry have made MWH Treatment superior providers of treated water
Water sector specialist MWH Treatment is both a leader and award winner in the UK water treatment industry. With excellence in integrated design build, the company prides itself as a leading provider in the development, design and delivery of water and wastewater treatment programmes and projects. Speaking with Tom Standring the company's Engineering Director, we explore how the company has managed to garner the capability that led it to being named the UK's 'Contractor of the Year' for 2021 at the recent Water Industry Awards "We feel that the foundation to this award is our continuing focus on safety as our number one strategic priority. Whilst our 2020 safety record could be considered sector leading, our passion for continuously improving safety is evident in all areas of our business. A big part of that is our 250 in-house process intelligent engineers who work closely with our clients, internal delivery and our critical suppliers to create assets that are designed to be effectively and safely integrated and efficiently and safely operated. It's those integrated relationships that make the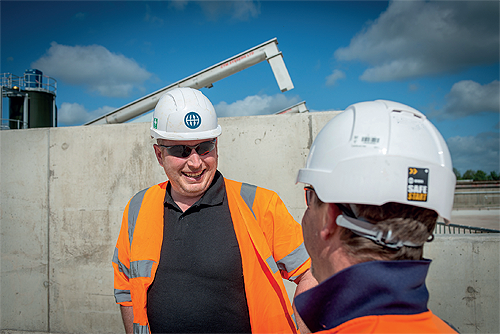 difference. That's where our integrated design build's capability and process intelligence creates additional value and resilience. Add to that our digitally optimised delivery, including visual project initiation, visualised collaborative planning, increased DFMA and virtual rehearsals, that are contributing to our AMP7 initiative of redefining construction including an efficiency target of 30 percent less time on site for AMP7 projects," says Tom.
Considering MWH Treatment's two century water sector history, it's little wonder that the company has constantly evolved from its beginnings as a product manufacturer to a tier one solution provider, retaining all six of its major frameworks into AMP7. This is why Tom is able to speak of the business and its current single market focus, making it quite unique in its service delivery and to the industry as a whole. "Even though we are in the middle of AMP7 delivery we are already starting to position ourselves for AMP8, looking at the developing regulatory drivers and what that is likely to mean to our clients and their treatment facilities. Water resilience is going to continue to be a key future driver. The Environment Agency's recent Future Needs document has identified an additional 3.4 billion litres a day will be required up to 2050 if no action is taken around areas like leakage, sustainable supply and global warming. As a clean water specialist, we are already reviewing our part to play in this signif cant challenge."
Service in action
Another area of MWH Treatment's unique approach, is its strategic relationship with its supply chain. "We are proud of our relationship with our long term strategic suppliers. Over 50 percent of what we do is through our supply chain, with at least half of that being catergorised as strategically critical. We are acutely aware of the UK's £400bn National Infrastructure programme, of which water is only £50bn. We need to recognise that we need to attract and retain our critical suppliers. Our strategy is to engage them early at programme and project level, give them visibility and the earliest opportunity to add value," Tom explained.
The proof of how MWHT succeeds in its service delivery can also be seen in the impressive portfolio of projects, (see waterprojectsonline.org). The latest took place at the water treatment plant in Coppermills, a site that supplies over 3.5 million customers across the City of London and Tower Hamlets borough. Historically, the operators regulated the quality of the raw water supply by carefully selecting the water reservoir feed source. However, with environmental changes happening over recent years, algal activity has increased substantially, which means the operators have found it difficult to manage raw water abstraction effectively. The scope for MWHT was to install new pumped connections to three of the raw water sources, 1290m2 twin cell dual media units, as well as a clean backwash water system. Half a million working hours later, the project was completed 18 months ahead of schedule, while also saving 45 percent reduction in carbon emissions owing to the incorporation of design for manufacturing and assembly (DfMA). "This became a substantial plant extension that required the construction of new rapid gravity filters, but it wasn't what we did, it was the way we did it that made the project a success. Again we implemented our 'redefining construction,' initiative reducing on-site construction and creating more manufactured assemblies to maximize the amount of off-site construction. We then went for substantial pre-cast concrete structures and prefabricated pipe-racks, which all contributed to the reduced time on site, safer construction and higher quality end product," explains Tom.
Innovative approach
Another example was the successful delivery of the £34m major upgrade of Severn Trent Water's largest sewerage treatment plant in Minworth, which serves 1.75 million people in the surrounding area. This was a conversion project that required the full utilisation of the MWHT digital delivery toolbox and off-site construction techniques. Approximately 70 percent of the equipment was manufactured and assembled off-site and by incorporating the use of laser-scanning of assets, 3D models and fly-throughs, and 4D scheduling, engaging critical suppliers digitally with the aim of maximising off-site, the company successfully enhanced the quality and efficiency of the design and construction process from concept through to completion. The project included the construction of Europe's largest Thermal Hydrolysis Plant and the on-site installation and erection of a £6m prefabricated boiler house in four days. The project delivery strategy involved moving 110,000 working hours and operations offsite. Energy production be an four weeks ahead of schedule, increasing planned revenue by £200,000 and the project was awarded a 'Considerate Constructors Gold Award.'
Returning to the Water Resilience Challenge, MWHT's network analytics team is looking to create an innovative approach to leakage prediction and identification. "With Enginsoft we have secured an INNOVATE UK grant and we have begun researching how artificial intelligence can help predict leaks. We're one of the oldest industrialized civilisations in the world, which means our infrastructure is aging, so if we could find a way of getting ahead of the curve, predicting bursts rather than reacting to them that would be a real game changer," Tom notes.
Successful measures
The success of projects like these and various initiatives is undeniably due to the collaborative culture of the business internally, with its clients and critical suppliers, which forms the foundations of MWHT. When it comes to overcoming challenges like the Covid-19 pandemic, Tom speaks highly of how everyone involved with the business was able to pull together to keep
all areas of the company close to fully operational. "After safety, our people strategy is the strategic priority that binds us together. We have a management style that is based on constant and frequent communication. Our January 2021 pulse survey showed employee engagement up to 83 percent with increased scores across all 13 categories. The survey really shows the success of the way we have all reacted to the pandemic and the measures we put in place. We have developed new ways of working that we will retain as we seek 'to build back better.' As a business, we care about our people and we encourage everybody to demonstrate the fact that they care as well. It goes back to the basics: 'thank you' emails, acknowledging a job well done, spot bonuses and we have brought in an increased range of contact forums at business and regional level to optimise ongoing communications," says Tom.
Spirit of innovation
Concerning the pandemic, Tom also notes that the business worked at near full capacity and is proud that non-furloughed staff were retained on full salaries. "As providers of Critical National Infrastructure, we tried to maintain as many people in the work as possible. We set up senior leadership calls three times a week to discuss ongoing developments and we had regional and central business calls to keep everybody informed. This helped us create a much more agile way of working and communicating. We made sure that everyone knew that we would do everything possible to adapt to such a volatile situation and if those adaptations didn't work, that didn't mean that we were failing, we just needed to find a better way of learning how to get through those challenges. This process led to a tremendous amount of new innovation for our teams to continue construction, that obviously included maintaining social distances," he elaborates.
Clearly these practices have been working. Recently the company was named 'Contractor of the Year' as a result of its passion for superior service delivery and company innovation. When asked about what this sort of award means for the business, Tom shares that the recognition, particularly after a year like 2020, is a great way to bring the MWHT team closer together. "I think that's why we put so much effort into our submission. We felt that we had really raised the bar as a business, as a community, and as a family. We have risen to every challenge, we saw so much innovation and commitment from our people and we felt that the best way to celebrate how much we've grown is to see if we could win this award," he says.
Other additional improvements include striving for a greener footprint and Tom adds: "A lot of our focus has been on our corporate footprint reduction, now in parallel we are also focusing on our product in terms of what we design, build and how we execute our services. This means looking into pouring less concrete and and fabricating more off-site, bringing further savings in carbon emissions. Our clients are pushing us even more, you know the water industry has said it will be carbon neutral by 2030 and we want to be part of making that happen," he says.
"As we hopefully move to a more normalised way of working and living, we have learnt that there are always ways to do things better. To meet the water sector challenges of the future we are excited about maximising that spirit of innovation and invention as a business, as teams and as individuals."
MWH Treatment
www.mwhtreatment.com
Services: Water treatment specialists