Operating as part of the Lavendon Group plc, Nationwide Platforms represents the UK's leading provider of powered access platforms
New heights
Operating as part of the Lavendon Group plc, Nationwide Platforms represents the UK's leading provider of powered access platforms
Nationwide Platforms exists as part of one of the world's largest specialist access rental businesses, Lavendon Group plc, which has operations throughout the UK, Middle East, France, Belgium and Germany. With the strength of its parent company behind it Nationwide Platforms earned revenues of £110 million during 2013. As part of a robust group of businesses Nationwide Platforms has navigated the volatile market that followed in the wake of the 2008 financial crisis and today is ready to take a leading position in the newly emergent construction industry. "We have seen a lot of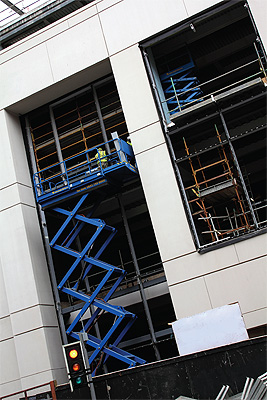 growth in construction," observes managing director Jeremy Fish. "However, it is not just in construction. We are seeing market growth in all sectors but principally we are seeing a recovery in the construction sector. It is a cyclical market and we are currently seeing an upwards cycle."
The range of access platforms supplied by Nationwide Platforms is the broadest available inside of the UK. It is comprised of boom lifts, low level access platforms, scissor lifts, truck mounted platforms, van mounted platforms, material handling attachments, specialist platforms as well as product innovations and accessories. All of the company's machines are maintained by a core of specialist engineers to ensure flawless performance and best practice when working at height. Nationwide Platforms is dedicated to delivering a safety conscious service that remains both reliable and convenient helping clients to meet their goals, whatever the job.
The company manages over 11,000 access units across 26 branches and seven customer care centres that enable Nationwide Platforms to deliver units to locations across the UK. "We are a one-stop shop for customers and for national accounts we can service client's requirements right across the UK," Jeremy elaborates. "We can also react very quickly to customer requirements in terms of getting equipment on-site. This also means that we can reach customers very quickly when they need technical support or require training, crucially we have units close to our customers and we are more in touch with our customers as well as in touch with our markets."
In support of the newly recovering construction market within the UK, Nationwide Platforms is investing £25 million on refurbishment and new equipment during 2014 that will increase the company's service offering with a stronger fleet and greater service as Jeremy explains: "We are investing mostly on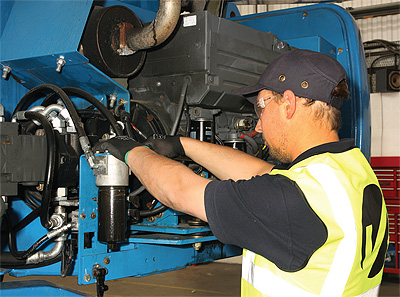 booms and scissor lifts, which is a combination of replacement and new models for the fleet. This will be distributed fairly evenly across the country, although there are some areas where we are seeing more activity than others. We are seeing more activity in the South East for example, but the investment will be spread evenly throughout the UK."
With its expansive fleet and commitment to first-class customer accessibility and service, one of the most important items that Nationwide Platforms delivers to clients is peace of mind. With the UK's largest rental fleet and a strong commitment to health and safety the company is best placed to meet the needs of its clients. "We have national coverage and a product range that offers the greatest choice and flexibility for customers. When dealing with smaller rental companies there is less chance customers will be able to get the equipment that they want. With the UK's largest hire fleet we can offer customers the equipment they want, when they want it. We also have an award winning commitment to quality, health and safety as well as the environment. We have a dedicated team of experts under the leadership of a QHSE director, which has helped the company win the Royal Society for the Prevention of Accidents gold medal for a fifth consecutive year."
The company's dedicated client focus is supported by a targeted training programme and commitment to develop its staff. "We have 78 e-learning courses and last year we delivered in excess of 1969 employee training days and 1210 e-learning sessions. We also have an apprenticeship programme which is currently being attended by 29 engineering apprentices and four hire desk apprentices," Jeremy explains.
During the rest of 2014 and over the longer term during the next three to five years, Nationwide Platforms will be focused on increasing its revenue growth and presence within the market. "We are looking to grow our market share and to grow our customer base. We will do that by providing excellent service, value for money and by continuing to innovate in health and safety, product development and value for money," Jeremy concludes.
Nationwide Platforms
Products: Powered access platforms