Updates and information from the construction and civil engineering market
Paint revolution
Working in partnership with Veolia UK, Dulux Trade has become the first major paint brand to launch recycled paint. As part of its ongoing commitment to reducing the impact of paint on the environment, experts at Dulux Trade with Veolia have developed Evolve, a revolutionary product made from the leftover paint that remains in tins after use, in a bid to reduce the amount of paint going to waste.
Made from 35 per cent recycled paint it will also allow decorators to offer customers sustainable solutions that help meet the growing demand for environmentally friendly products.
To create Dulux Trade Evolve, the brand has partnered with resource management experts Veolia, to extract and reprocess unused white paint from tins at its recycling centres. Veolia collects paint deposited by residents at their household waste recycling centres and takes it to its remanufacturing plant. The paint is refined and filtered before being transported to a manufacturing facility where it is combined with new paint, re-engineered and tested extensively, ensuring that every tin on sale maintains the high standards expected of Dulux Trade.
Dulux Trade Evolve Matt has been five years in the making and not only underwent rigorous testing by research and development experts, but it was also blind tested by decorators and painting contractors, to ensure consistent quality for decorators on any project.
The resulting product offers a beautiful white matt finish, perfect for interior walls across a wide range of jobs.
Compact solution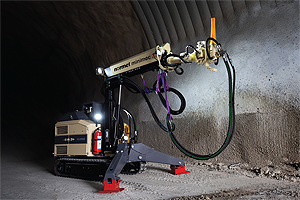 The new Minimec from Normet introduces a comprehensive concrete spraying experience in a compact package. By being agile, yet powerful, Minimec fits to the similar space as a nozzle man and outperforms the handheld spraying in safety, reach and productivity.
Minimecs are commonly used in projects with limited access, such as cross passages, shaft sinkings and small open pits, in which the conditions are limiting the size of the equipment. Despite the small size, Minimec can apply the whole capacity of the spraying pump, improving process performance. For increased safety and user comfort, Minimec has a remote driving system, which allows the operator to drive and spray from a safe distance.
Normet is continuously working to improve the concrete spraying process. Earlier this year, the company launched supporting technologies for spraying, including SmartSpray, increasing the automation level of the spraying process, and SmartScan concrete layer thickness measuring system, which makes the quality control, inspection and reporting easier in concrete spraying operations
German HQ opens
JCB Chairman Lord Bamford has officially opened a new headquarters for one of its most important European businesses in an investment worth around £50 million.
JCB Germany – which was founded in 1965 – is now operating from a brand-new facility on a 12-acre site in Cologne following one of the biggest investments in JCB's history. The new HQ includes offices for 75 employees and a training centre for use by customers and JCB Germany's network of dealers, which employ a further 2000 people.
The new HQ is triple the size of JCB Germany's former facility in Cologne and is situated at the heart of Germany's largest industrial area, the Rhine-Ruhr zone. Including a showroom for JCB's latest machines, the new centre will host 3000 delegates a year for sales and technical training as well as holding operator training courses in a specially constructed demonstration area for construction and agricultural dealers.
Artful project

Early October saw Rogers Stirk Harbour + Partners (RSHP) and the Louvre celebrate the completion of the new Conservation and Collection Facility for The Louvre in Liévin in Northern France.
Vulnerability to flooding in the Louvre Palace in Paris and a desire to gather works currently scattered over 68 sites in one space has motivated the Louvre's requirement for a permanent, robust off-site facility. Over five years, nearly 250,000 items will be brought together making the facility one of Europe's largest study and research centres with the intention to change and enable the Louvre's interaction with its collection in ways that have not yet been possible.
The private facility connects beyond a communal border to the public Louvre Lens museum, a sheer and translucent pavilion designed by architects SANAA. It is one of the most important museums housing the Louvre collection outside Paris. RSHP's facility is designed to appear as a counterpoint to the Louvre Lens and to compliment the area.
Inside it has a simple, rational layout dedicated to protecting and studying art, and the design intends to change and enable study and consultation of the collection in a way that has until now not been possible in any other museum facility.
High Street transformation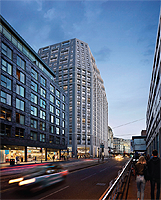 Manchester City Council's planning committee has minded to grant full planning permission for the £79m proposals for the regeneration of 20 – 36 High Street.
CEG submitted the planning application, which is set to transform this gateway site between the High Street and Northern Quarter, replacing a predominantly vacant 1970s building, with a distinctly Mancunian building, drawing on Debenhams and Sunlight House for inspiration.
Designed by Feilden Clegg Bradley Studios, the architecture uses light ivory-white glazed ceramic tiles providing a far greater light reflectance onto the street scape than the existing dark brick. The ground floor and a double height mezzanine would offer a vibrant space for independent cafés, restaurants and shops, providing around 65 jobs. The scheme also reopens the Stationer's Court to become a tranquil public green space connecting the High Street and the Northern Quarter.
David Hodgson, Head of Strategic Development at CEG, explains: "This is an extremely challenging regeneration project on a constrained brownfield site. This resolution has provided the opportunity to transform this rundown building with a bold, confident and distinctly Mancunian building."
Driving forward
Two major road programme upgrades worth £435m are set to be delivered by engineering consultancy Sweco in partnership with lead contractor Galliford Try.
Forming part of Highways England's £8.7bn Regional Delivery Partnerships framework, the contracts will see the business act as chief designer for the A47 corridor improvement programme between Norwich and Peterborough and the Sparkford to Ilchester dualling scheme along the A303 corridor in Somerset.
Commenting on the deal, Nick Culshaw, operations director at Galliford Try Highways, said: "The appointment underlines the strategic importance of highways to our construction business and in Sweco, we have a design partner that will enable us to deliver infrastructure programmes that will bring huge benefit to the UK's road users."
Sweco will provide all design services to the projects through its teams based across the UK, including Leeds, Edinburgh, Solihull and Bristol. The business says the deals will provide a strong platform to drive further growth for its transport offering.
The contracts follow Sweco's appointment to the £8.7bn programme last November, which forms part of the Government's new six-year Routes to Market scheme, with contractors selected for eight regional lots across two bands.
John Owens, Director of Major Projects at Sweco UK & Ireland, said: "Our appointment to these two key schemes underlines the significant experience and expertise we can deliver to reduce congestion, cut journey times and improve safety for local communities."