Updates and information from the construction and civil engineering market
Perfect surface
North West based specialist surfacing company, Miles Macadam has completed resurfacing works at Winsford rock salt mine – Britain's oldest and largest working mine, which produces around 80 per cent of the UK's road salt.
The project involved the installation of 170 tonnes of Hardipave™, Miles Macadam's own BBA/HAPAS certificated Grouted Macadam. This was used to resurface the main loading area to provide an incredibly durable surface course ready for local authorities gearing up for collections during the busy winter period.
Often described as a hybrid between asphalt and concrete, the Hardipave™ installation creates an incredibly hard-wearing surface course containing no voids and therefore preventing the damaging effects of water ingress.
Benn Teasdale, Contracts Manager at Miles Macadam, comments: "Hardipave™ was the ideal choice for this project and will provide a durable surface course, able to withstand constant HGV traffic, wagon's queueing and a range of different weather conditions.
"The fast curing nature of the material and hard work by the team, ensured the mine was still fully operational whilst work was undertaken."
Landmark scheme completed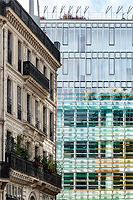 Ferrier Marchetti Studio has completed a mixed-use scheme adjacent to Saint-Lazare station in Paris, consisting of retail, restaurants, and workspace, alongside an auditorium, hanging gardens, rooftop terrace and public promenade. Emerging from the heart of Paris' bustling metropolitan centre, Grand Central Saint-Lazare represents one of the most complex new projects to be built in central Paris over the last decade.
Drawing inspiration from Gare Saint-Lazare's extraordinary heritage as the first railway station in France, and its presence within the impressionist paintings of Claude Monet, the project is designed to reshape the district's dense urban environment, and reconnect visitors to the spirit of Paris. The project is part restoration, part rehabilitation of a significant protected Haussmann building, with the addition of a contemporary 20,000m2 structure, reaching up to seven storeys. The striking contemporary intervention is characterised by a delicately tinted glass grid façade, rising above peristyle lower floors.
Commenting on the project, Jacques Ferrier said: "In our transformation of Grand Central Saint-Lazare, we have created an architecture of 'sensations' based on the emotional heritage of the site. In the manner of the painter Claude Monet who depicted his impressions of Saint-Lazare, we have mixed the modernity of metal structures with the recollections of steam locomotives and juxtaposed them against the movements of clouds and variations of light to create a truly sensory experience."
Up on the roof
Coolingpaint Roof is a patented and innovative roof paint, which offers a solution to climate-related challenges by reducing the increasing need for cooling in Great Britain, extends the life expectancy of the roof and reduces the need for maintenance.
The technology is originally from the United States military's stealth project which was to make planes less visible to radar. Danish company Nowocoat has further developed the technology with special equipment that homogenises the chemical composition of the paint's pigments and additives. The pigments have microscopic mirrors added to them which reflect over 90 per cent of the sun's infrared rays. That reduces the amount of absorbed heat by up to 20 per cent.
Nowocoat's CEO, Ole E. Jensen, noted that thanks to the company's focus on quality and the environment, Coolingpaint Roof is solvent-free and offers the market what it wants: a product with no harmful substances. "Coolingpaint also carries the EU Ecolabel, which is a guarantee that the product meets strict environmental requirements throughout all phases of its lifecycle. This also means that Coolingpaint does not contain heavy metals, softening agents and harmful amounts of solvents. At the same time, it has been quality tested in accordance with international standards for coverage and opacity, UV-stability, adhesion, peeling, blistering, crack formation, high weather resistance, fungal and algal growth, gloss and colour change and the ability to reflect infrared rays," he said.
Safer bridges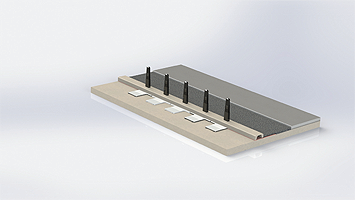 An innovative bridge protection system, which can withstand the force of a 7500kg truck travelling at 30mph, is now available to protect pedestrians from vehicle ramming attacks. The Bridge Protection System has been developed by ATG Access, and is the first of its kind.
The 2017 terrorist attacks on both Westminster and London Bridges highlighted the urgent need for a tailored security solution to protect the public when crossing busy bridges on foot as there were minimal security measures in place to prevent a vehicle from mounting the pavement and targeting pedestrians.
The new Bridge Protection System allows bollards to be fitted into a new, super shallow foundation structure, making it uniquely suitable for bridge protection.
"Sadly, it has become clear over the past couple of years that pedestrians on busy bridges are a potential target for hostile vehicle attacks," commented Robert Ball, engineering director at ATG Access. "While temporary physical security measures have been put in place on some high-profile bridges, providing valuable protection in the short term, a permanent, proven solution is needed.
"Our Bridge Protection System is an industry first, and will help to safeguard the general public by both deterring potential perpetrators from attempting to commit these ramming attacks in the first place, and ensuring they are not successful if they do."
Thoroughly modern housing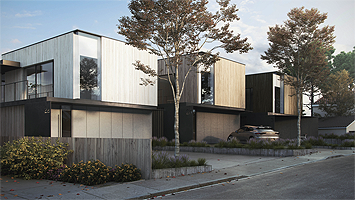 Hardies Property & Construction Consultants has been appointed to Partridge Walk, a ground-breaking development of three houses epitomising the future of sustainable building and modern living in an elevated setting, overlooking Poole Harbour, Dorset.
Combining contemporary architecture with modern construction techniques and materials, Partridge Walk will create environmentally friendly, fully sustainable, thermally efficient properties.
Hardies will provide Quantity Surveying and Principal Designer services to the development, the properties of which, designed by Ström Architects and built by Kubö Homes, showcase state-of-the-art, ecologically manufactured building materials.
Andy Taylor, Director, Kubö Homes, pointed out that sustainability is at the core of every facet of these modern and innovative homes. "This is the future of modern housing," he said. "We are striving to be at the pinnacle of design and implementation of ecologically sound developments."
Refurbishment and rejuvenation
Review Hotels Ltd has officially received planning permission for the multi-million-pound renovation of Rutland Arms Hotel on Newmarket high street.
The family-run business, which also owns Newmarket's prestigious four-red star Bedford Lodge Hotel & Spa, acquired the historic Rutland Arms Hotel in March 2018, and has since been working on extensive plans to restore, renovate and refurbish the 17th century building.
The newly approved plans include an impressive enhancement of the main building, and renovation of the adjacent annexe building which will house additional luxury bedrooms, meeting rooms and conference rooms for guests. The refurbishment will include the instalment of a new restaurant and state-of-the-art kitchen in the main building, as well as a redesigned interior which will enhance the existing characteristics of the Hotel, such as decorative ceilings, intricate fire places and stained-glass windows.