Updates and information from the construction and civil engineering market
Waterfront development
Significant plans have been revealed by the Port of Milford Haven for the build of a hotel and separate conference and events venue at Milford Waterfront in Milford Haven, following the submission of formal planning applications to Pembrokeshire County Council.
The two planning applications came shortly after the Port received approval of outline planning for its multi-million-pound Milford Waterfront development in November 2019. Together, the developments will make a major contribution to the economic prosperity of the area with around 50 jobs created, including several apprenticeship opportunities.
The 40,000 sq. ft 100-bedroom hotel will be located towards the entrance to Milford Waterfront on the site of the disused Burnyeats building; which will be demolished. Opposite the entrance to Milford Waterfront, the Quay Stores building, which was originally constructed in around 1885 and is grade II listed, is in line for a major face-lift. The facility will be able to host a variety of events including conferences, exhibitions, concerts and weddings.
If approved, both projects will follow similar development timescales with work due to commence in late spring 2020 and be completed by summer 2021.
Transforming Barnsley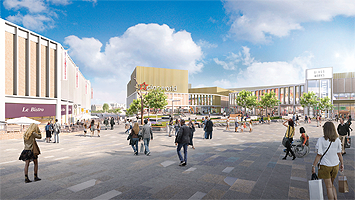 A Leeds-based engineering business is providing full civil and structural engineering services on the second phase of a multi-award-winning regeneration scheme, The Glass Works, Barnsley town centre's £180m redevelopment. Adept Civil and Structural Consulting Engineers was awarded the contract by Henry Boot Construction Limited, the Principal Contractor on The Glass Works.
The second stage of The Glass Works build is currently under construction, and Adept is responsible for designing the foundations and steel frames for four key buildings. They will be home to a wide variety of retail and leisure facilities including 26 new retail units, a 13 screen Cineworld, seven family restaurants, a Superbowl UK bowling, soft play and laser quest, a new public square and a 500-space multi-storey car park.
Adept has also been involved designing the buildings with transfer structures to ensure Yorkshire Water has access to the existing main sewer, which runs under part of the proposed buildings, and has also focused on the isolating sound proof designs for the cinema.
£400m project
A HOCHTIEF joint venture has been awarded with a £400m contract to deliver the second phase of the London Power Tunnels (LPT2) project. Scheduled to start in March 2020, this six-year project will see the construction of a 32.5 kilometres tunnel for the energy supply of London. The project has been developed to minimise disruption for Londoners, eliminating the need to dig up the existing cable infrastructure, which is now 50 years old and reaching the end of its life.
Executive Director, Nicola Shaw from National Grid says: "This contract award is a major milestone in the next phase of the London Power Tunnels project and will help ensure the capital has secure, reliable access to electricity to meet the energy demands of the future."
New joint venture
HOCHTIEF CEO Marcelino Fernández Verdes added: "We are delighted to contribute with our long-standing expertise in tunnelling works in London to the city's energy grid modernisation."
For this project, HOCHTIEF has set up a 50/50 joint venture with J. Murphy & Sons Ltd. The two companies have a strong joint track record delivering projects such as the Channel Tunnel Rail Link C320 and the Crossrail C310 Thames Tunnel project.
The contract reflects HOCHTIEF Group's significant tunnelling expertise, its strong competitive position and ability to deliver innovative solutions to clients from the utility industry.
Ambitious plans

GRAHAM has reached financial close on a £130m contract to deliver a major 1480-bed student accommodation project for the University of York. GRAHAM is also an investor as part of a consortium with Equitix – a fund manager of core infrastructure assets. The scheme forms a key part of the University's ambitious 'Campus Masterplan' – a framework for how it will develop its 'campus of the future'.
An intensive consultation and engagement process, involving a broad spectrum of stakeholders, ensured that the 'exciting and sustainable' designs were given the green light by the University and planners.
Construction for the project, which has been designed by architects Sheppard Robson, will be completed for the 2022 academic year.
The design embraces Modern Methods of Construction bringing enhanced quality and delivery confidence. Elements include pre-fabricated sandwich panels, integrating external brick finish, insulation, windows, first fix services and finished internal walls.
Neil McFarlane, GRAHAM Strategic Projects Director: "This is an exciting step forward for the University of York's ambitious plans to deliver a new kind of campus for its academic community. We're proud to be associated with such a talented project team who are as excited as we are to get started and bring the university's vision to life."
Second stage approval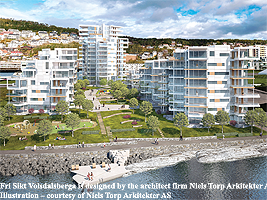 In a contract is worth NOK 153 million, Peab has been commissioned by customer Fri Sikt Volsdalsberga AS to complete a project in Ålesund in northwest Norway. It comprises 47 apartments in two buildings and is the second stage of a new city district in Volsdalsberga in Ålesund. Construction will begin in the spring of 2020 and is expected to be completed in the autumn of 2022.
The first stage began in the autumn of 2018 and consists of three buildings with a total of 66 apartments. It is expected to be completed during the first quarter of 2021.
"Work on the first stage has gone very well. We work closely together with our customer and I consider the fact that we have been commissioned to build the second stage as a big stamp of approval for our organisation," stated Kjetil Nordang, Region Manager Peab.
Building a real community
Bovis Homes, in a new Joint Venture with Metropolitan Thames Valley Housing (MTVH), is to build 783 homes on a £240m development, Cambourne West, near Cambridge.
The development will be made up of 70 per cent private units, which range from one to five-bedroom homes from the company's new Phoenix range, and 30 per cent affordable housing. The 235 affordable homes will be comprised of affordable rent and shared ownership.
Bovis Homes and MTVH will also provide a number of facilities to support the local community. As part of its section 106 financial contributions, it will contribute almost £40m towards education, including the expansion of the Ofsted rated 'Outstanding' secondary school and two new primary schools. Bovis is also contributing £9.5m to a City Deal, including highway improvements, all within a landscape led, sustainable environment.
Building at the site is expected to begin in February 2020.