Updates and information from the construction and civil engineering market
Prison plan
Planning Permission in Principle (PPiP) has been submitted for HMP Glasgow, which is being designed by multi-disciplinary design and engineering company, BakerHicks. This marks a milestone in the Scottish Prison Service's (SPS) plans to deliver a modern, fit-for-purpose replacement for HMP Barlinnie.
Working closely with commercial property firm Colliers, BakerHicks developed the drawings and documents for the submission, seeking consent in principle to develop a new prison on a site formerly occupied by National Grid and adjacent to a gas storage and transportation facility owned and operated by SGN. The new prison will replace the overcrowded Victorian-era facility, HMP Barlinnie, which currently serves Glasgow and the West of Scotland. Once complete, the new facility will accommodate 1200 adult male offenders with a flex to manage current population levels and fluctuations in sentencing.
Laura James, head of Scotland at BakerHicks, says that the business is continuing to work closely with the SPS team in achieving its objectives: "The design our team have created marks a step-change from the oppressive Victorian-era facilities, with a new style of prison which works with its surroundings, maximises space and creates an environment which supports the learning and rehabilitation of its occupants."
Careful consideration is also being given in the design to security requirements and allowing for future development as required.
New highrise for London

Skanska has won a £240m contract to construct 20 Ropemaker Street in Central London for its customer, Great Elm Assets Limited, in association with Old Park Lane Management Limited and their Development Partner CO—RE.
High environmental targets have been established for the project, aiming for BREEAM 'Outstanding' and WELL Building Standard Version 2 – Platinum, the latest iteration of the scheme.
The building will rise to 112m high above pavement level, and will include a double-height entrance and lobby along Ropemaker Street close to Moorgate Tube Station, with a separate dedicated cycle entrance. A single storey of business space will be located at mezzanine level within the 'street block'. Occupiable office space will cover 22 floors, with five accessible roof terraces. Three basement levels are provided for retail servicing, plant, facilities management, cycle and shower facilities.
Skanska will also install mechanical, electrical and plumbing engineering services in the 25-storey commercial project, with construction due to start in the first quarter of 2020 and complete early in 2023.
European emissions can be cut
Electrification of the transport, buildings and industrial sectors in Europe could slash greenhouse-gas emissions by 60 per cent between 2020 and 2050, according to a new report published by research company BloombergNEF (BNEF).
Written in partnership with Eaton and Statkraft, the report, Sector Coupling in Europe: Powering Decarbonization, outlines a plausible pathway of electrification, taking account of current levels of policy ambition in countries like the UK and Germany.
Electrification could take place via a mix of 'direct' and 'indirect' changes. 'Direct' would involve the proliferation of electric vehicles in as much of the transport sector as possible, and the spread of electric heating systems like heat pumps in buildings and some parts of industry; and 'indirect' would involve a switch to 'green hydrogen' – produced by electrolysis using renewable electricity – as a fuel to provide heat for buildings and as many industrial processes as possible, that otherwise would rely on fossil fuels.
Victoria Cuming, head of global policy analysis for BNEF, commented: "Electrification, or 'sector coupling' as it's known in some countries, could make a huge contribution to the achievement of governments' emission-reduction targets. However, action from policy makers will be needed if these changes are to happen, including incentives or requirements to cut emissions from building heat, supporting demonstration projects for electrification, and ironing out barriers to the production of green hydrogen."
Vision for Goole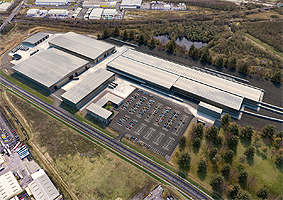 New images have been released of a state-of-the-art rail manufacturing facility being developed by Siemens Mobility Limited. The computer-generated images illustrate the vision for a world-class trains factory and associated facilities in Goole, East Yorkshire, and have been produced to support newly-submitted plans for the development.
In the latest major milestone for the project, detailed proposals for the industry-leading development at the Goole 36 enterprise zone site have been put forward to East Riding of Yorkshire Council. The planning application provides specifics of the layout, scale, appearance and landscaping for the up to £200m development, following the granting of outline planning consent in July 2019.
The application seeks approval for 55,000 sq m (592,000 sq ft) of manufacturing, assembly, warehouse, testing and ancillary office and welfare buildings, proposed to be delivered in two phases. The planning application also sets out extensive proposals for landscaping and support for the natural habitat and wildlife.
In addition to the proposals for the manufacturing facilities, a separate planning application was submitted to East Riding of Yorkshire Council in December 2019 for an innovation hub which will also form part of the Goole site.
Project delivery

Caddick Construction has completed the first phase of Redsun's AVIATOR industrial development in Ellesmere Port. This first phase comprises a striking new 125,000 sq ft industrial unit at North Road Industrial Estate.
The AVIATOR project will ultimately provide up to 450,000 sq ft of industrial space. The popular location is already home to DHL, Jaguar Land Rover and Vauxhall Motors assembly plant. The site forms part of the Cheshire Science Corridor and benefits from the 100 per cent enhanced capital allowances offered by its Enterprise Zone status.
Nick Wightman of Redsun said: "Just a two-minute drive from the motorway network, the site has Enterprise Zone status, offering very attractive capital allowances against fit-out and machinery costs."
Ian Threadgold, head of Caddick Construction's North West office, added: "To deliver the first industrial build at the significant Aviator development is an honour for the team and testament to our experience in delivering high quality industrial premises."
Green plan
In an industry first, Costain, the smart infrastructure solutions company, has launched its detailed climate change action plan in which it commits to deliver low carbon solutions, including tackling 'Scope 3' emissions, to every client by 2023 and to be net zero by 2035. This will be via a whole life cycle approach, eliminating its clients' and supply chain's emissions as well as its own.
Working collaboratively with government, clients, partners and its supply chain, Costain has revealed that by 2023, every solution delivered for clients will propose at least one low carbon option, with whole life cycle zero carbon emission solutions being delivered by 2035. The plan also outlines how the Group will play a leading role in the development and delivery of both carbon capture and clean and renewable energy generation to reduce carbon footprints across every sector.