Updates and information from the construction and civil engineering market
Essential service
Deanestor, one of the UK's leading furniture and fit out specialists, has provided clinical equipment to three of the new NHS field hospitals – Harrogate, Glasgow and Birmingham.
Two projects were completed for principal contractor BAM Construct UK and with architects BDP, supplying a total of 12 lorry loads of specialist equipment to the Harrogate Convention Centre which was converted into an NHS Nightingale Hospital.
At the Louisa Jordan Hospital in Glasgow, Deanestor worked with principal contractor Balfour Beatty plc, and Robertson Group, Graham Group and Kier Group, supplying a range of specialist clinical equipment, delivered from the factory in Mansfield in just a few days.
The NEC in Birmingham was also converted into a new Nightingale field hospital, designed by BDP, to provide additional capacity for the NHS with clinical space for 800 patients. Working with Interserve for University Hospitals Birmingham, Deanestor supplied specialist clinical equipment including workbenches and storage space, which were delivered to site within 24 hours of receiving the instruction
Welcome relief
The National Federation of Builders (NFB) has welcomed the Government's announcement that it will amend the Community Infrastructure Levy (CIL) Regulations to give much needed relief to small and medium sized housebuilders.
The Ministry of Housing, Communities and Local Government has said it is changing the regulations to encourage local authorities, who are responsible for CIL levy collection, to defer payments, temporarily disapply late payment interest and to provide discretion to return interest already charged since the beginning of the lockdown period for SMEs with a turnover of less than £45m per year.
Chief Executive of the National Federation of Builders, Richard Beresford welcomed the changes, but the NFB is warning that Government needs to avoid adding additional administrative burden on housebuilders, and called for an extension to planning permissions.
A classy façade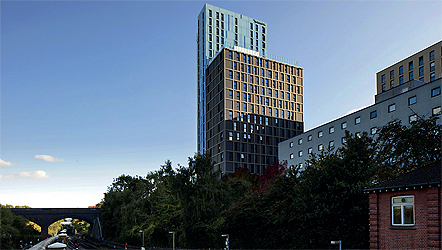 Proteus Facades has helped a 24-storey student accommodation block in London to blend in with its surroundings, through innovative use of the company's glass rainscreen cladding panels.
Located in the Mayor of London's Old Oak & Park Royal Opportunity Area, Holbrook House, designed by award-winning architects SimpsonHaugh and Partners, is part of the Downing Students portfolio of properties. Holbrook House features 497 contemporary, affordable student residencies ranging from three bedroom, two bathroom shared flats to self-contained studio apartments. The building also includes a range of community facilities including a gym, common room, and games area. Landscaped roof terraces provide students with an outside space to relax, whilst retail space is provided at ground level adjacent to the London underground station entrance.
Constructed by Downing Construction and subcontractor Dane Architectural, Holbrook House is divided into three sections. The taller and more monolithic of the three multi-storey buildings features A2 rated, Proteus GL rainscreen cladding panels in five different shades, which graduate from a dark blue/grey to light blue/white.
The smaller of the three blocks at Holbrook House features natural terracotta tiles, with a cruciform pattern applied expressing the internal functionality, while the second, central section features bright reflective metal panels. All of which, along with the Proteus GL rainscreen cladding panels, were chosen to complement one another whilst providing a robust façade that offers some protection against the elements.
Ahead of schedule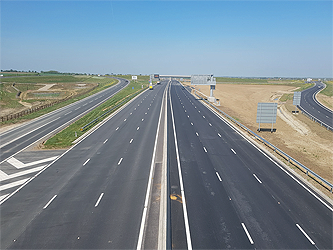 Working in collaboration with the A14 Integrated Delivery Team, Aggregate Industries has completed all major works on one of the UK's largest infrastructure projects – Highways England's A14 Cambridge to Huntingdon Improvement Scheme. The improved road officially opened for traffic on 5th May – eight months ahead of the scheduled opening date.
This major infrastructure project saw a total of over 1.6 million square metres of road constructed and surfaced, and ten kilometres of non-motorised user pathways created.
This required more than 730,000 tonnes of asphalt to be manufactured at a purpose-built plant on site, along with in excess of 550,000 tonnes of low-carbon cement bound granular mixture (CBGM), manufactured on a mobile cementitious mixing plant by SiteBatch. These plants, and the use of rail for transporting aggregate, played a crucial role in minimising the carbon footprint of the scheme.
Aggregate Industries also utilised its unique ultra-low noise asphalt, 10mm SuperThin to satisfy stringent noise restrictions where required.
Paddy Murphy, MD of Contracting at Aggregate Industries highlighted the importance of completing this project amongst the disruption caused by coronavirus. "The resulting road ensures that deliveries of vital supplies and key workers will be able to reach their destination," he noted.
€500 million contract
HOCHTIEF has been awarded the contract to build the replacement of the A40 Rhine Bridge in Duisburg-Neuenkamp with a total volume of approximately €500 million. The Group will deliver Germany's longest free-spanning cable-stayed bridge as technical leader of a joint venture. The client is state-owned highway planning and construction company Deutsche Einheit Fernstraßenplanungs- und -bau GmbH (Deges).
"With this project, we make an important contribution to renewing the transportation infrastructure on a main traffic artery in Germany," commented HOCHTIEF CEO Marcelino Fernández Verdes.
The contract includes construction of an 802-metre-long cable-stayed bridge with two pylons that will be set up at a distance of 380 metres from each other. The project also comprises construction of connecting highway sections. The construction works were scheduled to start early in June and, according to a recent planning status, to be completed in 2026.
The bridge building experts of HOCHTIEF are involved in a large number of major projects in Germany. In North Rhine-Westphalia, for example, HOCHTIEF is currently replacing the Lennetal Bridge in Hagen on the A45 highway as well as the Schwelmetal Bridge in Wuppertal on the A1. On the A6 near Heilbronn in the state of Baden-Württemberg, the Group is building the Neckartal Bridge. As part of the A7 extension in Hamburg and Schleswig-Holstein, HOCHTIEF has newly constructed the Langenfelde Bridge.
Arch of Innovation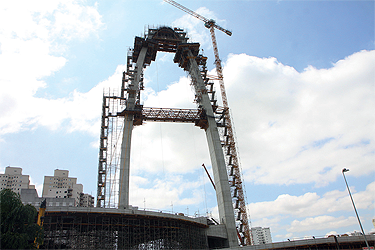 The Arch of Innovation is a cable-stayed bridge that will connect Zarur, São João, and Cassiano Ricardo avenues in São Paulo, Brazil. With a height of 100m, it has become one of the most iconic bridges in the country of its type, given its peculiar arc shape. This bridge will create a safer and faster route for more than 180,000 vehicles per day, as well as include a bicycle lane of more than 3.6 km.
One of the most important requirements in this project has been the versatility of the systems and the safety of the operators. To this end, Queiroz Galvão construction once again called upon ULMA's engineering solutions, as well as its capacity to respond to a project with stringent execution deadlines.
The ATR self-climbing system was chosen for the two pylons with variable inclination and four-sided section, in combination with the VMK timber-beam formwork for the outside and the KSP platform for the inside. The project also featured ENKOFORM HMK, MK and VM beams supported by T-60 shoring systems and BRIO stairs.