Updates and information from the construction and civil engineering market
BIM in action
Nemetschek Group's annual report featured an impressive architecture project: the Irina Viner-Usmanova Rhythmic Gymnastics Centre in Moscow. Software solutions from GRAPHISOFT, Solibri, and Allplan were involved in planning and 'shaping' this building. The sports facility seats 4000 people and hosts competitions and training events. Its striking feature is the unique roof shape resembling the form of a gymnastic ribbon fluttering above the ground. The project was led by Creative Production Union (CPU) PRIDE, an architecture office in Moscow. The broad application of Building Information Modelling (BIM) is a high priority for CPU PRIDE. Undertaking the complex planning activities for this project required a comprehensive BIM solution. It served as the main tool for co-ordinating the work of the architects and the specialist engineers.
"The project demonstrates the consistent use of Open BIM in a real-life application, leveraging different software solutions from the Nemetschek Group," says Viktor Várkonyi, Chief Division Officer of the Planning & Design Division and member of the Executive Board of the Nemetschek Group.
Integrated hub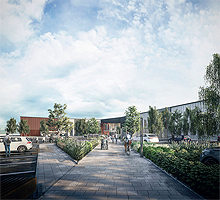 Planning permission has been granted for a revolutionary multi-million-pound 'public service development' at Western Way, Bury St Edmunds – designed to unite public services with enterprising space.
The development will offer a new, state-of-the-art leisure centre with an integrated health and social care hub, including large amounts of new employment space, council services, police, an advice centre, voluntary organisations, and community and education services, all located within one building, improving public access, service delivery and efficiency.
As well as offering opportunities for multiple other partners to join the scheme under the auspices of the government's One Public Estate programme, the project will repurpose a 10,000m2, 1960s depot building as part of its sustainability objectives, including significant infrastructure improvements and while further work will take place on a green travel plan with the emphasis being on reducing car travel.
A full range of services will be undertaken by built environment consultancy Pick Everard – operating under Perfect Circle's unique collaboration, which works exclusively on Scape Group's Built Environment Consultancy Services (BECS) framework – including architecture, building service, structural and civil engineering, quantity surveying, sustainability including BREEAM, BIM, highways engineering, interior design, and health and safety.
Continued growth
Errigal Contracts has announced it has purchased a significant site in County Antrim, Northern Ireland, following three years of growth and international expansion across Europe. The company is investing £20m over the next three-year period towards the initial development of the 70-acre site, the former Enkalon industrial estate, with plans to create a centre of excellence for off-site construction. The company already has manufacturing facilities in Monaghan and this further investment is part of the Brexit strategy to make the business more flexible.
Within the 70 acres purchased by Errigal in County Antrim, 30 acres of this includes a functioning distribution warehouse centre. The company plans to breathe new life into this, supported by Invest NI, as well as using the whole site to enable Errigal to continue to develop innovative off-site construction processes. The team will be working with their supply chain to encourage other companies to locate around the site, complimenting Errigal's off-site construction development. It will also include a residential development to meet local demand for housing across 15 acres and in addition create a host of jobs in the Mid-Ulster area.
Current projects for Errigal include the completion of 22 Bishopsgate, London City's tallest building, plus data centre development continues to fuel client growth in Mainland Europe with projects in Denmark, Holland, Sweden, Germany and most recently Switzerland.
Project advances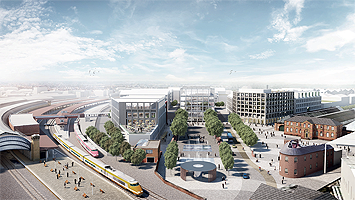 Homes England and Network Rail will be investing £77m to ensure that York's new city centre quarter development goes ahead, following confirmation of the route for the funding to the project from the Ministry of Housing, Communities and Local Government.
Investment in the York Central project was first announced in the March 2020 Budget. The Ministry of Housing, Communities and Local Government has now confirmed the amount of funding and handed responsibility for overseeing the infrastructure investment to Homes England and Network Rail.
A 'reserved matters' planning application for the first phase has already been submitted to City of York Council for a new main road entrance to the development site; a new bridge over the East Coast Main Line; new key cycling and pedestrian routes; improved existing and new drainage systems; and to provide critical landscaping as the beginning of the new public park. Homes England and Network Rail are determined to push forward with the project so work can start on site in 2021, while recognising that Covid-19 may slow progress.
The project will unlock brownfield land with significant access problems and allow the development of up to 3705 homes; up to 1.2 million sq.ft. of commercial development including 80 per cent Grade A offices and an enhancement of the setting and access to the National Railway Museum.
Top Marks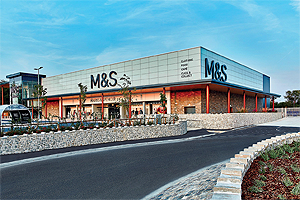 Gallagher Group Ltd has completed the delivery of a new Marks & Spencer store at Eclipse Park in Maidstone, Kent, which opened 12 August 2020. The construction is a true reflection of the Gallagher Group self-delivery model, with its own construction company, which led the development, and sister aggregates and masonry companies, which supplied and delivered building materials from its own nearby Hermitage Quarry.
Joe Heathfield, Property Director at Gallagher Group, commented: "This project provided our property and construction teams with the perfect opportunity to showcase our wide breadth of skills, from inception through to delivery and ongoing management, as part of our diverse property portfolio.
"As a Kent-based company, it was important for us to use local materials and include Kent's heritage within the design and construction, which is why we opted for Kentish ragstone, amongst other resources, to help us pay homage to the store's location and shine a light on Gallagher Group's masonry expertise."
Contractor lifeline
Developers and other construction project sponsors are demanding increased oversight over how contractors are passing money down to sub-contractors to reduce the risks of subcontractors going bust, says Boodle Hatfield, the leading private wealth law firm.
The failure of subcontractors because they have not received payment from the contractor regularly halts construction projects with the delays pushing the project into a financial loss for the developer. However, the economic shock of the lockdown is increasing the risk of this problem happening as contractors try to build a cash cushion by holding on to money that should be paid to subcontractors.
Boodle Hatfield says that some developers are considering giving contractors extra money or cash advances to help see them through the current crisis and keep them on site. These developers view this expenditure as something that in the long term will save them money