Updates and information from the construction and civil engineering market
Optimised road transport
ROSS Bauservice has successfully implemented the latest transport optimisation software from INFORM, a leading provider of AI and optimisation software that facilitates improved decision-making in building materials logistics.
ROSS Bauservice is a fast growing, medium-sized company, supplying aggregates and asphalt as well as topsoil and construction waste removal services to its customers in central Germany (Hessia and Rhineland-Palatinate area). The company operates a mixed fleet of its own trucks and external haulers.
"I knew INFORM's transport optimisation software and the benefits that come along with it from my previous activities in the building materials industry," said Thomas Gaul, Managing Director at Ross Bauservice. "So, the decision to use it here was a no-brainer.
"Since our dispatchers started to use INFORM's algorithms during the transport planning and real-time phase, neither our customers nor my team have to worry anymore," added Thomas. "New orders, cancellations, or delays at the construction site – the system constantly updates our delivery schedule, making sure that all orders are fulfilled at the end of the day."
Version 10 of INFORM's transport optimisation software comes with an overhauled user interface and is powered by the latest aggregates optimiser, combining 25 years of know-how in the building materials industry with cutting-edge AI technology.
High quality contract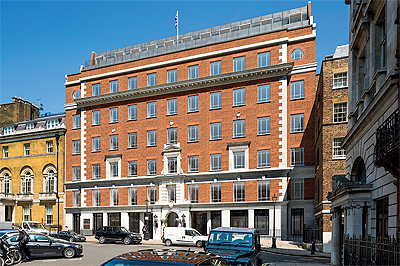 Skanska has won a contract to deliver the redevelopment of Norfolk House in central London, with work set to start in October 2020. The project is scheduled to complete by September 2022 when the building will be handed over to Skanska's customer.
The redevelopment of Norfolk House comprises the creation of a new eight-storey, commercial office building, including the reconstruction of two brick and Portland Stone facades. The project also involves additional excavation to create a deeper basement. Internally, it will be finished to a Category A standard across all office floors. It will also include two reception entrances on St James' Square and Charles II Street.
Skanska's multidisciplinary team will draw on its expertise to install the mechanical, electrical and plumbing fit out services and install a bespoke entrance veil.
In preparing for the project, the team also drew on its knowledge and expertise to manage the specific acoustic and noise restrictions that are required given the building's location.
Augmented infrastructure
Ardian, a world leading private investment house, along with a group of business angels, has acquired a minority stake in Wintics, a French AI solution for smart cities.
Commenting on the deal, Mathias Burghardt, Head of Ardian Infrastructure and Member of the Executive Committee of Ardian, said: "Entrepreneurship is in Ardian's DNA, and by investing in Wintics we are proud to support French innovation and contribute to the country's smart cities technology ecosystem. We have been consistently impressed by what Wintics' technology has to offer and by the know-how and leadership demonstrated by its founders. We look forward to supporting Wintics' development and intend to leverage our partnership to create strategic synergies with our portfolio companies. Wintics' technology is indeed an essential brick in our vision of Augmented Infrastructures."
Quentin Barenne, Co-Founder of Wintics, added: "We are thrilled about our partnership with Ardian. Working with Mathias and the team throughout the process, it was clear that our excitement for innovation and data is shared. We are particularly pleased about the opportunities this opens up for Wintics' next stage of growth and the strides this will enable across our R&D activities – ultimately allowing us to continue to support the development of smarter cities and roads."
Wintics launched its fundraising process in the spring of 2020 with the aim to scale its technology and accelerate its development in France and internationally.
It's automatic

MariMatic has, through a public tender process, been chosen by the city of Amsterdam as the supplier of an Automatic Waste Collection System (AWCS) for the new residential area in Sluisbuurt. The system utilises MariMatic's unique energy efficient MetroTaifun® technology with non-corrosive pipe networks.
Sluisbuurt is a new neighbourhood in Amsterdam located on the Zeeburgereiland and it will comprise of 5500 new homes and include schools, shops and offices. In addition to the OAT system (Dutch acronym for automatic waste collection system AWCS), the area will be equipped with other kind of sustainable technologies, such as district heating from renewable energy.
Waste is collected and transported directly from the buildings through an underground pipe network by using vacuum conveying to a waste transfer terminal, eliminating noisy and polluting traditional waste trucks from the area. Four different waste fractions are collected to separate containers located in the waste transfer terminal. The containers will then later on be picked up for further distribution to recycling centres etc.
The waste transfer terminal, which is part of the scope of the contract, called 'The Diamond', will be located in the park. The building is designed with high sustainability in mind, including solar panels, rainwater collection and even a charging point for the service cars. Part of the walls will be glass, giving the public possibility to view the pneumatic collection in action.
Station improvement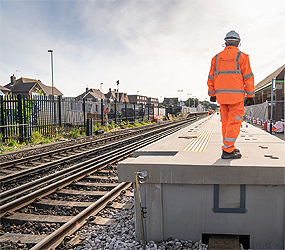 Dyer & Butler, a part of M Group Services, has been appointed to deliver platform extensions at Cambridge railway station on behalf of Abellio Greater Anglia. The programme of works will include a 40-metre platform extension along with fencing, drainage and platform end steps to allow Greater Anglia's new, longer Bombardier commuter trains to call at the station.
In addition, Dyer & Butler will deliver circuit signal rehabilitation works; buffer stop relocation on the main tracks; overhead line strengthening; additional lighting; and additional CCTV cameras and public address speaker installations. The work, which is planned to start in December and finish in May 2021, will see Dyer & Butler work closely with Greater Anglia's new trains project team throughout.
The platforms will be extended using EPS modular expanded polystyrene platform system blocks. The system can be installed in either standard engineering access hours or abnormal possessions and offers a number of benefits.
£10m contract
Esh Construction's commercialbuild division has secured a £10 million contract to transform the Hexham Bunker into a 69-bedroom Travelodge and Lidl retail outlet. Delivered on behalf of Union Property Development (Hexham) Ltd, the retail development will be based on land formerly used as a nuclear bunker and will also provide a new 250-space public car park for the town. The project will include significant works on the highways infrastructure which will improve access to the site and the safety of pedestrians.
Esh has been appointed as the design and build contractor to deliver the development, working in partnership with the design team – FaulknerBrowns Architects, Portland Consulting Engineers and kyoob. The development is expected to create 60 new permanent jobs in the area and an estimated £2.16m visitor spending to Hexham.