Updates and information from the construction and civil engineering market
Impressive progress
Significant progress is being made at Panattoni's Wakefield515 site, where steel is already up on the largest speculative development in the north for ten years. Caddick Construction, Panattoni's build partner for the landmark Yorkshire project, is on site to progress the 515,820 sq ft warehouse. The steel framework is now fully formed and cladding being added.
Andy Preston, Development Manager for the project, said: "We are pleased to see such good progress on this important development. Wakefield515 will not only meet demand for large warehouse facilities along the M62 corridor but also contribute to economic development in the north. Construction work will provide an immediate boost for the area but the building's benefits will be felt long after this phase is complete. We look forward to seeing it take shape."
Wakefield515 is designed to offer maximum flexibility for logistics and distribution businesses. The cross-docked warehouse will provide occupiers with generous yards of up to 100m and will incorporate sustainable features, such as rainwater harvesting systems, a PV ready roof and LED motion sensor lighting. The building will be built to a BREEAM rating of 'Very Good' and EPC rating of 'A'.
Exceptional environment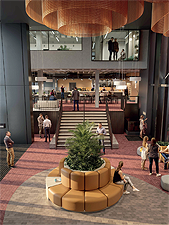 The £6.5million redevelopment of the prominent M33 offices in Sale, UK is making great progress as the steel work completes. Contract Services is the construction company managing the works.
Formerly known as Jackson House, the 128,000 sq ft building is being extended and refurbished on behalf of CEG. Offering the largest single floor plates of any office in South Manchester at almost 30,000 sq ft, the building is being transformed with a c2,000 sq ft extension to deliver a contemporary, glazed double-height entrance reception, café and terrace. The 'pop out' windows complete the new look and a new cycle hub and electric vehicle charging points are being installed alongside the refurbishment of interior business suites.
Designed with sustainability in mind, the refurbishment will deliver high quality office space with energy efficient lighting and heating solutions, enhanced by new thermally efficient windows.
Currently home to IBM, Sesame Banking Group, Ralli Solicitors, Reassured and AA Projects, Canning O'Neill and Savills have been appointed as letting agents to market the new-look space.
Vital support
Premier Modular, one of the UK's leading offsite construction specialists, has been awarded a major contract for the Department for Health and Social Care to provide modular buildings for 25 Covid-19 testing sites across the UK – from Glasgow to Portsmouth. The contract will support the Government in increasing testing capacity in the current pandemic.
Each standalone test site has a 110sqm purpose-designed testing building pre-installed with eight patient cubicles, hygienic walls, separate staff entrance and exit, test collection and drop off zones and a family testing room. Premier's contract also includes the supply of welfare facilities in three buildings to accommodate a PPE room, stores, test preparation, staff rest room, kitchenette and toilets, as well as essential services – water supply, waste water collection and electricity generators.
Modular buildings have already been installed by Premier at testing sites in Bolton, Glasgow, Nottingham and Havant. The contract was procured through the Crown Commercial Service and will be completed this autumn.
David Harris, Managing Director of Premier Modular, said "This is a vital initiative to help safeguard public health. It is also a fantastic example of how modular construction can help the NHS respond to local needs and an urgent requirement to rapidly increase capacity."
This latest contract follows Premier's successful delivery of 1700sqm of modular buildings for the Nightingale Hospital in Exeter in just four weeks.
First DSM for Germany

Hexagon's Geosystems division has been awarded a contract by the German Federal Agency for Cartography and Geodesy (BKG) to provide a homogeneous, comprehensive digital surface model (DSM) for Germany. The data is provided via the HxGN Content Program, a licensed, high-quality geospatial data service from Hexagon. The program was launched in 2014 and is currently available in Europe and North America.
The BKG has data sets with general height information of the Earth's surface across its entire federal territory. However, these can vary from state to state because they are generated from different source data. An up-to-date, homogeneous and high-resolution DSM is required by organisations operating across state borders, such as the Federal Agency for Technical Relief (THW), the German Air Traffic Control, the German Armed Forces Geoinformation Centre and the Federal Office of Civil Protection and Disaster Assistance. The data must meet high quality requirements for positional and vertical accuracy, resolution, currency and flexible licensing options for the federal government, the states, European and international organisations. In addition, the HxGN Content Program offers powerful streaming services.
The data also offers great value to companies such as telecommunication providers, utilities, transportation networks or insurance companies. Apart from traditional applications, the data is also used in the digital industry to automatically extract features for example with artificial intelligence (AI) or as a base map for the self-driving cars industry.
New distribution deal

Concrete additives specialist Oscrete has signed a distribution agreement and will carry the full range of products developed and marketed by Austria based Newchem. Headed up by construction industry chemist and CEO Denis Bezard, Newchem already works with a supply network that offers concrete additives to construction companies across Europe.
"In the UK, we were keen to team up with a business that could offer technical support for our products," states Ralph Schelp, Newchem Sales Manager. "Oscrete has the expertise and technical knowhow to advise customers on how to achieve maximum benefits from our product range, which was a crucial requirement for us."
"The use of supplementary cementing materials (SCM) is becoming increasing popular in the construction industry and these Newchem products are an excellent addition to our portfolio," added Duncan Owen, Divisional Manager at Oscrete. "Newchem's Pozzolanic additives, in the form of Metakaolin, are manufactured products, produced to high tolerances and offer many benefits when used in cementitious materials."
Controlled parking
The misuse of parking spaces reserved for specific uses has an important and negative impact on urban mobility and is a pain in the neck for most public administrations.
Clear examples are the fraudulent use of parking spots reserved for people with reduced mobility, parking violations in loading and unloading areas, and users who are badly parked in the spaces reserved for the electric charging of vehicles, preventing the proper development of urban sustainable mobility plans.
Urbiotica has developed a complete solution to control the use of the reserved parking spaces for these uses. Consisting of a sophisticated sensor in the parking space (U-Spot), the ParkTime APP, the ParkCTRL APP and the U-Admin platform, the system can help identify and control the users parked in each parking space, drastically reducing infractions and increasing vehicle rotations in the spaces, which impacts favourably on parking availability.