Updates and information from the construction and civil engineering market
Boots on the ground
Renowned in the construction and building industry for quality and durability, Dickies Workwear has built a global reputation for quality and performance, marrying innovation, comfort and protection. The company offers an extensive range including coveralls, trousers, shirts, jackets, fleeces and bodywarmers, plus a wide selection of high performance products.
When it comes to safety boots, Dickies' range is available in a variety of styles and colours. The Dickies Women's Corbett Safety Boot is one of the company's bestselling women's safety boots, and features full non-metallic protection in the toe-caps and underfoot, as well as being antistatic and SRC slip resistant. Both smart and durable, the Corbett range features a padded collar and tongue along with breathable mesh lining. Fuel and oil resistant, the Corbett safety boot has been put to the test and is EN ISO 20345:2011 S3 SRC classified. The Corbett Safety Boots are available in two colourways – black and honey. Each pair is priced at £61.50 (VAT free).
Visit the Dickies Safety Boot page for more information: www.dickiesworkwear.com/uk/footwear/safety-boots
www.dickiesworkwear.com/uk/dickies-womens-corbett-safety-boot-fc9523
CCE's editor has been testing a pair of Dickie's Corbett Safety Boots in the honey colour variation, and while admittedly not on a building site, they have been put through their paces during home renovations, gardening, weekend walks and around the office "I was immediately impressed with the stylish look of the boots, and I had no hesitation about wearing them out and about. However, these are not 'fashion' boots, and all the additions required from a work boot definitely made them a class apart – the SRC slip resistant sole and water resistance stood out in particular. The underfoot protection was a bonus in the garden, as was the composite toe-cap. Most important of all, the boots are supremely comfortable, with good support round the ankle, a removable insole and spare laces included. I am very impressed with my Dickie's Corbett Boots and I will definitely continue to test them in as many situations as possible going forward."
Grabbing the opportunity
On Feb 15th Kit Malthouse, housing minister, announced £6m of funding for the Community Led Homes Programme. Funding of up to £10,000, managed by four charities, will be provided for groups to cover start-up costs. A further £3.5m will be made available for technical advice and guiding communities through the house building process.
The funding will be accessible until 2021 and managed by the Confederation of Co-operative Housing, Locality, National Community Land Trust Network and UK Cohousing.
The National Federation of Builders (NFB) is delighted to see the Government take community housing seriously and welcomes efforts to diversify the housing market.
Richard Beresford, chief executive of the NFB, said: "The Government is listening to the industry and unlocking important funding for a range of developments. Encouraging community housing is a positive step towards tackling the housing crisis."
New branding
The Munich-headquartered Nemetschek Group has unveiled the creation of a new brand name and logo for its building operations & management segment. The Group's solution offering for the building management segment now goes under the name of Spacewell. "The name Spacewell evokes our mission to help companies create healthier, happier and more productive spaces. By connecting to the Internet of Things and leveraging real-time data from sensors and user devices, building management is becoming much smarter. As a result, our clients can create better spaces, deliver smarter services, and improve occupant well-being. The whole sector is in a state of flux and we're excited to launch Spacewell at this pivotal time. It becomes the umbrella brand in the Nemetschek manage segment, covering the Group's activities in the rapidly evolving building operations market," said Koen Matthijs, CEO of Spacewell.
A healthy result
The final modules have been craned into position on site for a new wing at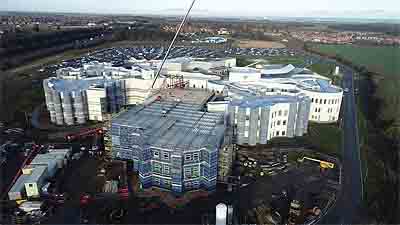 Northumbria Specialist Emergency Care Hospital in Cramlington. The structure for the 6,500m2 three-storey building was manufactured offsite by McAvoy using the latest modular technology to minimise disruption to patient care and to reduce the build programme by half to less than 12 months. The building was craned into position as 294 steel-framed modules in a highly complex operation and just ten months after the initial meeting the Trust.
The £15m contract is the Group's largest healthcare project to date, and features a number of innovations in offsite construction. It is using larger, bespoke modules up to 14.85m long, which have been specially engineered to provide a structural flooring solution that seamlessly integrates with the existing hospital building. This will meet the key requirement for efficient patient flows, removing the need for ramps and steps. Mechanical ventilation, heating and cooling systems have been installed in the ceiling voids in the McAvoy factory. This is believed to be an industry first in the healthcare sector.
Pioneering prototype homes
CEG has announced it will deliver two prototype homes at its £400 million flagship Kirkstall Forge development in Leeds. Construction on the two prototype houses commenced in February 2019 and completes late summer when members of the design team will stay in the fully furnished three and five-bed homes, rigorously testing elements of the home including kitchens and bathrooms.
Following their feedback, improvements will be made to finesse the final product before construction begins on the first phase of 112 contemporary homes which have been designed by Stirling Prize winner Feilden Clegg Bradley Studios.
Aisling Ramshaw, head of sales and marketing – Kirkstall Forge, commented: "These prototypes are important as they will help to ensure every detail of the design has been considered and tested. How many times do you walk into a home and think why has the architect put that there? By living in these homes our team will put all aspects of the design thinking to the test."
CEG's decision to ensure Kirkstall Forge is 'Different by Design' has paid off to date; with the opening of a new railway station to connecting this development site to Leeds City Centre in just six minutes, followed swiftly by a 110,000 sq ft office development which was 90 per cent let less than a year from completion, securing the prestigious British Council of Offices best UK 'Commercial Workplace' award.
Urban regeneration
In late February, work started on-site at Redfern, a Grade II listed former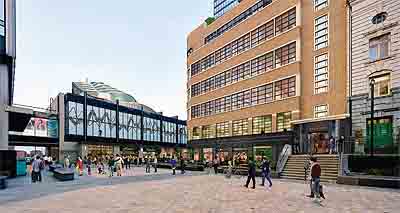 warehouse and office block in Manchester, only a month after securing planning permission for redevelopment. The Iconic Dutch Modernist building is to be transformed into quality office space with ground-floor retail and leisure facilities.
Redfern is the latest listed building in NOMA to be redeveloped. NOMA is a 20-acre neighbourhood in Manchester city centre, which also includes Hanover, where global e-commerce giant Amazon announced it would be opening its first UK headquarters outside of London, completed late last year, and Dantzic, which is on track for completion in Spring this year. Another project, Federation, was completed in 2017. Manchester-based contractor Russells Construction, which also worked on Federation, Dantzic and Hanover, will lead the construction work.
Under the design by architect Sheppard Robson, Redfern's recognisable redbrick façade will be maintained. Internally, industrial-chic fittings such as exposed air ducts and suspended lighting will help appeal to tech workers and creatives who increasingly power Manchester's economy, while a new rooftop terrace at Redfern will create a space where they can relax and socialise.