Updates and information from the construction and civil engineering market
£90m logistics
The Drummond Estate, a local family trust, and partner Landchain have submitted a major planning application for a £90 million logistics hub, which will also deliver the Enderby Relief Road, diverting traffic around the village of Enderby in Leicestershire.
"The new development will create thousands of local jobs and we hope the Training Centre will assist those looking to upskill within today's high-tech logistics sector," commented Martin Ward on behalf of The Drummond Estate.
The 30-hectare site is close to Junction 21 of the M1 and lies to the east of the M1 and south west of the Enderby Park and Ride. It would create a new logistics destination with 106,500 sq m of advanced warehouse and distribution space and provides for a specialised Logistics Training Centre, which would assist in plugging the growing skills-gap for high tech logistics employees across the region.
The development proposes buildings ranging from 14,000 sq m to 46,000 sq m, with the flexibility to further sub-divide plots to suit individual occupier's needs. The development aims to set new environmental standards for industrial development in the region.
Westfield Regeneration contract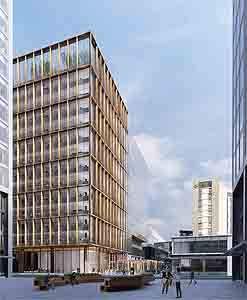 National engineering specialist, SES Engineering Services (SES), has been appointed by Unibail-Rodamco-Westfield to deliver a £9m mechanical services scheme at its M7 commercial development in Stratford, London. The contract will see SES provide all shell and core, domestic and major plant services, including a basement district heating plant, water and ventilation systems, across the 28,000 sq m 12-storey office scheme, targeted towards a BREEAM rating of Excellent.
As David Jenkins, SES' business director for London and South East explained, this latest project win demonstrates the strength of SES' offering in delivering Grade A commercial developments across the capital, which continues to be a key driver for our business. "Securing a role on such a pivotal regeneration scheme is testament to our teams' energy and expertise, with our proven track record in completing complex projects efficiently and thorough planning proposals, both key factors in the clients' decision to appoint us," he stated.
Construction has already begun, with SES starting on site in December 2018 and completion expected for August 2019.
Time is running out
A leading figure in construction has set out his vision for modernisation of the industry. In his keynote address at an event hosted by Enterprise Ireland in association with the Constructing Excellence London and Cambridge-Oxford Clubs, Mark Farmer, CEO of Cast Consultancy, and author of the UK Government Review of the Construction Labour Market Model in 2016 'Modernise or Die', said the industry was still beset by outdated practices and an inability to address external factors it can't control. An 'unholy trinity' of trends with the potential for a serious crisis in the industry – an ageing workforce, a lack of attraction for new entrants, and geopolitical factors like Brexit – posed a serious threat to the industry.
Farmer also drew attention to the radical changes underway in other sectors, most notably automotive and manufacturing generally. With digital technology, machine learning and blockchain now becoming the norm in everything from design, to build and quality assurance, traditional 'Tier One' suppliers in construction will find radical 'disruptors' challenging from other sectors and from construction start-ups. Professional roles will also become redundant and entirely new skillsets will replace them. He went on to discuss the adoption of Building Information Modelling (BIM) as a digital tool for planning and building in the industry, but said that too often it didn't translate into efficient building on the site.
Holding back the flood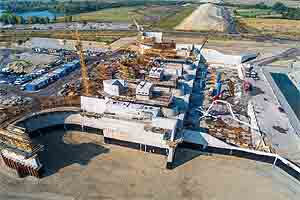 ULMA is providing scaffolding and formwork solutions for the construction of the Racibórz Dolny flood-control dam in Southwest Poland. The dam will only be filled during floods, to protect the areas along the river Oder between Racibórz and Wrocław, with a population of 2.5 million people.
When the project is completed, the Racibórz Dolny Dam will have a total holding capacity of 170 million cubic metres, placing it at the forefront of such projects in Poland. The dam will reach a total length of four km, featuring frontal floodgates and a six-span spillway.
ULMA employed the systems best suited to meet the requirements of each structure: a six-span overflow channel, machine rooms, columns and abutments. In addition, a reinforced concrete bridge was also built using the columns as supports, so as to facilitate traffic and future maintenance. Products used include ORMA Panel Formwork for the fair-faced walls, providing high performance with minimal labour costs; ENKOFORM VMK Beam Wall Formwork for the wall bulkheads, given the density of the rebar reinforcement; BIRA Circular Formwork for the radial faces, including the raised ends and backs of pillars, as well as retaining walls for the left and right box-outs; and BMK Climbing Brackets, which are configurable for inclined and curved walls.
Breath of fresh air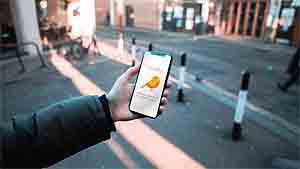 A unique app has been launched by King's College London for the British Safety Council's Time to Breathe campaign.
Canairy draws on the London Air Quality Network (LAQN) pollution map at King's and the worker's GPS to calculate a user's exposure to pollution on an hourly basis. Once this exposure exceeds World Health Organization's (WHO) limits for the concentration of nitrogen dioxide, particulates and ozone, the app notifies the user and suggests tips to reduce their exposure, including working away from traffic, reducing strenuous work or putting up a screen barrier.
The app will, for the first time, collect information to enable the mapping of where and to what degree exposure is happening across the capital. Employers will be able to access this anonymised exposure data relating to their workers and use it to inform how they schedule work for them to avoid the worst levels of toxic air.
Building Sweden
Construction projects planned within the Stockholm region show an estimated total investment volume of €111 billion until the year 2040, according to an Invest Stockholm report. It highlights the largest investment share is in housing, with an investment volume of €60.7 billion, followed by infrastructure investments in railway, subway and lightrail, with an investment volume of €9.6 billion.
"We're the economic growth engine of the Nordic countries and one of the fastest growing regions in Europe. So, if you are a global investor looking to cover the Nordics, Stockholm is the obvious choice," says Erik Krüger, acting CEO of Invest Stockholm.
Construction projects are planned throughout the whole Stockholm region. While the largest chunk is in the regional centre, Stockholm city, large parts of the infrastructure span from Stockholm to the outskirts of the region, and large development projects are planned in all of the larger cities.