Updates and information from the construction and civil engineering market
Planning approved
Plans for a new, £21 million medical school building at the University of Lincoln (UoL) have been approved, providing a significant, new opportunity for medical students to study in state-of-the art-facilities in the UK.
Perfect Circle – a consortium comprising of Pick Everard, Gleeds and AECOM – is delivering project management, cost management, BREEAM consultancy services and design services for the scheme at UoL, located at the Brayford Pool Campus, Lincoln. The provision of these services has been enabled by the Scape National Built Environment Consultancy Services (BECS) framework.
The new, five-storey building is due to complete in Spring 2021 and will comprise: lecture theatres; laboratories; clinical and prosection anatomy suites, equipped with cutting-edge diagnostic tools; and a science library. Mock consultation rooms in the clinical suite will allow students to experience real life situations encountered by those in the medical profession, using the latest technology.
With aspirations to reach carbon neutrality, the building has been designed to meet BREEAM Excellent standards, with features including a living wall and photovoltaic panels.
World-class training centre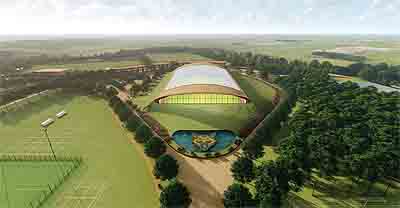 Work to create one of Europe's most advanced football training facilities is making progress, with Mick George Concrete the latest supplier contributing to the new Leicester City Football Club development. The company has secured a £1.2m agreement to supply 16,900m3 of concrete, on behalf of Gallagher Group, employed by principal contractor; McLaren Construction.
The 60-week production will see Mick George Ltd supplying concrete materials from its brand-new batching plant located at Mountsorrel, Leicestershire, one of two sites that the business operates in the county.
The main building of the new facility is an impressive structure that moulds into the landscape. Surrounding the building will be 11 full-size outdoor pitches, eight smaller pitches, five training grids and two goalkeeping areas.
The project supports biodiversity in the area, with the creation of 17 new ponds over 9400sqm, to attract wildlife and help to manage surface water drainage. In addition, 38,000 new trees will be planted across more than 11 hectares of retained woodland, alongside 4.4 hectares of new planting and landscaping and 14.6 hectares of wildflower grassland.
£102m contract
Balfour Beatty has secured a £102 million contract to construct phase one of the East Wick and Sweetwater development on behalf of East Wick and Sweetwater Projects Phase 1 Ltd.
Once completed, the newly created East Wick and Sweetwater neighbourhoods will contribute to the transformation of the Queen Elizabeth Olympic Park, providing a new, diverse and vibrant part of East London, as well as 1500 new homes for the community.
The initial phase, which marks the first of seven construction phases, will see the delivery of four mixed use buildings, including 302 apartments, townhouses and duplex residencies and a number of associated commercial facilities including retail and leisure amenities.
Balfour Beatty Investments, in joint venture with Places for People, will provide equity for the construction works with borrowed funding provided by Homes England.
Graham Hill, Balfour Beatty's Managing Director for its London Regional construction business, said: "This contract award builds on Balfour Beatty's strong relationship with the Queen Elizabeth Olympic Park and the London Legacy Development Corporation."
The project will target BREEAM 'Excellent' status, and as outlined in the Queen Elizabeth Park's Biodiversity Action Plan to form open spaces for recreation, the scheme is committed to biodiversity enhancements. Equally, 20 per cent of the main building materials are to be made from re-used and recycled sources.
Dusseldorf development

With a population of about 617,000, the North Rhine-Westphalian capital Dusseldorf is the seventh largest city in Germany and the second largest city in North Rhine-Westphalia after Cologne. The UpperNord Tower, a modern residential development, is currently being built to meet the growing demand for living space and will become another landmark of the Dusseldorf skyline.
The client, UpperNord Tower GmbH & Co. KG, a member of CG Group AG, contracted the 'UpperNord Tower excavation pit' Joint Venture, which consists of BAUER Spezialtiefbau GmbH and Gerhard Kliemt GmbH, to carry out a variety of specialist foundation engineering and earth works as well as construct the dewatering system for the impermeable retaining structure of the UpperNord Tower.
Around 6000m² of shoring wall for the retaining structure is being constructed using the low-vibration mixed-in-place (MIP) method – an RG 25 S from RTG Rammtechnik GmbH, a subsidiary of BAUER Maschinen GmbH, is used for this MIP work. In addition, an RG 16 is being used to install 700t of reinforcement in the form of inserted double steel beams, each of which is 22m long and weighs up to 5.4t. This reinforcement is another special feature of the construction project.
The project also includes the scheduled removal of obstacles using a BAUER BG 40, dewatering for nine months and excavation of around 57,000 m³ of soil, including disposal by Gerhard Kliemt GmbH.
Heads-up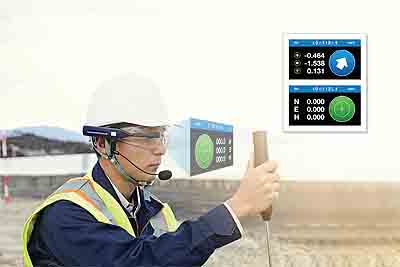 Topcon Positioning Group introduces a new LN-100 hands free, voice activated heads-up display (HUD) solution. This wearable assistant provides visual layout directions via HUD glasses that guide the operator using an LN-100 to efficiently perform layout work at a construction site. The wearable assistant enables customers to use both hands to accurately mark layout points.
"This innovative device operates with simple voice commands to complete construction layout with precision," explained Ray Kerwin, director of global product planning. "In addition, the wearable display is capable of taking pictures and videos to easily document progress and key construction points-of-interest. Compared to conventional layout methods, this new HUD speeds layout productivity by up to 80 per cent."
To help speed up construction workflows, the wearable assistant software also allows immediate report generation while on the construction site.
Maximum control
Kobelco Construction Machinery, one of the world's largest excavator manufacturers, collaborated with Engcon and Leica Geosystems to showcase an automatic digging excavator with tiltrotator functionality at this year's Bauma trade fair in April.
Kobelco Construction Machinery Europe B.V. (KCME), Engcon and Leica Geosystems combined to produce Kobleco's first tiltrotator-compatible excavator. The excavator utilises the latest 3D Machine Control (3DMC) technology from Leica Geosystems with market leading tiltrotator technology from Engcon.
The three manufacturers have worked in partnership to develop a system that can control the excavator's boom movement, position, tilt and rotation angle of the bucket with a single lever. The flexibility of the system means that operators can choose to automatically use a combination of these movements to provide maximum control.
Kobelco's automatic excavator and tiltrotator system is planned for release in Europe during the first quarter of 2020.