Updates and information from the construction and civil engineering market
New arrival to UK
Congrid, the Finnish construction quality and safety software company, is expanding into the UK and has appointed Daniel Hunt as UK territory manager. Daniel will be responsible for spearheading customer acquisition and hiring further staff in 2019. Already established in Finland and Sweden, the UK is the first country Congrid has moved into outside of the Nordic region.
Already the market leader in Finland, Congrid's cloud-based app is aimed at project managers and quality managers at construction companies involved in various projects, including housing, offices, hospitals and schools. It introduces new levels of transparency and communication for safety and quality on construction projects and helps deliver zero-defect buildings to clients.
"We aim to bring our expertise and knowledge to the UK market and introduce new, smarter ways of working relating to safety and quality in construction. Our approach offers the UK construction industry a better understanding of what has been built and how," explained Timo Makkonen, CEO of Congrid. "The entire industry needs to change its mindset towards quality – quality is everyone's business. Our software enables all stakeholders involved to participate and take responsibility for quality and safety. What we've experienced is that quality has become far more of a priority and users are looking for peace of mind, to better manage how a building is built and have a record to demonstrate this."
Home from home
The timber frame at Nottingham's newest student accommodation, The Nest, is now taking shape onsite, with the view to create 57 new flats by the end of the year. The £5 million scheme, located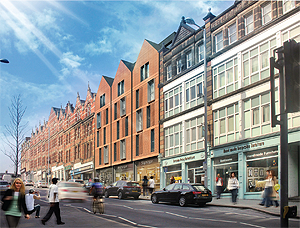 at Derby Road, will feature 57 luxury, purpose-built student studios and a ground floor commercial space.
Wayne Oakes, director at Dice – the multi-disciplinary engineering consultancy, which has been working on the project since its inception last year and delivered civil and structural design services – said: "The Nest is a bespoke, student accommodation which has been designed with international students in mind – incorporating the latest in studio design, great communal facilities and all in an amazing location, close to the city centre."
As Wayne noted, several local teams from Nottingham have been involved in this project: "From us on the engineering side and BEC on the mechanical and electrical engineering side, to the contractors, J A Ball, delivering the work itself – which is, of course, fantastic for the local economy and the city's construction industry."
Landmark London development
Queensgate Investments and Rockwell now have the green light for their proposed redevelopment of the Kensington Forum. Mayor of London, Sadiq Khan, resolved to grant planning permission for the landmark new hotel, serviced apartment and conference scheme on Cromwell Road, to create a truly remarkable, world-class visitor destination.
Designed by leading architects SimpsonHaugh, the proposals will replace the existing 906 room hotel, recognised as a local eyesore, with an exceptionally high-quality development providing outstanding facilities including restaurants, bars, health spa and conference facilities.
Kensington Forum will also create more than 800 employment opportunities and support these with £1.4 million of training initiatives. It will also accommodate 62 genuinely affordable Social Rented homes, worth £90 million (the first private development in London to deliver a 100 per cent genuinely affordable homes).
Alongside the hotel will be a new, publicly accessible and sensitively designed 2700sqm garden square, which will be the only publicly accessible green space within one km of the site. A further £2.8 million will be put towards public realm improvements to the area around Gloucester Road station.
Making an IMPACT

An AHR-designed advanced engineering research facility for Swansea University has reached completion. The Institute for Innovative Materials, Processing and Numerical Technologies (IMPACT) is part of the University's strategic expansion of the College of Engineering and, as a Centre of Excellence, will provide a unique colocation facility for academia-industry partnerships in ambitious research and development.
Gary Overton, director at architecture and building consultancy practice, AHR, commented on the project: "As a powerful, collaborative environment, we approached the design for IMPACT in a way that prioritised a multidisciplinary way of working throughout. The environment stimulates ingenuity by working with the people inside, embedding connectivity between core research areas so that the industry and academia feel like the spaces are encouraging them to work together as one."
As research flourishes within, a living wall made up of 5500 plants on the building's exterior reflects the growth of knowledge through rich biodiversity for onlookers to enjoy, as well as wildlife, with nest boxes for swifts, sparrows and bats. The design has utilised renewable energy technologies wherever possible, with features including the integration of solar thermal collector technology into the façade in a way that has not been implemented before.
Rubber roads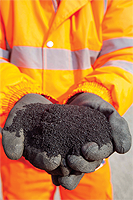 Tarmac is the first in the UK to develop a new asphalt technology capable of recycling end-of-life tyres (ELTs) into roads. With 40 million waste tyres produced every year in the UK, the company has created an innovative asphalt mix using granulated rubber.
Tarmac estimates that it will be possible to recycle and reuse up to 750 waste tyres for every kilometre of highway surfaced with the new material, depending on the thickness of the road, which would help to reduce the 120,000 tonnes of rubber waste exported from the UK annually.
As part of recent trials of the new material, Tarmac supplied asphalt with rubber in Coventry. Rob Little, senior engineer, Highways Technical, Coventry City Council, added: "Coventry City Council is delighted with the rubberised asphalt trial; we hope we can use more of the product across the city in the future to help divert waste tyres from landfill and incineration to reduce the carbon footprint for road construction projects in Coventry."
Smart solution
Portuguese sustainable dynamic structures and furniture start-up Corkbrick Europe has completed its latest investment round by raising €271,394 on leading investment platform Seedrs, attracting 252 investors – taking its total number of Seedrs investors to 500. The funds raised will go towards increasing production ten times to 4000 pieces a day.
Inspired by Lego and Nature, Corkbrick can be used to build interior and exterior structures in general and furniture in particular. With Corkbrick the user can assemble and disassemble everything in minutes, giving a new use to the same 'brocks' depending on its configuration (seven different 'brocks' are available).
It's a unique, natural, flexible, simple, easy, durable, resistant, renewable, sustainable, light, sound and thermal-insulation solution to build most of pieces of furniture, walls and structures with no tools, screws or glue.
Commenting on the investment, Founder and CEO Miguel Reynolds Brandão said: "We are delighted yet again by the support and interest we've experienced throughout both of our investment rounds, and believe it demonstrates the clear demand for a sustainable product that can bring smart solutions for smart living. We look forward to welcoming both new and old investors on our journey into our next exciting phase of growth."
The company also recently announced that despite ongoing Brexit uncertainty it will open up a UK branch in 2020.