After nearly three decades of growth and expansion, NFT is still dedicated to excellence
Towering above the rest
After nearly three decades of growth and expansion, NFT is still dedicated to excellence
Born from the vision of one man, founder Mr Nabil Al Zahlawi, NFT Specialised in Tower Cranes LLC (KSA Branch) (NFT) was established in Abu Dhabi as the first distributor of tower cranes and hoists in the Gulf Cooperation Council region. Mr Al Zahlawi predicted the amazing amounts of construction that were to come to the UAE and he was correct – since it was established in 1987, the business has grown and evolved from its beginning with a few used cranes to today, with a fleet of over 1500 tower cranes, over 300 hoists and a comprehensive stock of available spare parts.
This product portfolio is very wide ranging, and includes small self-erecting cranes (700kg capacity/26m) as well as much larger slewing cranes such as the imposing Potain MD3200, which is able to carry up to 80 tonnes. NFT is the dealer for Potain France, and also works with GJJ/Orbit and PEGA, and this insistence on only working with the best brands available has gone a long way to helping NFT establish a solid reputation for excellence.
Furthermore, NFT continually invests in its fleet in order to always be able to meet customer needs, and recent additions include 50 brand new tower cranes from Potain, and the latest Potain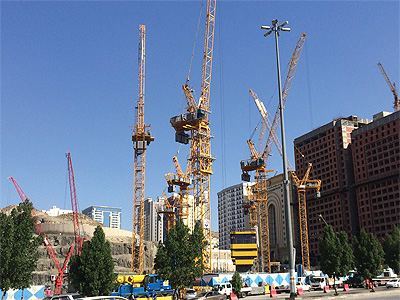 Luffer, the MR 418, which has new on-board systems that allow for operation just minutes after erection; it also has an exceptional luffing mechanism and hoist, with hoisting speeds reaching up to 254 metres per minute.
Having established a wideranging stock of equipment over the course of almost four decades, NFT has experienced any number of project challenges and has gained a solid background in the construction business. As a result of its continued success, NFT has grown outside of the UAE and now is a recognised name in over 32 other countries around the world. The company is proud of its ability to travel to wherever there is a requirement for tower cranes, and it also can utilise its experience in order to work successfully with contractors, sub-contractors, dealers and consultants should this be needed. What's more, the business is very open-minded and can offer advice to clients outside of its usual sectors – anyone in need of a tower crane or hoist is welcome to seek a solution from NFT.
Discussing the reasons behind the company's success, Nabil Al Zhalawi, Managing Partner of NFT, noted: "NFT is a thought leader in the industry, which is why our slogan is 'NFT Cranes… & Brains'; we provide customers not only with quality cranes, but also the brains to guarantee their return on investment. With NFT, we're not just offering a tower crane."
It is thanks to this approach that NFT continues to win contracts to supply challenging projects, especially when the state-ofthe- art equipment is united with experienced and hard-working employees. A perfect example of how this winning combination has brought success is the Ruwais Housing Project, where the company had to fight intense competition from every tower crane supplier in the region. It was NFT's ability to provide the required quantity of equipment in one month while meeting all the technical requirements that enabled it to emerge successful and become the crane supplier to contractor Al Jaber. The project involves the construction of accommodation for the stateowned Abu Dhabi National Oil Company (ADNOC)'s employees and those of other companies in the area. Al Jaber was appointed as the contractor for the project in 2014, which will provide 1920 residential units that will be developed over three phases.
With many notable projects such as this underway in the Middle East and a determination to keep moving forward, NFT took the decision to enter the European market, and to this end, acquired a rental company and formed its service arm: NFT Europe in Belgium in 2011, following this with a partnership with UK based Radius Crane Management in 2015. Radius NFT as the new business is called, is based in Northampton in the UK and is the tower crane division of Radius Crane Management, presenting NFT in the UK as its official rental partner. NFT can enjoy the stable European market, which is supported by a strong regulatory system that protects suppliers' rights and features experienced and highly professional contractors. Having only been present in Europe for less than two years, NFT's foresight is already paying off and it has established new customers in a wide variety of areas as Nabil highlighted: "Thanks to its service arm NFT Europe, NFT has sold and leased tower cranes to the UK, France, Spain, Scandinavia and Eastern Europe."
As its European presence continues to grow and the fleet continues to expand, Nabil's vision for NFT shows no sign of flagging. Indeed, the company looks set to continue on its path of success and to reach even further heights over the coming years.
NFT Specialised in Tower Cranes LLC (KSA Branch) (NFT)
Services: Supplier of tower cranes