Working collaboratively with its customers, NMC Surfacing provides bespoke teams and solutions deliver surfacing and civil engineering projects from concept through to completion
Minimum disruption for maximum results
Working collaboratively with its customers, NMC Surfacing provides bespoke teams and solutions deliver surfacing and civil engineering projects from concept through to completion
Formed in 2008 by its owners Gary Burns and Andrew Wilson, it has taken less than ten years for NMC Surfacing (NMC) to become recognised as independent surfacing and civil engineering specialists. From its network of five regional offices, this young, dynamic and growing business provides a 24/7 nationwide service to some of the best known blue chip companies present in the UK.
Typically tasked with utilising its specialist knowledge and site management expertise to deliver complex project objectives, NMC is unique in that, unlike the vast majority of subcontractors, it has adopted an approach that sees it actively pursuing direct, one-to-one relationships with its customers. "What our approach is essentially built around is cutting out the middle man, as it were," explains James Graham, Northern Commercial Manager of NMC. "Our ability to work directly with the customer throughout an entire project, from inception through to completion, is something of an enigma in our business, setting us apart from other surfacing and civil engineering contractors.
"The most obvious advantage of this is that we are able to pass on considerable cost savings to the customer, and by offering a single point of contact we are greatly simplifying the process for them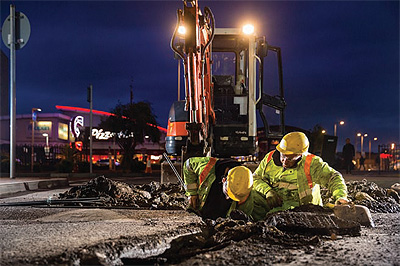 as well. By providing a complete turnkey service we can easily keep track of the work we carry out as it is happening, monitoring the quality of the tasks being completed, ensuring that the highest levels of health and safety are maintained at all times, and promising minimum disruption to the customer's business."
NMC's particular niche covers large scale projects that usually occur in and around retail superstores, retail parks and industrial areas. This, as James confirms, makes NMC very much a 'customer-facing' business and one that can be found carrying out its work never more than two or three metres away from members of the public. The nature of its work also means that NMC has a clear understanding of the challenges its customers face in having projects carried out in a working environment where members of the public need to have access to their premises, particularly during peak times.
"One of our biggest selling points is the fact that we recognise the importance of minimising the disruption faced by our customers and the public," James says. "It is for this reason that you will find NMC carrying out much of its work 'after hours'. In the case of a retail centre car park for instance, we would typically look to arrive at the site at around 8pm when its stores are closing, mobilise our teams, arrange traffic management and commence with the work, whether it be resurfacing, relining or a combination of tasks, before clearing the site in time for the aforementioned businesses to reopen the next morning."
As the company name suggests, surfacing work is very much the main staple of the business, yet there is much more to NMC than this one specialty. In addition to offering a fully comprehensive surfacing package the company also operates nationally as a main contractor, managing and carrying out all elements of civil engineering works. NMC also has an in-house line marking division, a dedicated surveying division, and can install proprietary mastic asphalt and resin coating systems that offer waterproofing solutions.
There are a number of excellent examples of NMC applying its multi-disciplinary talents to great effect in order to complete large-scale projects. Case studies that immediately spring to mind include its work on the Harvey Centre, Harlow and on Associated British Ports (ABP) Gresley Way, Immingham. In the case of the former, the company applied its waterproofing, line marking and specialist surface treatment skills to carry out a full repair to the upper deck of the customer's multi-storey shopping mall car park. A complete repair of the 3600 square metre area was required and was completed with three months. As for the Immingham project, this required civil engineering, drainage, groundworks and concrete works in order to install the necessary pipework, gullies and manholes needed to repair and replace a significant drainage system within a three-week period.
"A case study that really captures what is our bread and butter business is that of McArthur Glen Shopping Centre in York," James adds. "This involved work on a large car park, the surface of which was in a shocking state and needed to be resurfaced with minimal disruption to retailers and shoppers. As we knew that the busiest times for business for such centres are usually Friday until Sunday, we carried out our work during the weekdays and within five weeks the transformation we facilitated helped create what remains one of our best jobs."
As the company carries on expanding its reach it continues to invest in the people, equipment and methodologies needed to take it to its next stage of development. "One of the things we are currently rolling out is a Continual Professional Development (CPD) solution, which we are offering to all of our clients," James states. "This solution will allow us to offer our particular expertise through training programmes that we can deliver to a client's staff in the form of training sessions at their facilities."
In terms of turnover, NMC's growth has come about very organically. "Picking up new projects has never been an issue for us, rather the challenge for any company in our position is having the staff in place to carry out said projects on time and as required," James concludes. "What we have done is bring in a comprehensive recruitment process that will help us to deliver what we know can be a £20 million-plus business in the coming years. With our current overheads, our improved staffing profile and strong projections for future work we are already putting the wheels in motion to fulfill our turnover goal of £24 million by 2019."
NMC Surfacing
Services: Surfacing and civil engineering specialists