Nolte Kuchen has been producing tailor-made fitted kitchens for half a century
A perfect fit
Nolte Kuchen has been producing tailor-made fitted kitchens for half a century
For German-based Nolte Kuchen GmbH & Co., the individual planning of each kitchen that it sells is a matter of principle. The company has become the partner of choice for many in the industry, owing to its ability to configure kitchens based closely on each client's budget, space, and specific necessities. Nolte Kuchen's expertise is a consequence of five decades of experience, and has provided the company with a global customer base, and a turnover of approximately 300 million euros.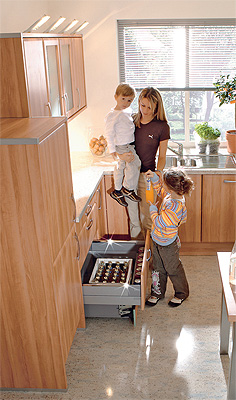 "We are focused on innovation and the best possible designs," says Eva Holin, export sales director. "We plan and build kitchens based upon the latest research findings, and we are always working to improve our offerings. Our products are highly durable, remaining reliable after many years of use, and this explains why we have established such a strong reputation in the sector."
Broadly speaking, Nolte Kuchen's designs are divided into three main styles: dynamically modern, timelessly harmonious, and romantically stylish. Within each of these categories there are a variety of kitchens, each providing customers with unique options relating to fronts, handles, carcases, and worktops. Irrespective of the selected design, the company guarantees dependable quality features. Each of the worktops, for example, has a heat, impact, and scratch resistant surface, is easy to clean, and very hygienic. Meanwhile, the back panels of the tall units comprise a closed rear panel with melamine laminate on both sides. In addition to an impressive external appearance, this guarantees the stability of the units.
"On a daily basis, we produce around 700 new kitchens," says Eva. "We continue to manufacture our kitchens in Germany, but now have a market presence on all continents except South America. We are selling to over 40 countries, and the export side of our business is continuing to grow steadily, now accounting for about 30 per cent of our sales.
"We have undertaken major projects in places such as Spain, England, Turkey, and Germany. In fact, last year we supplied about 10,000 kitchens to such projects, the biggest of which was in Istanbul. At present, we are in the process of fitting more than 700 kitchens for The Stadium, which is a very prestigious development in Highbury Square in London. It has proved hugely popular, and over 90 per cent of the apartments have already been sold."
Nolte Kuchen's commitment to innovation is fundamental to the company's ability to attract such work. Recently, for example, it unveiled the Sealed Edge, for use in cabinet design. The slim seal, made from flexible plastic, runs along the carcase edges, and is printed to match the overall style. When the doors are closed, the seal shuts off every remaining air gap between the front and carcase, keeping the inside of the unit impeccably clean. This is particularly useful during warm periods, as it prevents insects from entering the cabinet.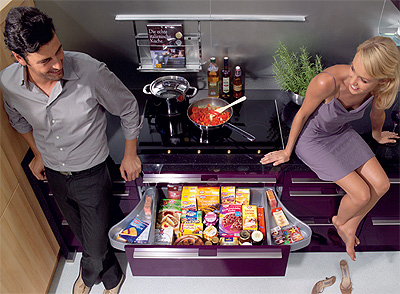 The Comfort Line system is another pioneering development, allowing pullouts and drawers to carry loads of up to 80 kilograms. The stimulus for its design was based on a recognition that kitchens should be designed to last for very many years, and that a system of such capacity was therefore required to prevent wear, and ultimately the necessity of replacement. The Comfort Line drawer can be filled to the brim, and minimises wasted storage space.
"We have introduced many technical improvements in kitchen design that have become industry standards," says Eva. "Many of our new developments are now widely available, including the "Gullwing", which provides side compartments on pull-outs for small packages and containers. Then there is the Le Mans, which helps make use of every last reserve of a pull-out, and allows its contents to be clearly displayed. The list of such developments is very long, and I have named only a few examples."
Firmly established as one of Europe's leading kitchen manufacturers, Nolte Kuchen is aiming to promote its brand to yet more customers in the years to come. Eva explains: "We have an established position in the German market, and have continued to grow in our existing areas of business very successfully. We have, though, still only scratched the surface of many of the possibilities abroad; in particular, I am thinking of Eastern Europe, and we can go further than we have in some western countries. The Scandinavian market is completely new to us and the different mentality there provides a fresh challenge, but we have proved that we are not afraid to confront such problems."
Given that Nolte Kuchen has experienced a 40 per cent growth in overseas sales in only the last two years, the company's lofty expansion plans are, by no means, unrealistic. However, the innovation and design excellence which provide Nolte Kuchen with such a promising outlook are, as Eva summarises, consistently underpinned by one critical factor: "We observe, we analyse, we discuss, but, most important of all, we always listen to our customers."