Meet the teams
Norcros Group is a market leading supplier of high quality and innovative products for bathrooms and kitchens and the wider construction market. Four group companies are exhibiting on Stand E5 at this year's Offsite Construction Show
Established in 1901, Johnson Tiles is the UK's leading manufacturer of ceramic tiles. The company's experienced design team travels the world to source products to enhance the product portfolio.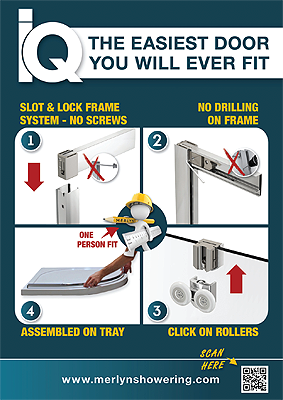 It is also one of the greenest companies in the UK.
With over 100 years' experience Johnson Tiles has a long history of market leadership. With a dedicated in-house design team and UK-based production facilities, Johnson Tiles continues to deliver distinctive new products servicing both the contract and retail markets internationally, all of which is underpinned by award-winning quality and environmental systems. Within the contract market, the company's experience, service and product range cover all aspects of public and private specifications, from architects and designers through house builders, contractors and distributors.
Johnson Tiles have been used on both small and large contracts for housing projects, schools, universities, hotels, hospitals, industrial developments and the leisure industry. Within the retail market the company designs and manufactures products for both independent and multiple retailers. It offers the widest choice of 'on trend' products, backed up by industry-leading logistics and service.
MERLYN will be exhibiting at the Offsite Construction Exhibition, showcasing its innovative new MERLYN IQ range. The unique patent pending easy fit mechanism on MERLYN IQ, makes fitting easy. Unlike standard shower doors, MERLYN IQ is a one person install, using no screws on the frame assembly and is built on the tray, perfect for fitting in smaller bathrooms and ensuites. The easy fit rollers and clever installation tools, all make MERLYN IQ the easiest door you will ever fit.
There are lots of benefits of partnering with MERLYN including:
Quality products for customers – design-led, premium quality products that are tested to a standard far exceeding any European CE Standards;
Installation Innovation – innovative installation systems, designed with the fitter in mind saving precious time on site;
Market Leading Availability – huge investment in stockholding and an excellent logistics partnership drives an outstanding OTIF of 99 per cent. This reduces project lag, by not impacting on CMLs, while also avoiding escalating labour costs;
Award-winning customer care – all the support customers need, with a dedicated account manager, product guarantees and comprehensive parts availability. Ninety-seven per cent of calls to the MERLYN customer services team are answered within 30 seconds.
Norcros Adhesives is a manufacturer of a wide range of preparation, fixing and finishing products for tiling and flooring installation. The company will be using the opportunity of the Show to demonstrate that it fully understands and is ready for modular and off-site construction.
Having built its reputation on product quality and innovation, the company will be showing that it meets the construction industry's demand for high quality tiling and flooring adhesives. These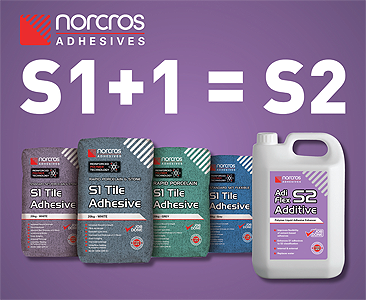 products will need to be increasingly tolerant of vibration, deflection and movement. Modular constructors will be looking for flexurally forgiving products with good cohesive strength. They will also be looking for products which dry quickly, in order to keep production lines moving at an optimum rate. Norcros Adhesives is well-equipped to satisfy this demand and to develop innovative new products to meet the requirements of the future.
Norcros Adhesives works through RIBA's NBS Plus programme to use industry standard specification that conforms to best practice. The company is also registered to BIM Level 2, enabling design to integrate fully with off-site construction methodology. Therefore, it is well-placed to pitch for Government contracts, where off-site construction is increasingly important, such as for student accommodation, schools, healthcare and social housing.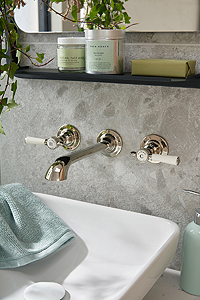 VADO is a leading British brassware manufacturer that provides premium taps, showers and accessories to customers across the globe. Channelling expertise and engineering know-how into innovative brassware technology, VADO has introduced three diverse collections to market throughout 2019; Individual by VADO, Booth & Co. and Axces by VADO.
Celebrating innovation and original design, Individual by VADO offers a distinctive collection of taps, showers and accessories in a variety of special finishes, including brushed black, brushed gold, brushed nickel and polished gold.
Inspired by British brassware designs, the Booth & Co. collection introduces a range of bathroom and kitchen brassware in two lustrous finishes; chrome and bright nickel, each featuring unique ceramic accents with a choice of cross and lever handles.
Axces by VADO, the most recently launched collection, introduces a range of affordable bathroom and kitchen brassware that's both stylish and functional. All three collections can be found at stand E5 at this year's Offsite Construction Show.
Norcros Group
www.johnson-tiles.com
www.merlynshowering.com
www.norcros-adhesives.com
www.vado.com