Norman Piette's experience and knowledge of the building industry ensures its status as a market leader in Guernsey.
Friends of the earth
Norman Piette's experience and knowledge of the building industry ensures its status as a market leader in Guernsey.
Norman Piette's history dates back to 1739, making it one of the oldest builders and timber merchants in the British Isles. It was heavily involved in shipbuilding, right through the early part of the nineteenth century when its locally constructed vessels sailed throughout the world. Around this time, the company also supplied a lot of timber for the wooden greenhouses that had become popular in Guernsey for growing grapes and tomatoes.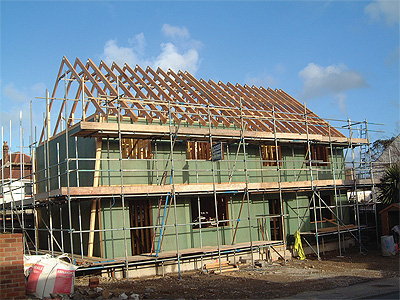 Throughout the twentieth century, the fortune of the company was shaped by expansion within the various sectors of the economy, including horticulture, tourism, industry and commerce, as well as by a demand for housing brought on by the broad socio-economic population expansion. Through acquisitions, organic growth and the eventual merger of two strong forces in building trade supply, the company structure was established. Norman Piette's current business is that of a general builder's merchants – the largest and most professional such group in the Bailiwick of Guernsey. It has supplied materials for much of the recent development of St Peter Port as an international finance centre and met the demand for public buildings and housing for the island's 60,000 inhabitants.
The organisation strives to keep up-to-date with the new technology and current events in the industry, whilst maintaining excellent stock-retrieval and management systems. In order to keep moving forwards, it's always looking for new products and services to enhance its efficiency and customer service. Managing Director, Clive Fenner said: "For us, it's all about developing relationships which encourages a high level of trust, commitment and loyalty, and we're fortunate to be in this position with many of our suppliers."
Furthermore, its commitment to the training and development of its employees is evident through the company's Investor in People status, which it was awarded in 2004. The award is a nationally recognised quality standard of achievement for employers who commit to, and actively pursue, the training and development of their employees. Indeed, the company won the 2006 training honour at the Guernsey Awards for Achievement, which is open to all businesses on the Island.
Norman Piette's key products include a comprehensive range of building materials from cement to insulation, timber services and boards, painting and decorating materials, ironmongery and electrical, hand and power tools, plumbing and heating, bathrooms and paving and decking, and an extensive timber milling facility catering to all building and construction needs. For many years Norman Piette has been involved in the design and manufacture of timber frame structures and trussed rafters, and is now designing and manufacturing eco-joists, an engineered metal webbed timber joist that negates the need for drilling to install plumbing and heating services.
These are exciting times for Norman Piette; the company has just won a contract to provide 57 new builds with structurally insulated panels (SIPs), widely regarded as the next generation of timber frame. These panels have been developed with the aim of introducing environmentally friendly and energy efficient construction methods to Guernsey. Working with leading UK manufacturer, Kingspan Off-Site, Norman Piette has invested in the technology and staff training that enables it to design SIPs structures on the island, whilst manufacturing takes place in state-of-the-art factories in the UK. Clive comments: "This enables us to work closely with local architects, contractors and clients to ensure the product is fit for purpose when it arrives on the island. Clearly, we believe the future of house building lies with these modern methods of construction, however we're mindful that the core of our business is based on traditional practices so we'll continue to support and grow that part of our market."
This progression of environmental methods comes on the back of the company being honoured with the Keep Guernsey Green award for reducing wastage levels. Norman Piette is proactive – it recognised that an increasing amount of waste comes from imported goods, therefore it collaborated with its source of supply to reduce wastage levels in packaging. It has also constructed a comprehensive waste policy to dispose of operational waste in the most environmentally friendly way. Its principle of waste disposal consists of reduction, re-use and recycling followed from source to disposal. Such environmental vision places Norman Piette at the industry's forefront in terms of ecologically sound practices.
The company is a long-standing member of the Building Merchants Federation (BMF), a national trade representative for almost 350 member companies throughout the British Isles. To be a member, companies have to meet the strict criteria of high quality service in a professional manner to ensure that customers receive the ultimate provision. Its other memberships demonstrate the company's high standing and commitment to the sector as they include United Merchants Plc (UNIMER), National Merchant Buying Society Limited (NMBS), The Timber Trade Federation, Guernsey Chamber of Commerce and the Confederation of Guernsey Industry.
Norman Piette's years of experience and knowledge of the building and construction industry is evident in its strong and secure market position. Its ability to move with market conditions and adapt to the developing needs of its clients, while maintaining an ecologically viable focus, are key to the company's leading position in Guernsey's thriving building industry.