Normet strives to provide complete underground construction and mining technical solutions that create maximum value through saving costs and shortening the process cycle time in a way that also improves safety, and reduces uncertainty
Time to excavate
Normet strives to provide complete underground construction and mining technical solutions that create maximum value through saving costs and shortening the process cycle time in a way that also improves safety, and reduces uncertainty
Wanting to be close to its customers, and give the best possible service in order to react better and faster to changes in its clients' environments and needs, Normet has established a global presence with facilities in 41 locations across 26 countries. With these pillars, the business has excellent prospects for future development to deliver even more added value to customers in the mining industry. Founded in Finland in 1962, the company has over five decades of experience in the development, production and sales of equipment and vehicles for underground mining and tunnel
construction. Such equipment includes applications for underground concrete spraying and concrete transport, explosive charging, underground logistics, lifting installations and scaling. With over 10,000 delivered machines the company has become one of the market leaders in its category.
In addition, it provides construction chemicals for these industries and comprehensive range of lifetime care services for maintenance and operating processes throughout the entire lifecycle of its products. The incorporation of construction chemicals into its portfolio in 2010, saw the business venture into the role of an expert partner throughout the entire sprayed concrete process, specialising in the use of accelerators, and several other applications for a spectrum of industries. Two further acquisitions in 2013 cemented the company's standing as a supplier of underground equipment, construction chemicals and rock reinforcement. Having established Rock Reinforcement as a separate business line to focus on the critical area within underground operation, a main part of its offering is the D-Bolt, which is a novel rock bolt, specifically designed for efficient and reliable rock reinforcement in squeezing and burst-prone strata.
"Over the past couple of years, mining has been quite low, but we are hopeful that it is soon to pick up, and expect it to have reached normal level by the beginning of next year," says Jukka Pihlava, group marketing manager, adding: "Civil tunneling is quite active in India and South East Asia, and also in the UK, where Crossrail projects are still ongoing and we are heavily involved in that. There is a general consensus that tunneling will continue to grow in Qatar, and that will remain the next big area for some time."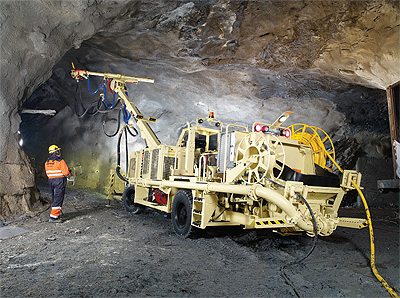 Keen to maintain its position at the front end of the industry, the business has continued to invest in the updating and launch of new equipment, with close consideration to driving comfort, introducing equipment suspension and more economic cabins. "All our equipment now is ready for industrial internet applications, through which we are able to collect data on the process sheets. As an example in concrete spraying, we will look at what has been sprayed, how much has been sprayed, what kind of accelerator and how much has been used, and also information on the equipment itself. All our new equipment will have the same kind of new features," explains Jukka.
With future development based on product platforms to operate in all key customer processes including concrete spraying, explosive charging, man lifting, underground installation works, scaling, and man and material transport, its manufacturing facilities have also experienced continuous modernising of infrastructure. Normet has not only been investing a great deal in the production methods and equipment, but also in the professional skills of the employees in order to meet the ever-increasing challenges from the markets and demands from its own growth.
As all manufacturers in the mining industry await the much longed for recovery, it is noticeable that capital investment in mining has for some time been quite low. The forward thinking approach of the business will inevitably propel it ahead of the competition as pace begins to pick up. However, as Jukka points out: "The main advantage is the combination of people, expertise and products that we have. We have a one-stop -shop for our customers – with the right chemicals and equipment, as well as people who have been in that business for a long time, on both the constructors and the owners' side, so they know the business very well."
Confident in the future of the company, Jukka highlights: "Our vision is easy, it is to continue to grow, and we look to do that across all markets. We are already a very global business, but we intend to further widen that presence. Our history shows a very active position in mining equipment, but we are also offering a full line of supply in a range of underground processes. Promoting the strengths of the company, and really instilling in the minds of the customers what we are capable of, we expect to generate future business." As Normet works towards its goals, it will make noticeable attendance to events in 2015, such as EuroMining in Finland, as well as repeating that pattern in 2016, attending the leading trade fair for construction machinery – Bauma 2016 and one of the largest mining shows – MINExpo 2016.
Normet
Services: Advanced process solutions for underground mining and tunneling