Normet's forward-thinking culture has led the company to develop a range of innovative products whose aim is to modernise the tunnelling and mining industries
Unearthing innovation
Normet's forward-thinking culture has led the company to develop a range of innovative products whose aim is to modernise the tunnelling and mining industries
For Ross Dimmock, Vice President – Europe and North Africa at Normet, the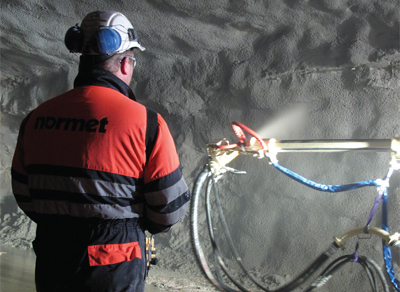 manufacturer of purpose-built underground machines for the mining and tunnelling industries outdoes its competition by providing complete end-to-end services to its customers. Specialising in the supply of equipment, the company also delivers after-sales support and has further developed expertise in the field of construction chemicals, too.
"Our goal is not only to send machines or chemicals down the mines or tunnels, but to look after the entire working process and help our customers optimise it from sustainability, safety, and economic points of view," Ross says. "In the past few months, we have transformed our operating model to move closer to these clients and become a stronger customer-facing organisation, thus streamlining our holistic approach to dealing with them."
Keen on innovation, Normet has spearheaded the transformation of mining and tunnelling into digitalised and sustainable industries. Ross gives us several examples of the developments the business has been working on: "On the digitalisation side, we are looking at adopting various Normet SmartWeb based concepts, so that we can keep track of how our machines perform and take proactive measures if improvements are needed. It is a two-way approach that helps us understand how our customers are using the equipment and, at the same time, it allows the clients themselves to monitor their own processes.
"Indubitably, there are obstacles along the way," he continues. "Whilst we are collecting data from our machines from the moment they are born, it is particularly difficult to transfer this data onto a cloud-based application when the machines are underground. It is encouraging to see, though, that more and more mining companies have started using wireless LAN networks underground, so it is becoming possible to send real-time data from the equipment that is then delivered in a user-friendly manner."
Smarter approach
The process of spraying concrete onto a surface during any mining or tunnelling project has long been identified as not particularly environmentally-friendly or cost-effective, at least in the way it has been executed. As a result, Normet has taken to developing a new sprayed concrete technology to control and measure the thickness applied in mines and tunnels. "We put some level of semi-automation into the spraying process to make it a lot more efficient and economical. Interestingly enough, this particular area has not seen much development in the past 15 years, but as of late, different courses of slimming down the sprayed concrete tunnel linings have been taken. For instance, there have been calls for a smarter design approach and we believe, we can support designers in the future in making much more economical linings," Ross discusses.
He also draws our attention to the growing interest in the possible use of electric vehicles underground. "We are already seen continuously growing interest towards machines running on electricity and I have a feeling that these could be a game-changer and become a real industry standard in the coming years.
Products on show
"The environmental requirements we have to deal with, have propelled us to look for alternative solutions to the diesel engines that pollute the tunnel and use way too much energy. The industry needs to clean up and we have to play our part in the process," Ross claims. "We are in full compliance,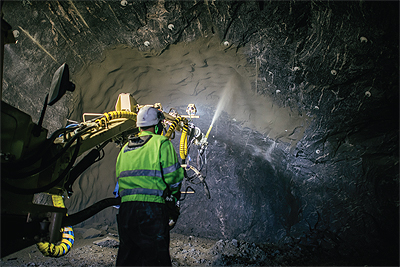 often proactively, with all the European regulations regarding emissions reduction and engine types, but these are changing so often that we are looking forward to having more sustainable and environmentally friendly alternatives for diesel as the norm, in order to minimise the local emissions and to get some stability into our design approach."
The Bauma exhibition, which will be held in Munich between 8 and 14 April this year, presents an ideal opportunity for Normet to showcase innovations which tackle the current and future challenges and answer to the new customer demands. "We have developed several new technologies and solutions which will bring considerable extra value for our customers, and I certainly expect them to attract significant interest at the show."
Analysing current market trends, he is optimistic that the tunnelling and mining industries will be seeing better times in the future, shaking off the consequences of the downturn they experienced not long ago. He adds: "I think everybody is still quite cautious when it comes to purchasing new equipment and technology. Nevertheless, there is a visible appetite to improve environmental and safety standards and to advance digitalisation efforts further. Having worked on strengthening our capabilities in these spheres in the past couple of years, we are confident that we can capitalise on the ongoing trends and continue serving the needs of our customers in the most efficient way possible."
Normet
Services: Mining and tunnelling equipment and services; construction chemicals