Operating the world's largest quarries of its kind, Norsk Stein A/S boasts a rapid production of 3000 tonnes each hour
Quick to quarry
Operating the world's largest quarries of its kind, Norsk Stein A/S boasts a rapid production of 3000 tonnes each hour
Founded in 1987, Norsk Stein (Norwegian Stone) began production in 1988, extracting 500,000 tonnes of material in its first year. Whilst initial plans were relatively modest, the following two years saw the site develop into a fullscale aggregate quarry, capable of up to five million tonnes production annually. With business booming, in 2009 it undertook a substantial extension project
within the quarry, as managing director Oliver Patsch explains: "We decided to renew the primary and secondary stages of the process, lifting our capacity to 3000 tonnes per hour, utilising one of the biggest crushers in the aggregate industry.
"We also employed Metso, the world's leading crusher manufacturer, to build a new tertiary plant, adding to our existing system, and providing us with a high quality, final grade aggregate." Despite not yet running at full capacity, production at its site in Jelsa is close to ten million tonnes each year, which when compared to an average300,000 tonne capacity from an average aggregate quarry signifies its importance to the industry. Its mother company, Stema-Mibau, provides a turnkey service through terminals, shipping, and its quarries. With production units in Jelsa, and Larvik, it quarries high quality aggregate that is distributed by Stema-Shipping, which owns a fleet of specialized self-unloading vessels. Its trade is supported through that shipping capacity, responsible for the 95 per cent of the material that enters the European market.
"The provision of an all inclusive solution is a unique approach in a market that holds a lot of competition," says Oliver. With terminals located across the whole of Europe, the product is shipped to location, stocked, and then transported to the final customers. In addition to the production works, a new ship-loading quay was also constructed. "We had the capacity to generate substantial amounts of material, so it was important that we were able to have an efficient logistic solution in place too. The expense of these vessels means it is important to keep them in operation, and the second loading quay minimises loading times, and optimises the costs for shipping," he adds.
When the financial crisis hit the construction industry it created reverberations that were enough to rock any boat, least of all a business supplying rock by boat. "Our strengths really come when supplying coastal infrastructure projects with huge volumes, since we can offer the whole package of products and provide the logistic solution as well. Thankfully, governments across the UK and other European markets realised that one of the best stimulus to propel the market forward was through investment into infrastructure.
"As these projects are realised, more opportunities for growth and development mature, and already our markets are showing signs of growth, albeit some more than others," explains Oliver. With large infrastructure projects such as the Fehmarn Belt tunnel being constructed between Denmark and Germany, Green Port Hull, in the UK and the Elbe River deepening project in Germany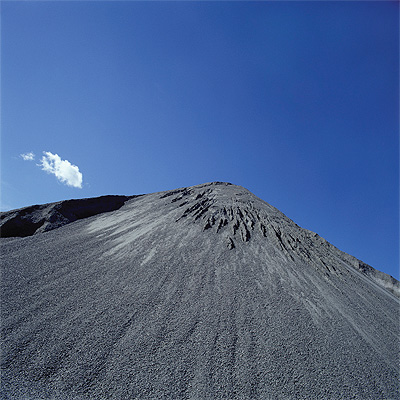 there is a long pipeline of infrastructure projects ahead. "The biggest growth in the business will be through these type of infrastructure projects, which have been on hold for a number of years," he adds.
Growth of infrastructure on land and along the coastline has been bolstered by construction relating to growth in the energy sector, such as wind farms, port terminals or power stations. Many of these projects require direct supply from ships. "Some of our largest costs are logistical, which emphasises our standing beyond just an aggregate producing business. Our vessels are big enough to supply large quantities of product, but small enough to enter most harbours and locations.
"Over the past year stone for offshore pipe bedding has generated a lot of business, with stone required for pipe work protection, although the drop in oil price has slowed this down. Wind farms however are a growing segment, with ambitious plans in the UK, Germany and Denmark to further development these sites," explains Oliver. Geographically, Jelsa is very much in the centre of Europe, and with good trade route links to the extremities of its market in France and Russia, its positioning allows it to promote flexibility, as Oliver continues: "When one market is down, another is generally booming, or at least blossoming, so we are able to take advantage of that leverage."
Geology demonstrates that in the southern part of the UK, and the whole of Northern Europe there is very little good hard rock, which further highlights the advantages of Norsk Stein's location and excellent quality of stone. Asphalt, concrete and pre-cast companies and the road and rail construction industry continue to be some of the biggest users of its product, and with a number of new developments across both segments the business can remain optimistic.
"We have an advantage in Norway that we have a very good reserve base, and as more quarries close on a global scale, the more opportunity that we have to supply that material. For us, growth is possible without additional investment. Last year we produced about nine million tonnes, and I feel we can reach 11.5 million tonnes without the addition of further cost. Strategically we seek to become even closer to the customer, developing complete packages and solutions whilst maintaining our focus on health and safety, and importantly, quality throughout the production process," concludes Oliver.
Norsk Stein
Services: Aggregate quarrying