Stocking equipment from the biggest names in the construction and materials handling equipment sectors, Norwest Plant is the number one dealership in the UK for Doosan and Mecalac as well as being the fast-growing Bobcat dealership in the UK
Powerful portfolio
Stocking equipment from the biggest names in the construction and materials handling equipment sectors, Norwest Plant is the number one dealership in the UK for Doosan and Mecalac as well as being the fast-growing Bobcat dealership in the UK
Part of the Ballyvesey Holdings group of companies, Norwest Plant is a local plant machinery dealer for the North West and North Wales, based in Wigan, specialising in the supply of market

leading construction machinery and material handling equipment from Doosan, Bobcat and Terex/Mecalac.
The brands Norwest Plant works with are recognised in the industry for their exceptional quality; for example, Doosan Infracore Construction Equipment is an industry leader in the engineering, manufacturing, and marketing of compact and heavy construction equipment and ancillaries. Norwest's portfolio from Doosan includes mini excavators, tracked excavators, wheel excavators, wheel loaders and articulated dump trucks.
For clients looking for compact equipment, Norwest Plant offers the Bobcat range of excavators and loaders, which provide the ideal blend of versatility, reliability and productivity. Furthermore, market-leading features such as stability, high performance and productivity at maximum reach and height, make the Bobcat range of telehandlers ideal for the agricultural, construction and waste management industries. Norwest's customers expect the best, and the Bobcat line provides performance, dependability and comfort – as well as top-of-the-line innovation. For example, some Bobcat Loaders can be operated remotely, thanks to Bobcat's Remote Control System, and to help illustrate how this works, Norwest Plant has a video on its website, which explains the product's functionality, how it is installed and how the remote works with the loader. A portable system, the plug and play solution offers many benefits such as visibility and easier communication (and let's not omit the fact that it is fun!)
Terex/Mecalac is the third brand that Norwest Plant represents, and this range of compact construction equipment including site dumpers and rollers, brings power and efficiency in a trustworthy package, essential for clients who are working on complicated construction schemes, and need to complete on time, within budget.
For those customers looking for a different cost-effective solution, Norwest also has a range of used equipment available, which can be viewed on its website, with the full specifications available and the ability to enquire directly online.
Thanks to the comprehensive nature of this combined brand offer, Norwest Plant is able to support all of its clients' capital equipment needs; not just through the supply of machines, but through an end-to-end service that includes strong aftersales support following an initial investment in a Doosan, Bobcat or Terex/Mecalac machine.
With a network of highly qualified engineers that spans the entire territory, Norwest Plant is able to quickly respond to clients' service needs. Whether it's a routine service or a breakdown that needs same day repair, it has the means to support its clients' businesses anywhere at any time.
This service provision is greatly assisted by Norwest Plant's fully operational parts shop, that provides 100 per cent genuine parts for Doosan, Bobcat and Terex/Mecalac equipment, holds an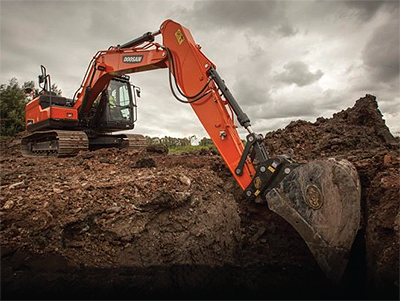 extensive parts inventory and is staffed by a dedicated parts and service team. Its computerised stock management system gives very accurate control of the stock inventory, and by keeping a parts stock holding worth over £150K Norwest aims to have over 92 per cent of orders readily available from stock. This is enhanced by a range of collection or delivery methods, which not only mean that customers get the most cost effective solution but also the most suitable to their own particular requirements.
Faithful partner
Having seen considerable growth over the past few years (a 100 per cent turnover increase from 2014 to 2018) Norwest Plant is on course to turn over £25m in 2019. Looking at the details of its satisfied customers online, it's not surprising to learn that Norwest is seeing such success. To illustrate with just a few examples, in April 2019 MC & C Utilities purchased a Bobcat T650 tracked loader, while a month previously in March Buckhurt Plant Hire took delivery of ten brand-new Doosan DX235LCR-5 excavators. February was a veritable bonanza of deliveries, including a new Doosan DX35Z for PSN Groundworks, four new Bobcat E17z mini excavators for MC & C Utilities, two new Doosan DX 140 excavators for Shanco Contracts, and Doosan machines for M. Igoe Ltd, and AOC Demolition Ltd.
This equipment is delivered or collected from Norwest's new premises, which are located a few minutes from Junction 26 of the M6 motorway. Approximately two acres in size, with a fully concreted yard and the latest facilities, this dedicated site enables Norwest to not only push the boundaries of its own offer, but also fulfil the expectations of its customers.
By creating a portfolio of products supplied by world-renowned manufacturers, and reinforcing this with expert advice, competitive pricing and a professional courteous approach, Norwest Plant has crafted itself into a faithful partner. Its customers return time and again for innovative, value for money, quality engineered equipment. With the highest levels of service guaranteed, Norwest Plant has really established itself as a name you can trust.
Norwest Plant Ltd
Services: Supplies capital equipment to the construction and materials handling sectors