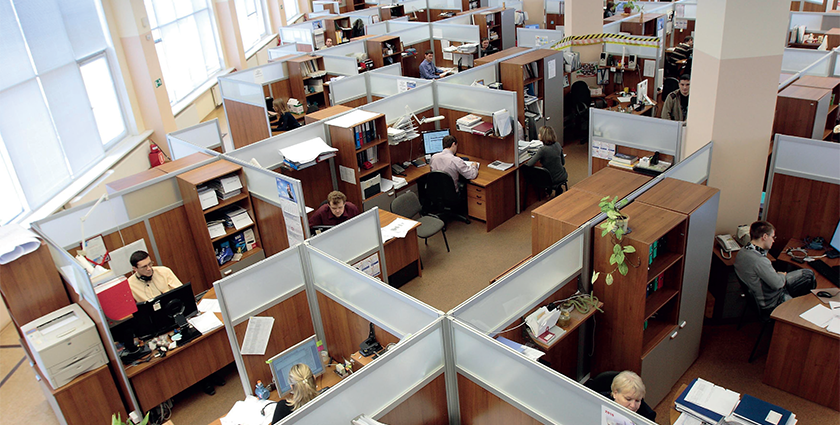 Anxiety over the future of offices has dogged developers and landlords since the start of the coronavirus pandemic, with long periods of enforced homeworking and a shift to more hybrid models of work posing a threat to the traditional workspace. More than two years since the pandemic first closed offices in the UK, they're still half empty.
There was talk of Lloyd's of London moving out of its landmark City tower as firms reassess office space [at time of writing they might now be staying put]. In April, we learnt that Deloitte cut its office space in London by more than a third in one of the biggest reductions of its kind since the pandemic. The accounting and consultancy firm has adopted a hybrid model of working partly from home.
Building work on new offices in London has slowed sharply in recent months. In the six months to March, work started on five new-build office developments in the capital — a third below the previous half-year period.
But those who have taken these examples as proof that the office is dead miss the point. It's not that simple. In May, we heard that LandSec, one of Britain's biggest landlords, had swung back into profit amid a sharp rebound in the value of its offices. The value of its central London offices climbed by 5.6 per cent.
FTSE 100 British Land boss Simon Carter has boasted of decade-high interest in the company's London offices as three tenants alone took more than 700,000 square feet of space last year.
Goldman Sachs is backing a new half a billion pound development, buying a 75 per cent stake in a new office development near London Bridge.
In March, Apple said it was going to take another three floors at 22 Bishopsgate, the City of London's newest skyscraper. That was the second time in six months the company expanded its presence in the building. Apple initially leased two floors of the 62-storey tower when building work finished towards the end of 2020, before opting to take a further three floors a year later. Once the extension has been formally completed, Apple will occupy eight storeys at 22 Bishopsgate, covering about 200,000 sq ft. There's no question that marks a commitment to offices.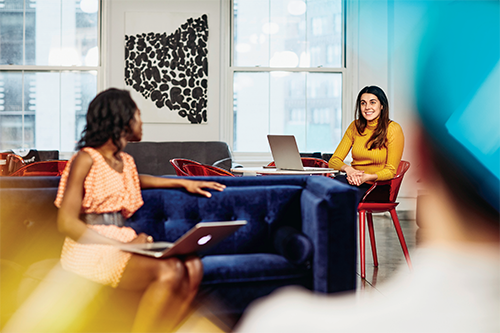 The market is painting a confusing picture. It's a tale of two offices. The examples above mask a fundamental shift in our thinking.
Clearly, organisations are likely to need less square footage as people work remotely more often. However, the nature and the design of the office, quite apart from its size, will have to change as the traditional workplace starts to compete with the benefits of working from home. Demand for super-premium, high-end office space will rise. As employees no longer feel the need to be confined to their workplaces, any employer who wants to retain their staff won't be able to mandate five days in an office. So demand for average, boring office-space – especially in London – is likely to fall away. The days of the grubby, badly lit office, covered in tea stains, are gone.
Open-plan offices are also for the chop. Open-plan offices are terrible environments for introverts – who hate the noise – and for extroverts, who don't feel able to have genuine conversations for fear of annoying colleagues. Open plan offices also drive up the use of email – and emails can be sent from anywhere. Workspaces will bifurcate into places that are genuinely sociable places – facilitating conversation, generating serendipitous encounters, and helping teams celebrate – and libraries where people can work in perfect peace.
We are starting to see some of this already with blue-chip firms shuffling out of older stock for the sake of talent and retention – and wellbeing.
Google is paying $1 bn to buy its office complex in Covent Garden in London. Google was leasing the space, but now will reconfigure it into something more like a club, with covered outdoor working space, meeting rooms for teamwork and so on.
Those British Land tenants mentioned above, which include Facebook parent Meta, are engaged in a fierce war for talent and have ambitious carbon reduction targets. The same is true for private equity firm KKR, which has recently leased a new block from GPE. Betting on the continued appeal of high-end workspaces, investors, almost 90 per cent of them from overseas, poured a record £5.5bn into London offices in the first quarter of the year, according to property agent CBRE. They targeted the biggest, newest blocks: the London headquarters of UBS at 5 Broadgate sold for more than £1.2bn and Google paid $1bn for an office near Tottenham Court Road.
Another great example – if not in the UK – would be Amazon's striking new HQ, a 350ft-high tower designed by architects NBBJ. The office has hiking trails winding around the outside to look like the double helix of a DNA molecule. The Helix is due to open in 2025 in Arlington, Virginia, for up to 25,000 workers.
Top law firms took more than a quarter of all the office space leased in the City of London last year, leading a charge for sustainable, high-specification workplaces as companies aim to slash emissions and win the war for talent. According to Knight Frank, 94 per cent of the space taken up by law firms across the UK last year was in so-called grade A buildings, the top segment of the market, compared with 73 per cent five years ago.
As people look to use their space differently, the fit-out market has become busier than it has been in a long time as square footage is repurposed and remodelled. Everyone wants to do more with their office space as they look to accommodate modern ways of working; we've even noticed our own clients creating different zones in which to work.
The office is dead. Long live the office…

Simon Harris is director of construction and property at Randstad UK. Founded in 1960, Randstad is an international recruiter and HR services provider, employing 40,000 people. In 2021, it helped more than two million candidates to find a job; delivered training to over 450,000 people; and advised 235,000 clients on various aspects of their HR strategy – from talent acquisition to total workforce management.
For more information please see: www.randstad.com