Family-owned award-winning contractor Oliver Connell & Son is going from strength to strength, having grown its turnover five-fold to £100m since 2014
New heights
Family-owned award-winning contractor Oliver Connell & Son is going from strength to strength, having grown its turnover five-fold to £100m since 2014
Breaking its own records has become a bit of a habit for Oliver Connell & Son in the last two years. The London-based contractor – specialised in ground work, civil engineering, RC frames, architectural concrete, rail, and aviation – completed its first £20m project during this period, while also delivering its tallest building so far, a 23-storey construction in Bracknell. On top of that,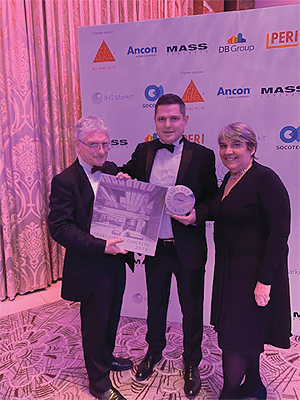 Oliver Connell has experienced a sharp rise in its turnover, reaching £100m, having been on £20m only five years earlier.
"Our company was founded 45 years ago and we have since developed a broad skillset, which enables us to work in multiple industries and on various types of buildings," Managing Director, James Connell, comments. "One of the most significant milestones for us was when we first started working at Heathrow Airport about 15-16 years ago. We managed to cut our teeth in the industry, because it was quite advanced, both from technical and safety perspectives. We then moved into Gatwick Airport, too. Owing to the experience we have acquired in the aviation sector, we were able to secure some projects in the railway industry, as well.
"The last ten years have also seen us become a leader in architectural concrete. We were fortunate to get the chance to step in and take over a job at the Turner Gallery in Margate from another company. This got us a bit of publicity and exposure to this very niche market. We went on to do many jobs in the field and have built strong relationships with some of the best architects in the business," James reveals.
Oliver Connell's work for the Royal College of Pathologists in Aldgate and the Sevenoaks School in Kent are two of the business' most recent projects, regarding architectural concrete. Their successful completion caught the attention of the concrete community and both were acknowledged in the 'Highly Commended' category at the 2019 Concrete Society Awards.
James notes: "The Royal College of Pathologists, in particular, is now used as a benchmark within the industry. A lot of main contractors contact me to congratulate us on the job we have done and that has led to us winning more work. It was a very challenging project, which involved detailed planning and challenging logistics, working around the British weather and choosing the right materials for the variety of finishes required which included; MDO ply finish fair-faced concrete, board mark timber effect finish, and for the curved trough sections we utilised GRP modular units to achieve a similar finish to the MDO ply, which required excellent workmanship from our team. On projects like this, our people act a lot more like joiners than shuttering carpenters. Every joint is almost like cabinet making, where you have to get it right first time, all while taking into account multiple factors. We are immensely proud of this scheme, because it is opening many doors for us."
Honest and transparent
Despite the fact that Oliver Connell's turnover has skyrocketed over the past five years, James and his colleagues are keeping their feet firmly on the ground. The Managing Director does not conceal that the fast growth has, at times, been accompanied with problems. It is the attitude the company demonstrates when tackling them that has enabled it to move ahead. "First and foremost, we will never walk away if something we have done, goes wrong. After all, it happens all the time in this industry. What you need to do and what we do, is hold our hands up and fix the issue. Clients appreciate that and they may even respect you more for showing your readiness to face the problem."
Certainly, Oliver Connell's approach to dealing with errors reflects the profound respect the business treats its customers with. It also shows something else, though – namely, that the company has respect for itself and that it has been built on the values of honesty and transparency. It being a family organisation, founded and taken through the tumultuous first years of its history in the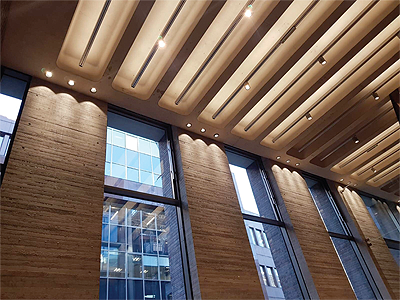 1970s and 1980s by his father and uncle, James has gladly accepted it as his duty to ensure the healthy state of the business and, hopefully, pass the torch on to his three sons in the future.
"It was my father and uncle who put the real hard work in to get the business going. Back in the day, it was a lot harder for them, because it was less mechanised and safety was not at the high level of today. Oliver Connell has come a long way since it first started, so I take my hat off to them for making it work and putting all of us on the road to having a good career. Having said that, we need to continue showing appreciation for the company and giving back to it, in order to sustain it," he acknowledges.
"We may have increased our turnover considerably in recent years, but we are not taking money out of the business. Instead, we reinvest it in the plant, our equipment, and, of course, our people. The construction industry has always been a tough one and there is so much competition in present times that the margins have really tightened up. Therefore, we have to put money back into the organisation, so that we can gain a competitive advantage. In the past four years, we have spent some £10m on new kit, with nearly 80 per cent of our equipment under three years old. Oliver Connell wants to be one of the leaders in our industry and we feel, we have to set an example and buy quality equipment, which is best suited to the requirements of modern age."
Strategic position
All of Oliver Connell's vehicles are accredited to a FORS Gold standard. James reports that the business has just ordered a new, gas-powered vacuum excavator for £500,000, as well as high-class dual view dumpers at £60,000 each. "The clients like that. They want to see that you can move with the times and they are often willing to pay a bit extra for the best," he adds.
When you come to think about it, the same kind of service from a provider may well vary in efficiency over time. In contrast, a product is often associated with something of fixed quality, which is met time and again and replicated, regardless of the number of times it is reproduced. It is then worth accentuating that in James' words, Oliver Connell is selling a product and the company's goal is to try and achieve the same quality every time it takes on a job.
"To do that, we have to look after our workforce to make it a bit stronger and ensure that our people's training is up-to-date," he reasons. "We are aware that there are different levels of seniority and experience within our staff and that it takes a while to build a team, but there is no other way forward. We have some incredibly talented younger colleagues who we are training up. It is for the sake of their career development that we are still keen on doing smaller, £300,000 projects, because this gives them the chance to dip their toes in the water and, effectively, get on the road to management. Some of our directors started as trainees and have progressed to a managerial role, so the opportunity is there for everyone who learns and does their job well."
It is often prescribed that a period of rapid growth should be followed by one of stability, in order for a company to settle in its newly-acquired market position. Maintaining its strategic position is exactly what Oliver Connell is planning to do in the short-to-medium term. James concludes: "The market has tightened up, so we have to keep it tight, too, and try to build cash in the business. The word on the street is that the Oxford area is going to be quite buoyant in the next couple of years and we have already won five jobs there, hoping that we will be able to build on that. The London market is quite saturated and, given our geographical proximity to Oxford, it is reasonable to try and enter this less competitive market. Ultimately, our goal is to sustain the business at £100m and become the contractor of choice for many of our clients, delivering safe, on-time, and high-quality jobs for their projects."
Oliver Connell & Son
Services: Ground work, civil engineering, RC frames, architectural concrete, rail, and aviation