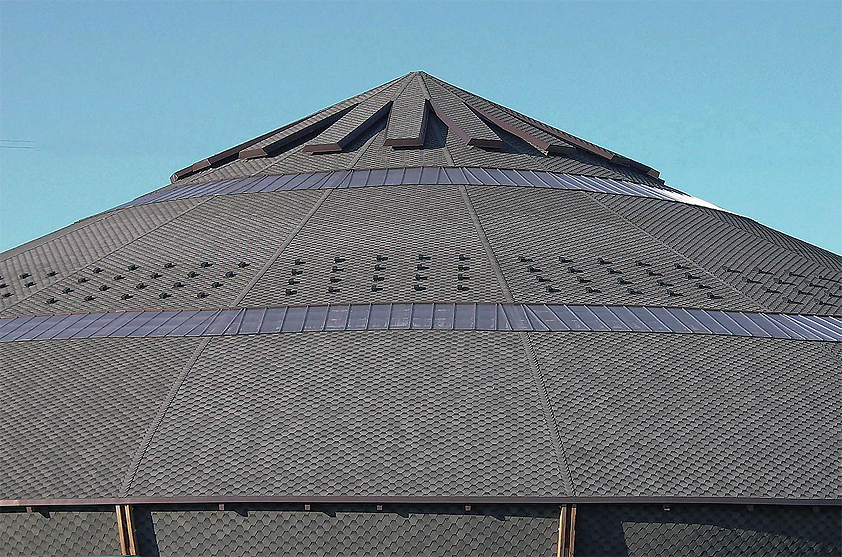 Onduline Building Products
Future roofing
With a new managing director and a dynamic new business strategy, Onduline in the UK is ready to write a new chapter in the history of the world's leading manufacturer of bituminous corrugated roofing materials
When Onduline was founded in France in 1944 the company made a single product, a lightweight corrugated roofing system. But it proved so successful that it was very quickly adopted across Europe, Asia, Latin America, and the rest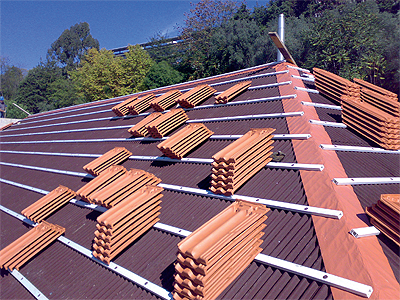 of the world.
Today, Onduline is a truly global business, claiming 95 per cent of the world's production of bitumen sheets, and an undisputed leader in its sector.
For Paul Duffy, Managing Director for the UK, Ireland, and Scandinavia, those 70 years and more of history are one of the main reasons the company continues to thrive today.
"Onduline is so well established," he says. "If you're in the building sector, it's a brand you will have heard of. You may not know a lot about it, but you will certainly have heard of Onduline. I think that's been one of the mainstays of our growth and it's eased our expansion into different countries and different markets."
Attracted by the company's global brand, strong international presence, and proactive leadership team, Paul joined Onduline in August 2019, armed with over 20 years' experience in the façade and fenestration industry.
A busy nine months later and the former sales director is well on his way to finalising a new team structure and sparking the business back on a trajectory of growth.
"In the relatively short time I've been here, the major steps forward we have made have been to do with our workforce," Paul explains. "When I joined, we had several members of staff who had served us well but were approaching retirement; it was an aging company.
"So, one of the first and most important things to do was to make sure we made the correct appointments, and quickly. We had to replace not only an outgoing skillset but also a significant knowledge base.
"Managing change and bringing in lots of fresh blood to a business model that hadn't really grown for many years was tough, that was the biggest challenge. But I'm pleased to say it's worked very, very well.
"We have managed to attract the right people with the right experience and a wide variety of skills. By the time I left my previous employer we had added over £20 million worth of turnover to the business, and I'm hoping that we're currently laying the foundations to do the same here."
Investment in quality
As Paul looks to lead the company into the future, he is aware that Onduline's strongest asset remains its superior product. Developed using 50 to 60 per cent recycled material, Onduline's lightweight bitumen fibre roofing system is quick and easy to install, possesses excellent acoustic qualities, is easily ventilated, and highly cost-effective.
"The product is so adaptable," Paul asserts. "Worldwide applications include individual houses, collective housing, leisure resorts, restaurants, shops, stables, public buildings, agricultural buildings, it fits almost every market and suits a diverse range of architecture.
"We've recently benefited from investment in our global manufacturing plants too. We've got ISO 9001 and 14001 certifications for quality and environmental management in all of them and we've added state-of-the-art machinery, including robotics.
"We've kept traditional methods and the traditional products with the recyclability, but we now have the ability to bring the product more quickly to market."
Onduline recycles around 80,000 tonnes of material a year, and at 4066 grams of CO2 per square metre, the company boasts one of the industry's best carbon footprints.
The high-performance treatment systems used during production emit no gas effluents or liquid and the lightweight nature of the roofing structure means that less energy is used in production and transportation.
As consumers grow more environmentally aware, Paul believes the company's strong green credentials are becoming
a more significant differentiator for the business.
"I think latterly in Europe and the US, the 'green' story has definitely helped us," he claims. "We've been pushing our focus on sustainability in our social media and we find that, when we post about green issues, we get a lot of positive feedback.
"I think for the consumer, choosing environmentally friendly solutions has become a conscious decision.
"Even if we look at the specialist and pro-builder market for under-roofing products, which are laid directly onto the roof deck below other roofing materials to provide an extra barrier against severe weather, sustainability is what architects and specifiers are asking about and honing in on.
"All in all, I think we have a really good story to tell with this product, because of its low carbon footprint and high recycled content."
Though the company enjoys a number of routes to market, historically, Onduline's core customers in the UK have been professional timber frame manufacturers, and buildings such as stables, sheds and garden rooms are often considered an ideal fit for the firm's lightweight yet durable products. Specialist distributors and roofing merchants are both direct markets for the business, but in 2020, there is one sector that dominates the landscape.
DIY a thriving sector
"If we look at our global business, for example in Germany, 60 per cent of their activity is in DIY," Paul states. "It's a very similar size for us here in the UK because, again, Onduline is a brand that people have heard of and for the DIY enthusiast, it is the easiest roof you could fit yourself. It's a market we supply directly to retailers such as Wickes and it has been incredibly buoyant over the past eight weeks, as you might imagine."
As Paul alludes to, Covid-19 lockdown measures introduced by the Government have led to an increase in DIY activity over the past two months as consumers spend more time at home and in their gardens.
The surge in engagement, on top of what was already a thriving sector for Onduline, has been a positive story during a challenging time for businesses across the world.
Quick to adapt to the situation, as the pandemic began to impact the company's ability to make sales in-person, Paul and his team stepped up the firm's online presence, focusing in particular on using online platforms to promote the brand.
"Through the acceleration of our online strategy, we're really pushing towards the DIY sector and our own e-shop where consumers can buy a limited product range direct from us," Paul declares. "It's paid dividends during the current situation because people are spending time in their gardens doing jobs they've put off for the past few years and we're seeing the benefit of that in our online sales.
"We hope that the online activity will be boosted by our new website too. Our current website has served a purpose for many years, but it doesn't tell our full story. We've been working hard on a more professional site that I believe will appeal to the different sectors we should be operating in.
"It's not just about our core business, it's about generating interest from specifiers, from building contractors and from a wider range of builder's merchants. I really think it's going to put us in a better position than we are in currently."
The new website features a specific, easy-to-navigate area for the Pro-market, with enhanced content including installation videos, case studies on major projects, a host of detailed fixing guides and downloadable technical information.
It also includes a stockist locator and Roof Advisor, which suggests the best product choices in response to answers to a handful of questions.
Stronger brand identity
Paul's energy and passion for the business are clear in the way he talks about Onduline's future. One challenge he is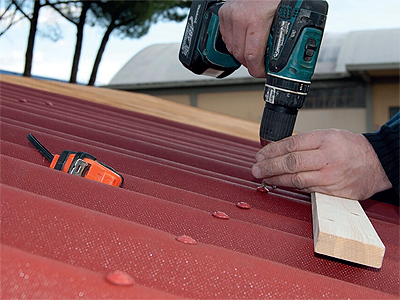 enjoying is a brand alignment exercise that will see the UK move closer in line with the way Onduline is marketed across Europe.
"There are so many benefits to aligning your brand and so that's where we've been focusing most of our attention recently," he reports.
"Onduline is world-renowned but that has not been fully recognised in the UK. We aim to leverage that strength in the global brand to further enhance credibility and provide assurance for customers who are new to us.
"We're embracing the Onduline brands used all over the world and we're putting our products under their umbrellas. A good example is we're going to market with an under-roofing brand called ISOLINE, which is a range of high performing under-roofing systems.
"It has been used successfully in Europe for many, many years now. Under-roofing is a huge opportunity because we've got products that come with a 30-year guarantee for waterproofing and yet they are pretty much unheard of in the UK.
"The ISOLINE range of products allows for incredibly low pitches of around 12.5 degrees, it has BBA certification, and like all our products, it's lightweight, cost-effective, and quick to install. With the launch of ISOLINE we can now offer it to the right market, through the right channels, to the right audience."
Onduline offers a wide range of roofing solutions including waterproof membranes, tile strips, and roof shingles.
Later this year, the firm will be adding a high-performing, opaque, chemically resistant product to its plastics range that can be used for cladding and interior design.
"We expect it to be released around July," Paul remarks, "and we will do so with very high expectations. It's well positioned price-wise and comes with all the benefits of the other products – it's lightweight, it's durable – but this particular one is very aesthetically pleasing as well."
The traditional roof shingle offering will be re-branded BARDOLINE in-line with the Onduline worldwide brand. A familiar brand with European customers, BARDOLINE comes with an AA fire rating – a feature Paul believes the company should advertise more proudly.
"It's not something we've ever shouted about and if you look at the market in the UK, or even in Europe, there are not many companies that have an AA fire rating on roof shingles," he reveals.
"The benefit of an AA rating is that you can use it on any building, including residential properties and those adjoined to residencies. It's another area where aligning the brand could really benefit us."
New heights
As Paul approaches a year in the job, he is pleased to have laid the groundwork of his long-term strategy for the company and is hugely grateful to the colleagues, past and present, who have helped him tackle an unpredictable yet highly productive first three quarters.
One member of staff Paul singles out is Ian MacDonald, a former roofer who moved into external sales with Onduline. After 30 years with the company, he retired at the end of May.
"I've worked with Ian since August and he's been a breath of fresh air," Paul proclaims. "He adapted so quickly to everything that was going on and embraced the changes I made even though he knew he'd soon be retiring. I would just like to thank him really. Thirty years of service is an incredible achievement and I want to wish him health and happiness for the future."
With a sharper focus on key markets, some exciting product launches in the pipeline and a refreshed team, Onduline in the UK is set to reach new heights: shout it from the rooftops!
Onduline Building Products
Services: Manufacturer of lightweight corrugated roofing materials and waterproofing solutions